14 K Gold, 18 K Gold Metals or Platinum? Choosing the Best Mens Wedding Bands!
We will begin this article by talking about 14K and 18K gold. It has been seen that both of these metals are really perfect if you are going towards buying an amazing engagement or a wedding ring. These two metals are considered to be cheaper and affordable as compared to the platinum. According to the statistical and percentage analysis, 14K gold is that metal which has 58.33% of gold and rest of other constituents present in it are in the form of copper, zinc, palladium and nickel, etc.
On contrast to this, there is another metal called as 18k gold. The 18k gold whether it is in the form of yellow or white, it consists of 75% of gold while the remaining portion is made up of alloy and other hard metals. It has been seen that 14K gold is more durable and harder as compared to 18K gold. So, if you planning to buy a diamond ring for your big day then you must prefer going for 14k gold. The hardness of platinum is very much better than these two metals. It is really 60% more dense as compared to gold.
It has been seen that platinum is that metal which is stronger, durable and heavier as compared to gold. As far as price is concerned, platinum is more expensive. Platinum has the capacity to prevent itself from the factor of tarnishing. However, it has been found that jewelry items made up of platinum gains up scratches and dents so they require re-polishing after some time of use.
Platinum is not only known for its expensive price but also this metal really amuses the craftsman to work on because it is really rare, shining and hard. Due to its factor of being hard, platinum requires a very professional craftsman for its designs. That is one of the reasons about why platinum is expensive as compared to other metals. If it is your wedding day or your engagement then you can choose platinum rings being centered by diamond. You can even have this design using 14K or 18K gold for your wedding ring.
So, it has been seen that all of these three metals platinum, 18K gold and 14K goldare used since a long time. If you have selected 14K or 18K gold for your ring, and you have to wear it daily then the best thing you can do is to go for rhodium platting over your ring. Rhodium is that metal which has the capacity to give a long lasting shiny look to your respective jewelry item. This plating of rhodium is really not expensive and it can be done at a very cheap and affordable price. Now it is all up to you that which metal you would select for your ring.
As mentioned above, these three metals are really in use for a long time and you will get the best designs for your rings and other jewelry items after choosing any one of these metals.
See the Chrion-10 below.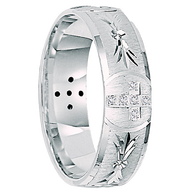 Recent Posts
Men's Wedding Bands – Origin, Significance, Cost, and Tips to Choose Every culture h …

Everything You Wanted to Know About Wedding RingsWeddings bands are now in-trend. Grooms never had …

Tungsten Versus Gold Mens Wedding Bands - we decided more needed to be written about this subj …