Tungsten Versus Gold Mens Wedding Bands - we decided more needed to be written about this subject in that tungsten for use in mens jewelry, particularly in mens wedding bands has become one of the most sought after metals of all time - at least in the past two decades. There are many contemporary metals - metals that are sometimes called alternative metals - they are different or an alternative metals to the time-honored precious metals such as gold, platinum, palladium and silver. To be sure there are a number of reasons for this surge in popularity, this demand from the buying public and therefore from manufacturers and sellers worldwide. We explore some of the main reasons for this high-demand sensation below.
First, tungsten is durable. Known as one of the hardest metals on the earth - tungsten is approximately 10 times harder than gold - which makes this metal a top priority when searching for a more scratch-resistant product from which a wedding band can be made. And why is this important to you - a ring that has very few - if any - scratches looks new, all the time. Some even refer to this metal as the one with the "permanent shine". Think of that - have you ever seen a gold ring that is more than 3 years old and how it looks? In most cases it looks older that it really is because of the dents, scratches and wear marks. And this happens to white gold, yellow god, green and rose gold - scratches could care less on the color of the gold!
Tungsten is even stronger and harder and less prone to scratch than titanium and titanium is what they make the front part of gold clubs out of!! Tungsten can be made in its normal gray/silver color or in some cases the manufacturer can apply a white or blue or black coating that gives this durable metal an amazing technicolor coat.
Another aspect of tungsten is its weight - it weighs about the same as the same ring in platinum and if you have ever worn a platinum ring you understand that these beautiful bands are heavy. Now all people don't like "heavy" so you might need to try a lighter metal such as titanium which we discussed before.
Second, tungsten is less expensive than a precious metal such as gold. Gold runs over $1,000 an ounce. Tungsten is no where near this cost - in fact in China they can produce tungsten rings for under $5.00. And even though it is less expensive it can be used to create some very stunning designs as we will explore more in depth in our fourth reason below.
The average tungsten ring these days - what we might call a classic cut tungsten - runs in the neighborhood of $200.00. Add diamonds - add another $100-200.00. Add an inlay or silver or gold or platinum ... well you can see that the price is going to vary based upon how fancy you want the finished product to look. It also depends upon where you buy your tungsten ring - if you are looking for a ring without a warranty and just want something to get you by, it might pay to shop on eBay where tungsten bands are under $30.00. Our sense is that you get what you pay for and a $30.00 ring might not wear as long as you might want it to and still look great. On our site, we have a tungsten band for about $200.00 that has a warranty for life where if anything happens to it - even a scratch - we replace it for as long as you own it. See the J095C below for details. Not a bad warranty for a ring that costs about $200.00 and covers scratching, denting, breaking, etc. for life. This identical ring also comes in black - the J095BC pictured below.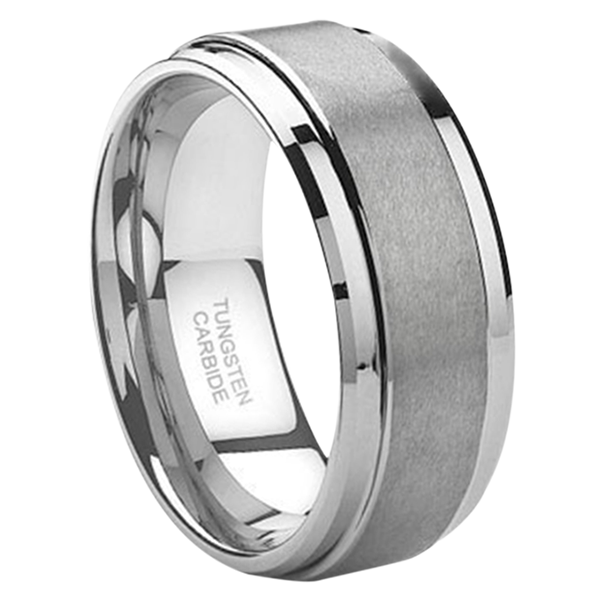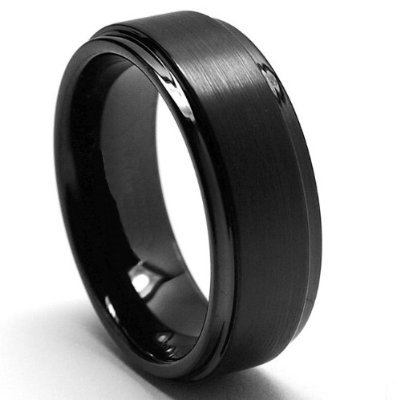 Third, there is an unending source of tungsten in the world marketplace. The reason for the reduced cost in tungsten is that it is so plentiful - there is not a known or limited supply as we sometimes find with other "precious" metals. When a product is plentiful then the supply and demand reality comes into play, driving end products costs down and making them affordable for the general marketplace as a whole. Although the supply side of economics is a very real factor in the cost relationship with tungsten - the final product can in many instances be made with diamonds, or rich exotic inlays or any other variety of additional inlays.
Fourth, skilled artisans have learned how to fashion stunning designs using what might be called a rather common element. We thought you might like to see an example of a basic tungsten ring with a not-so-basic inlay making the finished piece a rare and beautiful masterpiece. The T104M pictured below is just one of thousands of examples of what can be done when tungsten is used in a mens wedding band.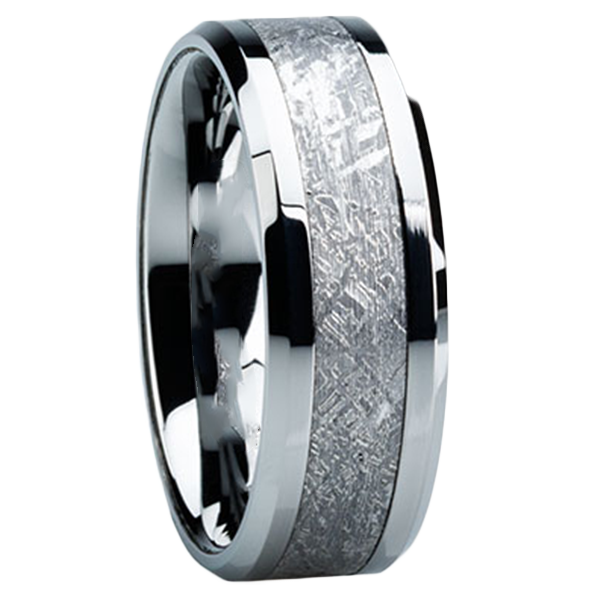 The T104M - as pictured
Like a similar ring in gold? Look no further! See the MTG855M below. There are many whose choice finds them at a cross walk of which material is best for them - tungsten? Gold? Platinum? Silver? There are so many to choose from and so many great choices. For a start - you might want to review the 4 aspects of tungsten above.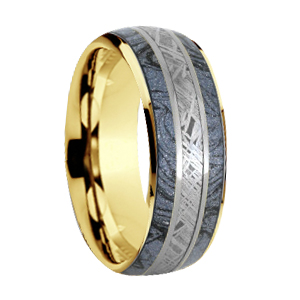 One of the benefits of looking into custom rings - be they gold or tungsten, titanium or platinum - is the fact that they are custom and by their very nature they can be modified to your taste! We have many visitors to our site that feel at the onset that they know exactly what they want until they start looking around and they see a green burl wood up against a diamond inlay or they see the stunning red in the box elder red inlay and want it to be inlaid into black ceramic for a visual affect instead of titanium. These types of things happen all the time and we ind that it is when customers reach out and ask the questions that they start the process of really getting what THEY want - not what the ecommerce store or the factory decided they could choose from.
So be bold - look for what you might not see with your eyes and search with your heart - think about the meaning behind the ring. Dates, experiences, shared moments, family legacy - there just be a history of events that inspire and cause a whole new way of thinking "outside the box" of what you think might be possible today.
And another unique thing about tungsten versus gold is that you can have it both ways if you choose. Some of our most popular meteorite rings can be made in white gold, yellow gold, platinum, palladium and other exotic precious metals. Have a question, don't hesitate to call us at 801-755-1661 or simply email sales@mensweddingbands.com.
Thank you,
Mens Wedding Bands, Since 2003
Recent Posts
Men's Wedding Bands – Origin, Significance, Cost, and Tips to Choose Every culture h …

Everything You Wanted to Know About Wedding RingsWeddings bands are now in-trend. Grooms never had …

Tungsten Versus Gold Mens Wedding Bands - we decided more needed to be written about this subj …