Of particular interest to shoppers online is this - how do I make sure I get the right size ring if I am buying online? Bottom line - the only SURE way is to get sized at a jewelry store but even then some jewelers use cheap sizers that come close but do not give an actual, true read to 1/4 and 1/2 sizes. But even though this is a reality, it is still a best practice to make sure you go get sized during the process of ordering a ring from an online vendor.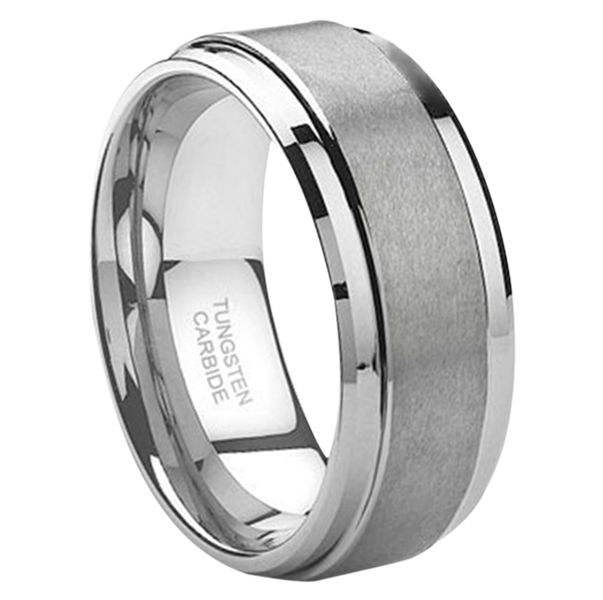 So let's say you are sized as a 10 - this is a pretty common size for men in the US. Do you simply order a 10 online and hope that the jeweler did a good job, that it was a "comfort fit" ring, that the size you were measured for was as valid for a gold ring as a contemporary metal such as tungsten or titanium. Let us explain a better way ... with all custom rings on our mens wedding bands site, we offer a J095C tungsten ring as a sizing ring (you may purchase it for a small additional charge). This ring typically sells for around $200.00 but we send it to you for two reasons: the first is that it helps us know if the size ordered is accurate or not. We sometimes have to ship multiple of these J095C rings to customers once they have placed their order for an exotic inlay custom ring to make sure we are getting the size just right. The other reason - not related at all to sizing - is that we encourage customers to wear the J095C ring when doing harsh, dirty jobs that might harm the custom inlay in some way - like when lifting weights or working on the car. We have included an image of the J095C below so that you can see that this is not a cheap ring used just for sizing - it is a genuine tungsten carbide ring that serves as a sizing ring and a protection for more expensive exotic inlays.
J095C - 8 mm Tungsten Carbide
Many rings - such as precious metals and exotic inlays are available in 1/4 sizes as well as full and 1/2 sizes. That can be a real benefit for the discerning customer who wants the "perfect" size ring. Although the J095C is not available in 1/4 sizes (very few contemporary metals are) it is still a fairly easy determination to figure out if a 9 or a 91/4 might fit better.
Back to sizing. If the option to receive a J095C or some other type of sizing ring is not an option - what then? Most sellers - including online stores - have size protection plans that allow you to buy a size and try it on - if it does not fit then you can return it for a different size. We allow this on all rings on our site with one exception - custom or exotic inlays cannot be returned to get a different size - that is another reason why our customers receive the J095C. But rings such as those with diamonds or precious metals - those with plain tungsten or titanium for example - they can be returned for a new ring in a different size. No problem.
Let's now explore what happens 5 years from now - or 10. You have gained a lot of weight - or lost a lot of weight. Let's pick the later - you have lost 50 pounds and you now need a size 7 instead of the 8 you bought 5 years ago. What to do? Well, it depends. Let's say you originally bought a gold band in size 8. So you contact your provider - in this case www.mensweddingbands.com. Here is their policy - you can exchange the old ring for a nominal fee (typically under $39.99) and they will exchange your old ring in size 8 for a brand new ring in size 7. That simple. But let's say you originally bought a custom mens band in antler inlay and the policy is that they cannot be resized. What to do now? In this case, as with all custom rings, mens bands will sell you a new one at or below cost so that you now have 2 bands (the original and now the one that you had to order in the new size). The old ring can be sold on eBay or Amazon or off your local provider where you live and whatever you get for your old ring can go against what you just bought the new ring for in the new size that fits. Either situation takes a little effort but in the end you end up with the size ring you need and in most cases it is now "brand new". Where else can you trade in the old for the new or get a new product below cost? It works out well for both the provider and the customer. We call this win-win where we come from!
Does the actual perfect fit mean anything relative to the feel and comfort of the ring? More to the point - what does "comfort fit" have to do with the size of the ring? Comfort fit, a popular term in today's fashion industry - particularly for men - means that the inside and outside inner portions of the ring (the portion that touches the finger when worn) are smooth and domes to slide over the knuckle easily without sharp, cutting edges to dig into the finger. Incidentally, comfort fit rings, because of this beveling on the inside of the ring - actually fir looser than a non comfort fit ring. And they feel better when worn because of the diminished sharper edges touching the skin. It is highly recommended that you wear a comfort fit ring and when getting measured for your ring size make sire they are testing you with a true comfort fit band - not a sizing ring that has no comfort fit properties. The images below show the differences between a standard fir (right image) and a comfort fit (left image).
Mens Wedding Bands, Since 2003
Recent Posts
Men's Wedding Bands – Origin, Significance, Cost, and Tips to Choose Every culture h …

Everything You Wanted to Know About Wedding RingsWeddings bands are now in-trend. Grooms never had …

Tungsten Versus Gold Mens Wedding Bands - we decided more needed to be written about this subj …