Ring Buying Guide: Setting The Hallmark Of Jewelry Designs Since 2003!
When it comes to the union of two soul mates, nothing should come in between; not even the design and quality of the rings that symbolize their union. MWB has been making weddings more dazzling since 2003. We have trusted only the best craftsmen, the most exceptional processes and premium materials to design our exclusive rings for the groom. During the wedding, much responsibility falls on the groom, and that includes hiring the band, finding caterers, booking the venue and so much more. So, we make the process of choosing the ring much more comfortable. No matter which design you pick from the website, you cannot go wrong. All the finished pieces come with a lifetime's guarantee of beauty and delight. We have one of the most extensive inventories of bands. Our specialization includes the finest, handcrafted rings with touches of personalization and unique inlays.
MWB is all about style and integrity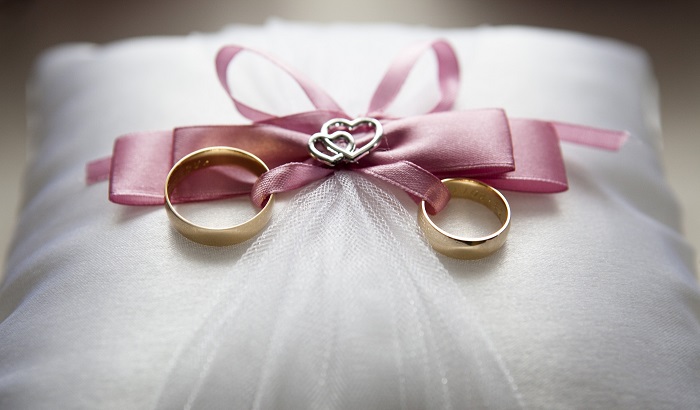 Our handmade rings only employ the most exquisite materials, and we use state of the art processes that set us apart from most of our contemporaries. We also design wedding bands as per customer preferences on made to order basis. You can treat yourself to a laser engraved ring that bears the initials of your beloved or her signature in her handwriting. The latest trends also call for laser engraved fingerprints embossed on the inside of the ring. Our trained jewelers can make all the trendy designs happen. MWB has been on top of every wedding planner's and wedding shopper's list ever since its conception. It has been possible only because we believe in quality. We boast an exclusive line of fine jewelry. All our pieces are gold, white gold, platinum, titanium and tungsten carbide. We do not offer any cubic zirconium, hollow gold and cheap gold plating rings. These rings are usually lesser priced, but they wear off much faster as compared to fine jewelry-grade gold, titanium and tungsten carbide. We believe in offering heartwarming discounts on all premium brands. Check out the website for some great rebates!
We believe in the best brands you love
You will also find Triton products and Carlo di Sanza designs at our official e-commerce site. These products have the authentic logo on the inner part of the ring. All our customers get the lifetime warranty from Triton and Carlo di Sanza upon the purchase of the authorized products. Our prices are lesser than the retail stores, but the qualities do not waiver. We have committed to excellence since the beginning of our start in 2003! If you find a flaw in the make or the design, you can bring your Triton or Carlo di Sanza ring straight back to us. We will find you a new perfect ring that you will love. Our return policies, exchange policies, and resizing policies are straightforward, and they extend to the other brands we host on our website as well.
Find the perfect metal to tell your love story
Right here, you will also find a plethora of designs in platinum, palladium, white gold, cobalt, ceramic, stainless steel and titanium, besides the ubiquitous traditional yellow gold. Although we have hundreds of designs on our website that you can choose from, you may want your ring to be something unique. We have over 20,000 variations in styles just for you, and it is time to check them out today!
Tungsten is the modern groom's platinum and white gold!
Did you know that our tungsten carbide is ten times harder than standard 18 karats gold jewelry? In fact, it is four times harder than titanium. Just like your love and promise, our Triton tungsten carbide rings shine with an unfading luster. These are scratch proof, and they do not wear off like silver or gold! Tungsten carbide is the new platinum, and we have the necessary equipment to forge the best designs for your nuptial union.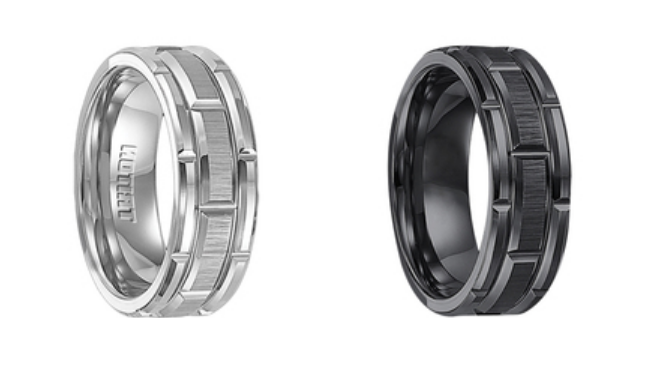 Just in case you do not believe that our tungsten carbide is stronger than titanium and gold, we have a lifetime warranty that even covers the scratches on our tungsten wedding ring design. We can confidently offer you our best deals and a lifetime warranty on the items because all our Triton branded wedding bands consist of TC.850 patented tungsten carbide, and they have passed quality assurance tests at several certified laboratories before making it to the showcase.
You will find the same endurance, hardness, and integrity in our Tayloright tungsten carbide rings. None of these brands have any nickel in them, which is excellent news for all patrons. Nickel is usually the main culprit when it comes to skin allergies and rashes from jewelry. Our jewelry designs do not contain any inferior quality metals like nickel and are entirely hypoallergenic!
Platinum and white gold bands for your wedding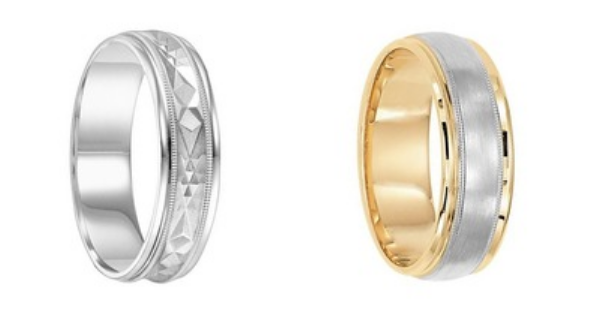 It is even valid for platinum, which most jewelers do not customize due to the high costs. We have the latest technology that can make your dreams a reality in at least 96% platinum. Our white gold is 75% pure gold because that is the same amount of 18 karat gold. Designers can only use a maximum of 18k gold, or the white gold will appear to have a golden tinge. Our white gold is almost resistant to wear and tear. It is perfect for white gemstones since it does not cast a colored shadow as yellow gold does. It is also hypoallergenic, hence great for sensitive skin. Check out the official website for more information on our platinum ring designs.
A touch of titanium on your nuptials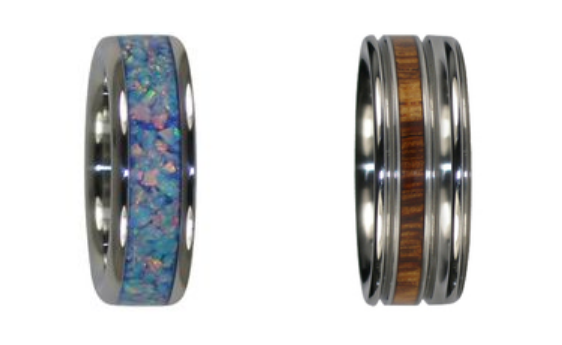 Titanium is again another popular choice for most customers, and it is 99% pure. It is excellent for everyday wedding bands, and it is best suited for natural gemstones thanks to its hardness. Titanium is ideal for sensitive skin. You can have your band matte finished, glossy or hammered. Titanium can withstand almost all kinds of processes and display nearly all types of designs too. Black titanium is a refreshing new addition to our website, and it has a super-metal resistance to scratches. We always craft our titanium rings with extreme caution. Since it is almost impossible to scratch one, we urge our customers to give us some extra time for engraving their wedding bands. Also, it is impossible to reverse the engravings and impressions once complete.
Cobalt bands for the cool grooms
Cobalt is another popular choice for the newer and younger customers. It is in high fashion, and it is giving gold and platinum a stiff competition. Just like all other modern jewelers, we also advise our potential buyers to try cobalt instead of platinum. No matter how pure, platinum comes with an exterior rhodium plating that wears off with time. Cobalt is naturally shiny, and there is no chance of becoming dull with days passing. It is a scratch resistant metal that holds the design perfectly for countless summers. You will find intriguing designs with lifetime warranties only at MWB!
Ceramic rings are crazy popular
Ceramic for rings may sound a little weird to many at first! Not many think of ceramic beyond kitchen tiles and utensils. Thanks to modern fashion, ceramic has transcended the world of household appliances and made its way to the world of jewelry designing. It opens up a landscape of fresh colors and designs for men and women's jewelry. Unlike the typical ceramic we see at home, jewelry grade ceramic from MWB has a titanium carbide base. It is virtually scratch proof and destruction-proof! It offers a vast range of products that can vary between $30 and $700. Claim your VIP access to high fashion at MWB today.
Telling your story in diamonds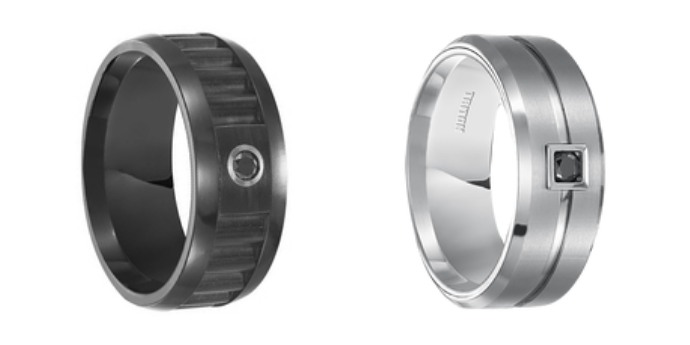 Our diamond settings are not just unique and breathtaking. They are one of the best when it comes to quality and pricing. The union of two individuals takes trust, and we uphold the same with our customers with our exquisite quality gemstones. Whether it is a colorless beauty, a black diamond or a colored stone on your wedding band, we ensure that our jewelers inspect them thoroughly before mounting them. We only use conflict-free, natural diamonds and that enables us to hand select diamonds with gem color I and a clarity i1-i2. These natural gemstones are almost colorless, and we strictly adhere to the international standards of diamond color gradation. At MWB you will not find fake diamonds, unless you specifically request for one. All your genuine diamonds above one karat will come with documentation and certification from appropriate authorities.
Multiply your possibilities
Our designers have made it possible to combine metals, gemstones, and alloys to create unique designs that you cannot find elsewhere. You can choose from gold and ceramic designs, gold and sterling silver designs, titanium and wood inlays, tungsten carbide and diamond designs, pure sandblasted titanium with antler inlays and so many more! Who said only women have all the fun while shopping for wedding jewelry? It is now your turn to pamper yourself with some of the best designs at the best prices at our website.
We make your dreams come true
You can reach out to us with a design of your own, and we can make it a reality for you. Just contact a member of our customer service staff, and they will be happy to help you with your designing needs.
Interesting detailing with creative inlays

Not a lot of brands and jewelry designers can create inlays as well as we do. Thanks to our experienced and well-informed designers, we can carve the latest designs out of the most resistant and scratch-resistant metals. Do you want a titanium ring with an elder wood inlay? Just let our designers know in advance so that they can craft it to perfection. We also have luxury brands with meteorite inlays and original antler. We also have some super exclusive and handcrafted dinosaur bone inlay bands for you. These designs are great for the nature lovers, paleontology-geeks and astronomy lovers for sure. They are also perfect if you want your wedding ring to be one of a kind, just like your significant other! We always request about four weeks from our customers for designs with such exotic inlays. Order your unique ring design at our website URL.
Our custom rings are truly unique in every sense.
First, you can pick any combination of metals, gemstones and inlay materials you like.

Second, the design comes from you.
No one in the world can have the same combination. However, these inlays in a variety of wood, bones, antlers, and meteorite may not be fitting for people who operate heavy machinery and tools on a regular basis.
What makes being the top designer so easy for us?
As you must already know, we only carry authentically branded rings. We do not sell knockoffs or cheaper versions of authentic designs. Our best customers keep coming back to us for our integrity and high quality. Even with the best products and services, we manage to provide amazing discounts that will stun you. Our attractive prices and fantastic items have allowed us to serve customers from almost all 50 states in the last 15 years. Aside from manufacturing the best selling wedding rings for men, we also strive to listen to our customers. We pay attention to what our old customers have to say about their products, and we pay attention to the needs of our new customers as well. Check our customer policies for more information.
How we put the cherry on top of the cake
Our sizing policies are straightforward. Upon ordering a ring, our customers receive a J095C sizing ring in the size you have requested. It makes the process much more comfortable for titanium and tungsten rings since they are virtually indestructible and stubborn! Most importantly, all our rings are comfort fits. You will know the difference once you slip it in. People grumble about keeping their wedding rings on all the time! You will never want to take it off, even when swimming!
Our best quality applies to more than jewelry design
Our integrity and service extends far beyond jewelry crafting and post sales services. In today's digital world, every person needs security when it comes to their personal information. Our customers prefer to complete their transactions online. Therefore, we ensure that our website backend is always secure against hacks. We have teams of enforcers who are always vigilant. Our cybersecurity team keeps our customer's banking details and credit card information safe. We do not give away customer information to third-parties and we do not allow our employees to take down credit card details over the phone either. Our website security and encryption evolves constantly with the progress of technology. Our website holds a SSL certification to keep all your details safe. We never rely on shared servers since your privacy and data security is of paramount importance to us!
Here are a few questions our customers and website visitors ask us from time to time:
What methods of payments do we accept?
We accept all major credit cards and PayPal. Since we use a completely secure payment platform, our customers stay protected no matter which methods they choose.
Do we offer free shipping and warranty?
We do offer free shipping along with lifetime warranty on each ring. Additionally, you will enjoy a 30-day refund policy on your purchase.
What rings can you engrave?
We engrave all rings including our titanium, tungsten carbide, ceramic and platinum rings. We DO NOT engrave rings with wood sleeves.
How long does it take for us to engrave a ring?
It usually takes our experts about seven days to engrave a ring with perfection.
What brands can buyers find on our website?
We do not sell generic ring designs. You can forget about cheap knockoffs while shopping from our website. We only sell name brand designs like Triton and Tayloright Designer Ring Collection.
What happens if you are not satisfied with a ring size?
Any customer can reach out to us via our website. We will authorize an exchange. There is a ring size exchange fee of $22.50 for shipping a new ring to your address.
How long does a ring size exchange take?
It usually takes 14 days for the ring size returns.
Are there any other fees associated with size exchange and return?
Other than the ring size exchange fee, there is no charge for the first 30 days. After the initial 30 days, you will have to pay a restocking fee of $39.99.
What rings should you never resize?
Rings with exotic inlays that belong to the M and FS Series Collection cannot undergo resizing.
What is the return policy for a purchased item?
There can be instances where customers do not like a ring they had ordered. You can exchange or return the ring within the first 30 days of purchase. However, the same does not apply to a custom made to order ring for a refund.
Does our lifetime warranty include the loss of diamonds?
Yes, the lifetime warranty covers the loss of diamonds.
Are there additional fees associated with the lifetime warranty?
Any replacement and proration will cost you $39.99 during the first 12 months and $49.99 afterward, respectively.
How long does it take for us to ship an order?
We take only 24 hours from placement to process your orders. We quote only 7-10 days using USPS first class shipping within the country. We often offer Expedited Priority Mail within the USA as well.
Do we deliver our products outside the USA?
We also ship to other countries including Canada and Australia. However, the taxes and duties are the international buyer's responsibility.
If your "big day" is fast approaching and you have not picked out a ring yet, it is time you check out our website at https://www.mensweddingbands.com/ and browse through our endless collection of exquisite rings.