Traditionally, men did not wear wedding bands. The ring was given to the woman and was a sign of eternal love. It is believed that the wedding finger was selected because it has a vein that connects the finger to one's heart. Later during the world wars, men began wearing rings as reminders of the wives they left behind. Thus a beautiful wedding tradition was born.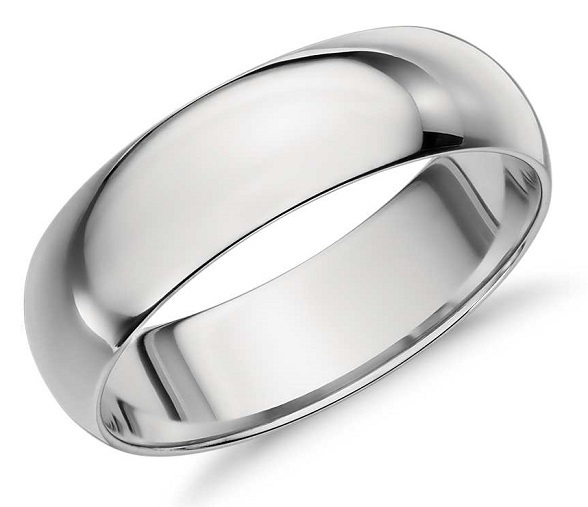 Today, it is not only women who have to purchase a wedding ring, the men must also buy them. The main challenge for men, particularly those who are not so keen on jewelry, is where to begin. The ring you select should match your style and character. Being a commemorative piece of jewelry that you will wear constantly, it needs to be something that you like; it needs to fit right, have the right pattern, and be made of the right metal.

1. Find the Right Fit
Before looking at other aspects of the ring, you need to ensure that the fit is right. That way, you won't have to worry about finding a great ring, then have it resized. Many jewelry stores will be happy to size you up for a ring, but you can also find a variety of free tools to help you size yourself for that wedding band . You can consider an online tool that allows you to simply measure your finger's diameter then use an online chart to figure out what size ring you should buy.
When measuring your finger, take the following into consideration:
You shouldn't be too hot when taking the measurement. This is because when you are hot, your fingers tend to get swollen, giving an inaccurate measurement.
Don't take the measurement when you are too cold. When you are cold, your fingers tend to become slimmer, which would also not give an accurate measurement.
Measure yourself in the evening. The best time to take the measurement is in the evening because in the morning, your fingers are usually smaller.
If the measurement falls between 2 ring sizes, opt for the bigger one because that will guarantee your comfort.
This is especially important if the band you are considering is a wide one.

2. Band Width
Men's bands come in a variety of widths. In truth, you may think you know which width you want and then get surprised when you try on the rings. It is better to have an open mind, try on different widths and then make up your mind on what you like the most. This particular factor is important because width can affect your comfort. Most men prefer a 4 mm band and up. But there are a few who like the narrower bands. You should try on a few in order to figure out which width works for you.

3. Metal Selection
Once you know the size and width that you like, selecting the material of the ring is the next important step. The choice of metal affects:
Aesthetics– How the ring looks.
Price – Some metals are costlier than others.
Care and maintenance
It is also common for couples to purchase matching bands, while others prefer contrasting ones. If you prefer to match metals, be sure to have a discussion about the metals that you both like and come to a consensus on a few to choose from.
When it comes to contrasting rings, you should consider contrasting the color and tone. This should also be a discussion between the two of you. Be sure to have several metals that you can look at so that you are not narrowing down your options too much.
Platinum –This metal is the most durable, whitest, strongest, and rarest. It has a glow or a white shine that never fades and does not need to be mixed with rhodium in order to get the right shine. It is hypoallergenic and resistant to corrosion. It is a great choice for those who can afford to purchase a platinum band.

White gold – This ring gives a shine that can be compared to that of platinum. It is actually a mix of white metal and a yellow gold alloy. In order to keep the shine through the years, it needs rhodium plating every so many years. You can also find white gold bands that do not have the rhodium plating giving a sparkle that is yellow and white.
Rose gold – This metal has made a huge comeback in recent years and can be seen in the form of necklaces, bracelets, watches and rings. It can be used for both male and female wedding bands so it works well if you are looking for a matching set. It is a mix of silver and copper alloys mixed with gold. This combination gives off a hue that is pink-red. If you purchase an 18 carat rose gold ring, it will be rosier and lighter in tone than one that is 9 carats. The reason for this is that the latter contains way more copper than the former.

Yellow gold – This metal has been used over the years and is considered the traditional band metal. Gold is timeless and precious because it is rare. The higher carat bands contain more gold and are therefore softer. But if you opt for a 9-carat ring, you will be getting a harder ring that has been mixed with other alloys. If you prefer to go with a traditional gold wedding band, then this is an ideal metal for you.

Silver – This is a ring that can fit people working with a modest budget because silver tends to be moderately priced. It also works well as a temporary ring until you can afford to purchase the ring you really want.
Other materials to consider include tungsten, wood, titanium, and rings with exotic inlays.
After you have picked the metal, you can then decide whether you want your ring to be plain or patterned. There are many styles and even shapes to choose from. If you would like to bling out your ring, consider getting one that has diamond on it. The ring you pick should reflect your character, style preferences and comfort. Pick what works for you!
Recent Posts
Men's Wedding Bands – Origin, Significance, Cost, and Tips to Choose Every culture h …

Everything You Wanted to Know About Wedding RingsWeddings bands are now in-trend. Grooms never had …

Tungsten Versus Gold Mens Wedding Bands - we decided more needed to be written about this subj …