Stepping into the wedding territory can be both exhilarating and terrifying. Finding the right engagement ring may take a while – months, in some cases. The wedding ring, however, is often relegated to an afterthought, which is surprising considering you're going to be wearing this piece of jewelry for the rest of your life.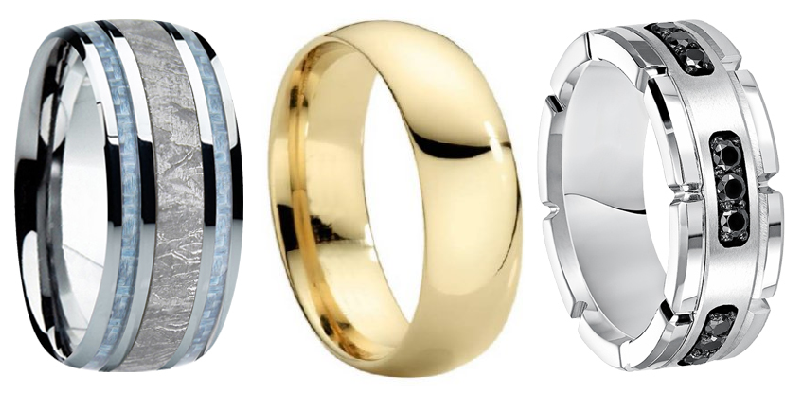 It therefore stands to reason that you ought to spend enough time searching for the perfect band. The options available are innumerable and can be overwhelming, which is why you need to make up your mind on a few basics in order to narrow down your search.
Traditionally, the engagement ring dictated the choice of material for the band. The most common by far is a yellow gold wedding ring. For everyday wearing, a ring with 14 or 18 carats is a wiser choice compared to a 22-carat ring because the former is stronger. Of contemporary styles, platinum or white is popular because of its high durability. In recent years, there's been a rise in the popularity of rose gold, as well as mixing and matching metal.
You need not worry too much about your wedding ring completely matching your engagement ring. A wedding and an engagement can be seen as two different occasions and in many cases, bringing out a noticeable distinction works.
That is not to say that you should not take into account how your wedding ring gels with your engagement ring. According to well-established jewelers, the width of your wedding ring and engagement ring should match. Similarly, a sizable central gem on the engagement ring may create a gap between the rings, in which case you should consider getting an eternity band that interlocks with the engagement ring. In other words, think ahead.
All other considerations you make after that have to do with preference or taste. Options include timeless or new designs, contemporary or classic, diamond-set or plain. This article offers some attributes to consider when choosing a wedding ring that fits your budget and style.
Width
Test a number of widths to determine the one you like best. In general, the widest rings tend to cost the most because they carry the highest quantity of the precious metal. However, if you're interested in a wide ring that you can afford, you can go for a precious metal with a price that is within your budget.
Choice of precious metal
Several options of precious metals for men's wedding bands are available. Traditional ones include yellow gold, white gold, rose gold, platinum and palladium, each with its own benefits.
Yellow gold is among the most common among the gold bands. It gives off a warm glow that is subtle. White gold, which has the same brilliant allure of platinum, is rhodium-plated gold. Important to note is that while it is available at a lower price than platinum, you may need to replace the rhodium-plating every ten years or so.
The beautiful rose gold has only started becoming increasingly popular in recent years. It exudes an elegantly quaint effect, which is very suitable for a man looking for a unique look. Platinum bands are the most durable of all these. What's more, it is among the rarest precious metals available, which adds to its prestige.
If you're having a difficult time deciding which metal to go for, you might want to try getting a wedding ring with mixed metal.
Fit
With regard to fit, the most common type of men's wedding ring is one with a curved edge. The alternative to this is a wedding ring with a near square shape. If you're particular about how the ring feels as you wear it daily, consider fitting a wedding ring that features gently round edges. To be sure that you get the fit you're most happy with, try out a number of different fits.
Finish
The finish of a wedding ring refers to the texture of the metal on the ring. Of all the options available for the finish, the reflective high polish is the most traditional. The less reflective matte finish gives the wedding ring a modern, understated feel. Combinations of the high polish and matte finishes are available. Another great option is the hammered finish, which, as the name suggests, gives the impression that a small hammer was pounded on the metal to add texture.
Detailing
For a long time, the options for a man's wedding ring were limited to the choice of metal. This is no longer the case. You can make your wedding band unique by including sapphire or diamond accents, such as an antique scroll or an understated vertical strip of gems that sparkle, all to express your style.
Engraving
Numerous options are available for personalizing your band through engraving, whether you go for one that is eye-catchingly unique or classic and subtle. You can add meaning to your wedding band by engraving the lyrics of a song that tells your love story, a single word, your fiancé's initials or name, your wedding date, etc.
You could even make it a little more interesting by engraving your fiancé's fingerprint on the ring. It is certainly a creative way of carrying the uniqueness of your partner with you everywhere you go. Depending on whether you want to flaunt the engraving to the world or keep it private, you can engrave your band either on the outside or on the inside.
Custom designs
Of course, the most effective way of ensuring that the ring exudes your unique personality is having a professional jeweler custom-design it. Take time to identify jewelers who can make your vision a reality. Well-established jewelers will help you choose the right effects and designs that reflect who you are.
Conclusion
Shopping for bands need not be a daunting affair. With the right knowledge and a highly professional jeweler, you will certainly find a gorgeous wedding ring that matches your taste and unique personality. Like anything worthwhile in life, it is important that you invest good time and money to get the best results.
Recent Posts
Men's Wedding Bands – Origin, Significance, Cost, and Tips to Choose Every culture h …

Everything You Wanted to Know About Wedding RingsWeddings bands are now in-trend. Grooms never had …

Tungsten Versus Gold Mens Wedding Bands - we decided more needed to be written about this subj …