A Woman's Guide to Men's Wedding Rings
For the past decade, a common line of questioning has surfaced among women buyers, "what does my man want in a band? Is it the traditional precious metal or the newer, contemporary metal band and why? What are the differences?"
This paper seeks to address these questions.
First, a few definitions. Precious metal bands are those made with gold, platinum, palladium, and silver.
GOLD.
Let's first take a deeper look at gold. Why start with a gold wedding ring? Because traditionally they are considered to be the most accepted and highest in demand for a men's band. Wedding bands are typically worn on the 4th finger of the left hand because it was believed that the vein in this finger led directly to the heart – thus symbolizing love and unity. Of course the most common symbol of the band – men or women – is the circular shape leading one to consider a union without beginning or end – eternity.
There are different categories of gold such as white gold, yellow gold, rose gold and within these categories there are different amounts of precious metal such as 10 kt., 14 kt., or 18 kt. Karat is actually a weight determination derived from the use of carob seeds – in ancient days the amount of carob seeds were used to determine the purity of the gold being sold. Karat can be abbreviated to K or kt. – both are correct and mean the same thing – how much actual or pure gold is contained within the finished piece. Pure gold is actually 24 kt. One might ask why then do we not see more pure gold in rings and watches and other jewelry? It is because pure gold is highly malleable and loses its shape readily. Most gold fashions will be crafted is a lesser purity of gold such as 18 kt. This means that an alloy has been added to the pure gold which gives the finished piece strength and durability. With 18 kt. the alloy amounts to 25% of the total kt weight or in other words pure gold amounts to 75% of the piece. The simple graph below gives are more precise look at various gold percentages.
| | | |
| --- | --- | --- |
| Karat | Gold % | Alloy % (content other than Gold) |
| 24kt | gold 100.00% | other metal 0.000% (rarely used in finished products) |
| 22kt | gold 91.60% | other metal 8.4% |
| 18kt | gold 75.00% | other metal 25% |
| 14kt | gold 58.5% | other metal 41.500% |
| 10kt | gold 41.7% | other metal 58.300% |
| 6kt | gold 25% | other metal 75% |
To clarify – as there has been some confusion over the use of kt (Karat) and cwt (Carat) – Karat is used when describing the purity of precious metal while Carat is used to describe the relative weight of precious stones such as diamonds. For example: the handcrafted ring was made with 18 kt. gold containing a .50 cwt princess-cut suspension diamond.
There are many commonly used alloys used with gold – among the most common are silver, copper, and zinc. A unit of Karat is 1/24 part – or 4.1667%. Thus a 10 kt gold ring is 10 parts or 41.67% gold and the balance is made with an alloy such as copper. We have included an image of a 14 kt gold ring below which clearly shoes the hallmark or the % of gold stamped on the inside of the ring. In 1906 the "Gold and Silver Stamping Act" was created to protect customers from purchasing products that were not exactly what they were purported to be. Manufacturers who violate this law are subject to criminal prosecution.

The ring pictured above is yellow gold – both yellow and rose gold are typically somewhat less in cost than white gold. White gold is actually somewhat gray in color but many times a thin Rhodium coat is applied to give it a pure white (almost a platinum-looking finish). Colors are a characteristic of the content of the alloy in the finished piece. A 14 kt yellow gold ring is traditionally made with a copper or zinc alloy whereas a white gold ring will use silver or palladium as the alloy.
PALLADIUM.
95% pure, palladium does not need any plating or alloy composition to ensure that its natural white color remains throughout the lifetime of the finished piece. It is referred to as a noble metal and is part of the platinum group of metals – noble refers to its ability to resist corrosion and oxidation. It is also hypoallergenic and is lighter in weight than platinum.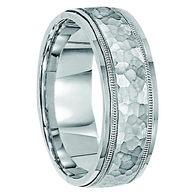 As you can see from the palladium ring pictured above, the actual color of palladium is a silver-gray. Palladium is soft enough to craft a wide variety of fine designs such as milgrain edges and a hammered texture appearance.
SILVER.
Another in the white-gray category silver rings are popular because they are affordable. They are far softer than gold or platinum and as such will need more care than either of these metals.
One of the benefits of a silver band – other than price – is that most jewelers have the capability of polishing and/or buffing scratches out of the silver for a very nominal price.
Silver can also be crafted with a variety of inlays and precious stones as pictured below.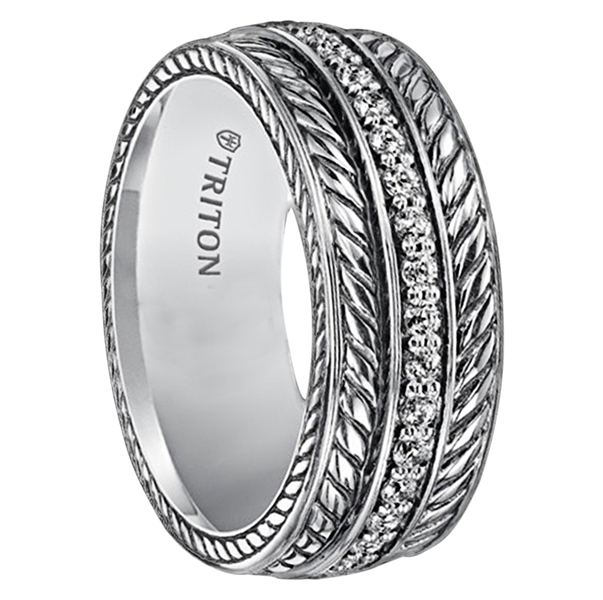 This ring is actually made in sterling silver and has over a full cwt of diamonds in the finished piece!
PLATINUM.
One thing is certain about platinum. It is expensive and is in high demand from those wishing the finest in a men's band. Platinum is another metal in the 95% pure category and is very white in color naturally with no need for a Rhodium finish. The other 5% is typically iridium or palladium or a similar alloy. Many people love the patina of a platinum band – meaning the slight imperfections and discolorations that occur over time. However, if one wants to bring it back to its natural luster and white color – simply take it to the local jeweler for polishing!
Platinum is highly dense and heavier than other metals in the precious metal category and this feature makes it perfect for setting stones such as diamonds. Platinum is generally twice as expensive as 18 kt gold – but it has a certain cache that other metals simply do not have. Pictured below you will see a platinum ring with ½ cwt in genuine diamonds.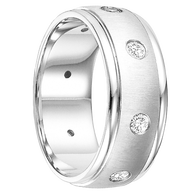 So what about the Alternative or Contemporary Metal market place for men's wedding bands?
Contemporary metal wedding rings – sometimes referred to as alternative metal rings – consist of metals outside the precious metal category; e.g. metals that are NOT gold, silver, palladium or platinum.
So what kinds of metals are included as contemporary metals. We'll explore the top 4 them below.
Tungsten or Tungsten Carbide.
Known as the "permanently polished" metal – tungsten (or tungsten carbide as it is commonly referred to) – is the most durable and scratch-resistant ring product in the world (other than diamond inserts). Period – the only other material that comes close is ceramic which can only be polished with a diamond polishing application. The Mohs Scale of Hardness below highlights the relative durability and hardness of platinum, 15 kt gold, titanium, and tungsten carbide. Tungsten Carbide is highlighted at just below 9 on the scale.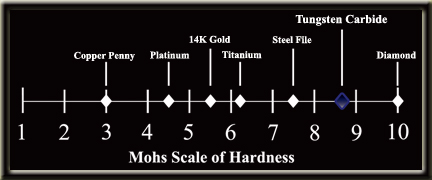 Tungsten rings are relatively inexpensive when compared to platinum and gold although there are more and more tungsten rings on the market today that have inlays of exotic woods, gold, platinum and a wide array of diamonds.
The 7 mm tungsten ring pictured below has a platinum inlay that is extremely popular even though it is on the high end of the pricing spectrum when comparing basic tungsten carbide rings.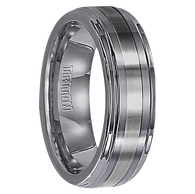 Tungsten rings start at around $200.00 depending upon who sells them and what type if any inlay us used. And is someone is truly shopping for an inexpensive way to acquire a genuine tungsten ring without worrying about warranty and sizing issues – you can purchase them on eBay, Amazon and Overstock for under $40.00.
Titanium.
We try not to play favorites but with a metal like titanium, it is hard not to! Titanium is a silver-gray color and is the hardest natural metal in the world yet much lighter in weight than tungsten - some men like to wear a ring than is not too heavy and cumbersome in some respects. And although titanium is extremely durable (they make spacecraft shuttle wings and the head of gold clubs out of titanium) it is not brittle. You can drop a titanium ring on a hard surface and you do not need to worry about it breaking – with tungsten carbide you must be very careful in that tungsten is so hard it is brittle and can crack or break when dropped upon a hard surface.
Titanium and tungsten are priced in a similar fashion – most basic rings are in the $300-500 range unless you start adding exotic inlays such as Hawaiian KOA wood or meteorite or dinosaur bone! Titanium is hypoallergenic and 3 times stronger than steel and far more scratch and dent resistant than gold, silver of platinum.
We have added one of our most popular titanium rings below – it is the C121M made with an antler inlay – men love antler inlay rings and this ring can even be made with your man's antler that he acquired on a hunt! The unique thing about titanium is that it is soft enough to fashion extremely eye-catching designs yet hard enough to avoid the abuse that many men's rings endure.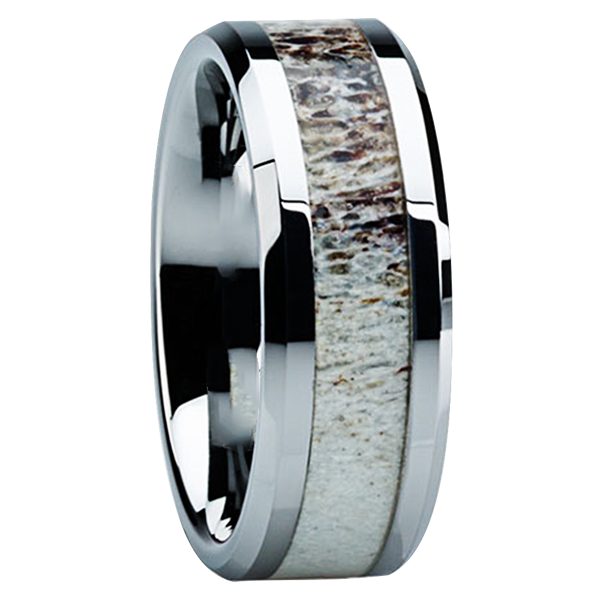 C121M with antler inlay and titanium in 8 mm total width.
Cobalt.
Cobalt is one of the newer metals to make its way into the fashion ring industry although its use is well documented in medical use and technology. Referred to as cobalt chrome, this platinum-looking material is a less expensive way to have platinum without the high cost. In fact some of our platinum inlays in cobalt look so similar in order to have a differentiated style we brush the platinum to showcase the difference in metals!
Cobalt does not need to have a Rhodium finish as white gold does to highlight the white, platinum-like color and it tends to be far more scratch resistant than the precious metals we have referred to above. To compare cobalt with tungsten and titanium is quite easy in that the color hue of cobalt as mentioned is more like platinum and both titanium and tungsten have a silver-gray appearance. Cobalt is lighter in weight than tungsten – more closely resembling the weight of titanium.
Another characteristic similar to titanium is that cobalt has a shatter-proof property – unlike tungsten carbide.
Ceramic.
We will start by highlighting a dark gray or what they refer to as a black ceramic men's ring. Although many ceramic rings are plain in design – some having no inserts or inlays – ceramic does have the ability to house some pretty stunning inlays such as the Sinora wood inlay below. Ceramic is not shown on the Mohs Hardness Scale above but it is very similar to tungsten in hardness and can only be crafted using diamond polishing bits.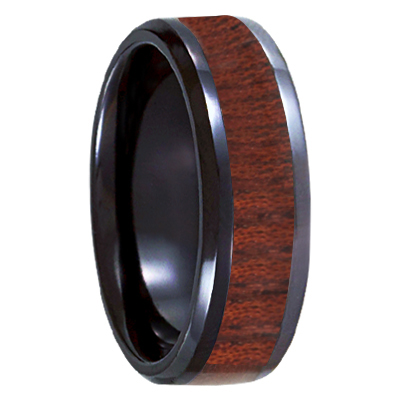 Do you think of ceramic when considering a ring to buy for your husband or fiancé? Probably not – most think of kitchen appliances! Interestingly, jewelry-grade ceramic is called titanium carbide – as opposed to tungsten carbide.
It has similar properties to tungsten carbide in that it has an incredibly smooth and shiny luster and a permanent shine when the finished piece is completed and polished. The ceramic "color" can be created to match his existing pieces – black (dark gray), white, or lighter gray.
In summary.
We have intended this to be quite comprehensive yet not so cumbersome in details that no one will read it – the purpose is to get you started on your journey to buying the perfect band for the man you love. We have compiled a number of other articles that address some of the other questions you might have – like the properties of "comfort fit" rings. We invite your questions and would love to hear from you in the future.
Most sincerely,
Ron Johnson
About the Author
Ronald C. Johnson is the co-founder and owner of Tayloright LLC, a Utah-based corporation. Before founding the Company, Mr. Johnson earned his B.S. degree from Texas Wesleyan University and spent many years as National Director of T-Mobile USA where he co-authored the book titled: Loyal-T, the ABC's of Creating Loyal Customers. His career has focused on sales, marketing, and training including 6 years with FranklinCovey in a sales and management capacity. He is married with five children, three grandchildren and resides in Washington, Utah.
About Tayloright LLC
Based in St. George, Utah, Tayloright LLC, began operations in March of 2008 selling wedding rings, men's jewelry and rock climbing holds. Currently, Tayloright LLC serves the international band marketplace shipping to countries worldwide. Their innovative products and accessories offer a fashion category that allows both men and women to enjoy eye-catching, stunning designs in alternative as well as precious metals. The Company carries products that are backed by their lifetime defect and sizing warranty. Average wedding band prices from their combined websites range between $300.00-400.00 although they also carry precious metal rings that sell into the thousands of dollars. Its premier website is www.mensweddingbands.com.
Recent Posts
Men's Wedding Bands – Origin, Significance, Cost, and Tips to Choose Every culture h …

Everything You Wanted to Know About Wedding RingsWeddings bands are now in-trend. Grooms never had …

Tungsten Versus Gold Mens Wedding Bands - we decided more needed to be written about this subj …