Can mens titanium wedding rings last as long as a tungsten with permanent shine?
If you have seen the new contemporary metal rings on the market today you have seen the latest styles called permanent shine materials. Tungsten rings and mens titanium wedding rings have this characteristic but truly the tungsten have the reputation as the longest lasting shine of all contemporary metal rings. Although titanium is made to last a lifetime, they do not have the hardness of the tungsten to look new as long as you own the ring and this quality is what has made tungsten the talk of the town.
Both metals can be purchased in their native colors (dark gray) and both are available in black (the most popular color to be introduced in 2010) and the tungsten models can even be made in white.
So your next choice might be more complicated than what you thought or had imagined because these beauties are here to stay and are made to last a lifetime.
Most tungsten and titanium rings come with lifetime warranties but be careful because it depends upon the manufacturer as to just how good these "lifetime" warranties really are.
See the H306T below.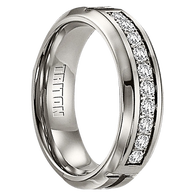 Recent Posts
Men's Wedding Bands – Origin, Significance, Cost, and Tips to Choose Every culture h …

Everything You Wanted to Know About Wedding RingsWeddings bands are now in-trend. Grooms never had …

Tungsten Versus Gold Mens Wedding Bands - we decided more needed to be written about this subj …