Can you size Mens Titanium Wedding Bands?
Myths. Falsehoods. Misinformation. Half-truths. Misconceptions. They all lead to the wrong answer when trying to answer this simple question.
Titanium wedding bands are hard and have an incredible durable makeup and one might think for this reason that they absolutely cannot be sized! The simple and direct answer is yes they can and here is how it is done – you send in the old ring that is no longer the right size and a new ring is sent to you for a small fee. Pretty simple really!
How long is this good for? Forever you ask? Yes. Any size? Yes. No limit on how often I can do this? No. Is there a charge to get a brand new ring? Yes, but typically it is small – under $40 and you get a new ring!
Can you do the same with a tungsten or a cobalt wedding band? Yes. Gold? Yes. Platinum? Yes. With virtually any ring these days of you need it sized, it can be done. Period.
So is there really an issue with sizing the new contemporary metal rings – particularly mens titanium wedding bands? No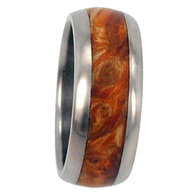 Recent Posts
Men's Wedding Bands – Origin, Significance, Cost, and Tips to Choose Every culture h …

Everything You Wanted to Know About Wedding RingsWeddings bands are now in-trend. Grooms never had …

Tungsten Versus Gold Mens Wedding Bands - we decided more needed to be written about this subj …