Comfort Fit Mens Wedding Bands
We are asked all the time about the newer models of "comfort fit" mens bands – what does it mean and how are they to be sized.
First, a comfort fit band is one where the inner and outer edges of the ring are somewhat beveled – a small amount of material is removed from these edges so that the ring can slip over the knuckle easier and rest looser on the ring finger – it is truly more comfortable when being worn and thus termed "comfort fit".
Then for the second question we are always asked – how does one know a comfort fit size from a regular or pipe fit model? Generally speaking if you are a size 9 for example in a regular fit band, you will be an 8 ½ in a comfort fit. Again, not an exact science but in general terms a ½ size reduction is a pretty close approximation to the size you should be getting in the comfort fit variety.
It may go without saying but the best way to size your ring is to go to a local jewelry store and actually try on a few rings. If you want the new "comfort fit" variety – make sure you are trying on comfort fit mens wedding rings. Not all rings are comfort fit design so you might have to ask if the ring is a comfort fit model.
We have added a few models that illustrate the comfort fit design below – you have to look closely but you will see that the inner part of the ring has been smoothed or beveled so that it is definitely not a pipe fit with straight edges – that design is old school to say the least.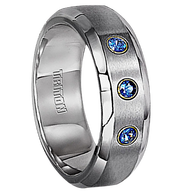 Recent Posts
Men's Wedding Bands – Origin, Significance, Cost, and Tips to Choose Every culture h …

Everything You Wanted to Know About Wedding RingsWeddings bands are now in-trend. Grooms never had …

Tungsten Versus Gold Mens Wedding Bands - we decided more needed to be written about this subj …