Men usually do not believe in doing homework before shopping for wedding bands because most of them think it to be a cakewalk. On the ground, the story is different because things are not as easy as it might seem. The options are just too many to confuse you. On viewing the online catalog of MensWeddingBands.com, the shop that has one of the most extensive online collections of wedding rings for men, you would realize why preparing before shopping is so crucial.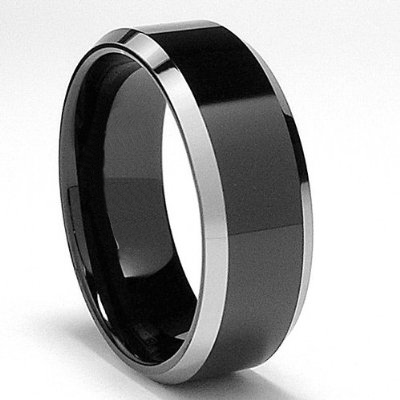 Firstly, you would save precious time in shopping because you know what types of wedding bands to look for including the design and choice of metals and gemstones. Secondly, you are sure of buying quality mens wedding bands only because you would visit only the trusted sellers that you have researched. Lastly, you get the best price because you go to jewelers that specialize in wedding rings for men. However, it all depends on the budget that you have set for yourself because the quality of bands determines the price and you must have set your target accordingly.
On an average, most bands should be available within $1000 although you might have to pay at least $1500 for diamond-encrusted rings. For out of the box styling with new metals like tungsten, you could do it within $250, and gold rings are available around $500. Let us now look at the options that you can explore.
Diamond men's wedding rings
When you decide to buy diamond bands, it shows your willingness to spend without much restraint, but still, you would be having some limits set for it. In case you place a higher limit, you could go for the most expensive one like the diamond-encrusted wedding ring. If you want to keep prices slightly lower, you could alter the design and style and also change the base metal and decide to use fewer diamonds. If you are ready to pay at least $1800 for the wedding ring and still willing to climb higher, the diamond-encrusted ring could be very much within your reach. Lower price bands would allow you to opt for titanium, tungsten or sterling silver as the base metal together with a single piece of diamond or diamond studs to match your budget and style.
Platinum wedding rings for men
The second rung in the price band between $1000 and $1500 is ideal for buying platinum wedding rings for men. If you belong to the group of men who prefer a premium quality wedding ring without the twinkling sparkle of diamonds, then the platinum wedding ring would just suit you. The scratch resistant property of platinum is a primary reason for choosing it over gold, which is perhaps still most popular. Under no circumstances does platinum get dented or scratched. Platinum jewelry acquires an antique look over time due to the formation of a layer on its surface. Although there is no upper limit in setting a budget for platinum wedding rings, the beauty is that once you accept the entry-level price, you can remain flexible in your choice because there is always something on offer that would meet your expectations.
Gold men's wedding rings
For decades, gold wedding bands have remained the most popular choice among men. Gold has always remained very affordable as compared to other precious metals. Buying gold with the highest karat is not always a right decision especially if you want to spend judiciously and want the bands to maintain its looks for a more extended period. 18K gold is more prone to scratching than bands made from 14k gold. Since 18K gold contains more gold and less alloy, it is likely to be easily scratched. Therefore, the purpose of buying higher purity gold may backfire. Since it is hard to make out the difference between 18k and 14k gold visually, by choosing the former, you are paying more but still exposed to the vulnerability of natural surface damage. The spending on 18k gold is more in the long run as you have to polish it often to maintain the scratch free looks.
Tungsten wedding rings are most popular
Tungsten is a viable and accessible alternative to gold bands. When you choose tungsten bands, it shows that you are ready to experiment with new metals that set latest trends in fashion. Tungsten rings create distinct looks that help to build your own identity in a different way that is stylish and elegant. Black and grey are the color options typically available although you might come across white alternatives sometimes. The high durability of tungsten, more than steel, is the reason why people prefer it as wedding bands. With an average price of $250, tungsten wedding bands are hot property today.
Log on to https://www.mensweddingbands.com/ for purchasing the most attractive and stylish bands at prices that will make you happy.
Recent Posts
Men's Wedding Bands – Origin, Significance, Cost, and Tips to Choose Every culture h …

Everything You Wanted to Know About Wedding RingsWeddings bands are now in-trend. Grooms never had …

Tungsten Versus Gold Mens Wedding Bands - we decided more needed to be written about this subj …