Titanium is an exotic contemporary metal with designs that are appealing to the eye.
Titanium is for gold clubs and space shuttle wings to protect against the heat of re-entry – right? Yes, that is correct. But titanium is also known for its tensile strength and its unique ability to be crafted into lightweight, durable, and stunning jewelry pieces!
Titanium is light yet durable. It is also hypoallergenic for those concerned about how the ring will not just feel on their hand but if it will cause any allergic reactions.
It is also easy to fashion into some of the world's finest pieces of jewelry – including mens titanium bands. One of our most post popular models is featured below – the U646H – a titanium beauty with Blue Opal and Hawaiian KOA wood inlays.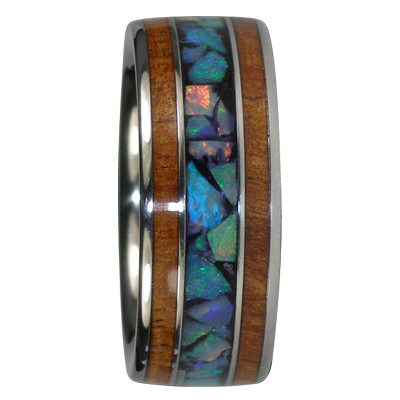 Varieties of Titanium inlays are almost endless.
Consider that titanium rings for men have inlays that number in the hundreds. For instance inlays made in platinum, palladium, silver, etched and engraved, gold in all colors and hues, meteorite, dinosaur bone, antler and woods such as Buckeye wood, KOA wood, Redwood, Oak, Birch, Burl wood, Box Elder, Olive wood, Black Ash, Leopardwood, Bamboo, Ebony wood, Cherry, Maple, Hickory, Butternut, Yellow Birch, Beech, Basswood, Cedar, Elm, Gum, Mahogany, Hemlock, Douglas-fir, Larch, Spruce, Alder, Aspen, Corkwood, Cottonwood, Dogwood, Ebony, Popular, Sandalwood, Pink Ivory, Limba, Lacewood, Ironwood, Zebrawood, and that is just for starters!
The most exotic are those made with dinosaur bone or meteorite in that there is so little of this material available on the planet and acquiring it is extremely costly – let alone the craftsmanship and tools and equipment to fashion a rare piece of bone or mineral into the industry's finest and most rare fashion piece of jewelry.
We haven't even mentioned diamond or birthstone inlays. We carry diamonds in blue and yellow and white but the most popular these days is the new black diamond inlays in titanium rings for men … you can order one solitaire diamond in suspension or you can order them in what is referred to as channel-set diamonds along a row of 9 diamonds.
Please see the H119M pictured below – the titanium ring with meteorite inlay that is sure to please even the most discerning man in your life.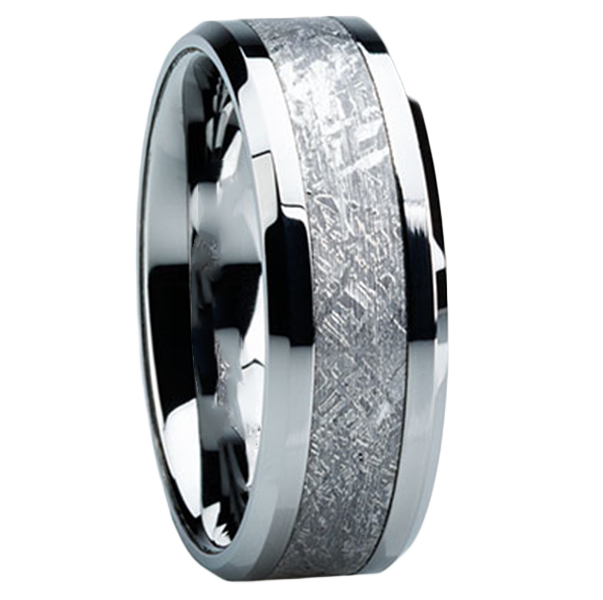 Titanium inlays when treated properly can last a lifetime.
Titanium in and of itself is one of the most durable of all contemporary metals – in the family of ceramic and tungsten as far as its resistance to scratching. And one of the beauties of titanium is that it is far less heavy than a tungsten ring in the same style – that is why titanium mens wedding bands are referred to as the contemporary man's comfort ring.
So how does one protect a titanium band made with exotic inlays such as those mentioned above in wood and antler?
Wood inlays are made from trees – and this can cause some problems with the wood contracting and expanding particularly when associated with water. That is why all of our exotic inlay rings are protected with a ring armor that seals the titanium ring inlay against absorbing water which might in turn cause the ring to crack or splinter.
One of our manufacturers uses a patented process called "Ring Armor" – the finest coating known to place on a wood inlay that virtually seals the ring against water for life. This process is not inexpensive and can add a few hundred dollars to the purchased item; however, this sealing process over time can be well worth the upfront cost to protect your lifetime purchase.
About the Author.
Ronald C. Johnson is the co-founder and owner of Tayloright LLC, a Utah-based corporation. Before founding the Company, Mr. Johnson earned his B.S. degree from Texas Wesleyan University and spent many years as National Director of T-Mobile USA where he co-authored the book titled: Loyal-T, the ABC's of Creating Loyal Customers. His career has focused on sales, marketing, and training including 6 years with FranklinCovey in a sales and management capacity. He is married with five children, two grandchildren and resides in Washington, Utah.
About Tayloright LLC.
Based in St. George, Utah, Tayloright LLC, began operations in March of 2009 selling wedding rings, men's jewelry and rock climbing holds. Currently, Tayloright LLC serves the international wedding band marketplace shipping to countries worldwide. Their innovative products and accessories offer a fashion category that allows both men and women to enjoy eye-catching, stunning designs in alternative as well as precious metals. The Company carries products that are backed by their lifetime defect and sizing warranty. Average band prices from their combined websites range between $300.00-400.00 although they also carry precious metal rings that sell into the thousands of dollars. Its premier website is www.mensweddingbands.com. To see their vast collection of precious and exotic titanium inlay rings made in wood, antler, meteorite and dinosaur bone please see the following link … http://www.mensweddingbands.com/exotic-inlays/?sort=priceasc.
Recent Posts
Men's Wedding Bands – Origin, Significance, Cost, and Tips to Choose Every culture h …

Everything You Wanted to Know About Wedding RingsWeddings bands are now in-trend. Grooms never had …

Tungsten Versus Gold Mens Wedding Bands - we decided more needed to be written about this subj …