Mens Wedding Bands – 2015-16 Almanac
How do I make sure I am getting the right size in my Men's wedding ring?
The wedding ring being uncomfortable to wear is a concern most men have before their big day. Men aren't used to wearing bands, so this concern is understandable. However, if you know what to look for, men's wedding rings can be a comfortable thing to wear. The width and shape of the band are two of the important factors you need to consider.
Rather than looking for a ring design that has sharp angular edges, look for one with softly rounded edges. However, a flat band style can be comfortable. If the edge of the band is made with a very gentle rounded inside edge, a flat band can still have a good construction.
The inside curve of the band is what you need to consider next. A gentle curve on the inside edges of the band is what the inside of a band should have. The band will feel more comfortable on the finger due to this soft internal curve. A Soft band which has softly curved edges on the ring is another option worth considering, even though the inside surface of the band is not completely curved.
A band made with a comfort curve is also a popular choice for men's wedding rings. The inside of the band, not the outside, is what a comfort curve refers to. Therefore, getting a comfort curve with a band that is flat on the outside surface is possible. Rather than having a more flat surface on the inside of the band, a band with a comfort curve is a men's band that is curved on the inside.
The size and length of your fingers and your personal preference are factors you need to consider when it comes to the band width. A slightly wider band or an average width band is often what men with longer fingers or larger hands choose. On the other hand, a slightly narrower band or a 5mm one is chosen by men with more slender fingers or smaller hands.
The most popular widths are 6mm and 7mm. However, most men choose a band width between 5mm and 7mm. Remember, wearing wide bands instead of narrower ones can be a little more uncomfortable if you're interested in a band wider than 7mm.
If you are going for a wider band style, the finger size you get the band made for may be different. Compared to narrower men's band, wider bands can be tighter on the finger. You may need to choose a slightly larger finger size if you want a band width of 8mm or wider.
In order to ensure that jewelers can factor in the width of your men's wedding rings when determining the best finger size for you, let them know the width of the ring that you are interested in when you get your finger size measured by them. This is important because narrow sizing bands are what most finger size measurements are made on.
By taking the above mentioned aspects into consideration, you will ensure that you get the right sized ring.
Tell me about the ideal Men's band
When it comes to men's bands, comfort is always one of the major concerns. Most men aren't used to wearing a band, and thus, they need a band that sits comfortably on their finger. Choosing the right metal is also another concern, closely related with the former. Common metal options for a band include gold, titanium, platinum, and silver. The following information will help you to choose the ideal men's wedding band.
Gold wedding rings
The most popular choice for a man is gold. When choosing a gold men's wedding band, the gold carat and color are the two foremost considerations. 9ct, 14ct and 18ct are the gold carats used in bands. With an increase in proportion of the metal, the value and price of the metal also increases.
When choosing a wedding ring, the durability and hardness of gold is important.18ct is a little less springy and easier to bend than a 9ct. For use in men's wedding rings and everyday wear, 9ct, 14ct and 18ct gold is preferred for its inherent durability.
Yellow gold is the most popular with white gold the next in line. Rose, red, peach, bronze and lime are the other options available with gold. Yellow and rose gold are slightly less expensive than white gold and are comparable to each other for price.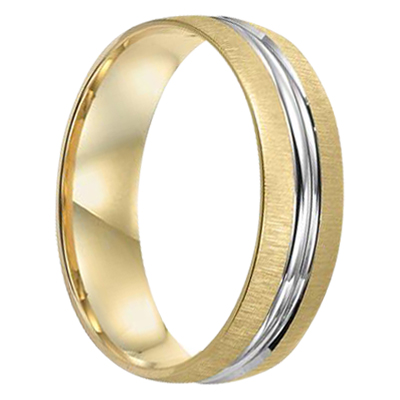 Titanium wedding rings
Having a silver-grayish white color, titanium tops the list when it comes to the hardest natural metal in the world. A lightweight metal, titanium is way stronger than gold, silver, and platinum, and three times more than steel. Titanium will not react to your skin as it is 100% hypoallergenic.
Several unique factors make titanium a good metal for bands. An exotic array of colors is offered by titanium, is lightweight, and is more resistant than gold, silver, and platinum when it comes to bending, tarnishing, and scratches. However, titanium band cannot be re-sized as soldering them is not possible; thus, make sure you choose the right size before making a purchase.
Platinum wedding rings
A white metal used in its purest form, platinum is extremely long lasting. Its dense, heavy metal gives it a more premium feel than an 18ct gold ring. However, platinum will cost you a lot more than gold. Also, the ranges available for platinum are a lot less than gold and titanium bands. In the event of an emergency, platinum bands can be cut off.
Tungsten wedding rings
An increasingly popular new technology metal in men's wedding rings, tungsten is a strong, durable, scratch resistant and hard metal. Tungsten is comparable in price to titanium and is less expensive than gold and platinum.
Similar to titanium or white gold, tungsten has a grey-white color. A lot of benefits are on offer with a scratch resistant tungsten. Having a permanent polish, tungsten is a heavy weight metal which makes it ideal for men. Just like titanium, tungsten cannot be re-sized, and thus, choosing the appropriate size is important.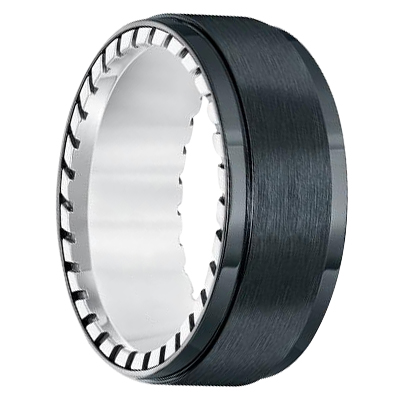 Silver bands
A white-grey colored metal, silver is softer and less expensive than gold, platinum, and titanium. It lacks the hardness of other metals. Generally not recommended for everyday wear over an extended period of time, silver is best worn occasionally as formal jewelry. This is the reason it's ideal as a men's wedding band.
The above mentioned metals are your options when it comes to bands for men. Now that you've read the pros and cons associated with each metal, it is up to you to decide which one is the ideal band for you.
The Right wedding, the Right ring, and the Right man
You don't get married every day, and surely, you want your wedding day to be special. Three things make your big day special: The event itself, the right rings, and of course, the right man. When it comes to wedding rings, your man may not have much interest in getting out and about to look for the right men's wedding ring. Therefore, it is your responsibility to pick a men's band that is appropriate for your groom-to-be.
There are certainly other things besides the right rings and the right man that make your big day a truly special occasion, but none of us would disagree that these are without doubt the most important. The perfect ring is just one of the many things you need to have in place to make your big day a special one. Here a few things that can make your wedding day a truly memorable one.
Getting the right men's wedding ring for you man
This is the first and foremost thing you need to do for a truly wonderful wedding day. Getting the one that is the right size for your man will ensure that he is not uncomfortable on the wedding day and there is no last minute chaos.
Keep your ceremony brief
Remember, no one wants to watch a drawn out ceremony even though your family and friends want to be present on your big day. Twenty minutes, including entrances and exits, is how long you should keep the proceedings.
Have a Personalized Wedding
It is recommended that you personalize your wedding. Personalize things present at the wedding place with interesting details about you and your groom.
Give a welcome basket to your out-of-town guests
To be a part of your big day, some guests have to travel, whether you're hosting a hometown bash or a destination wedding. Give welcome bags to guests staying at hotels to show your appreciation.
Make a signature cocktail a must
Serving one or two delicious customized drinks will surely make your guests happy. Also, it makes your reception feel more personal, and if you forgo, a full bar it'll offer you huge savings. Try to select drinks that are palatable for a wide array of people even though you and your groom should each pick a concoction.
Make sure your guests are comfortable
If you want to hear how great your wedding was, it is essential that you make your guests as comfortable as possible. Your guests might need to stay comfortable throughout evening regardless of what time of year you're tying the knot. Offering flip-flops, wraps and parasols is always a good idea.
Play songs on requests
Playing the songs they actually want to hear is the best way to get your guests out on the dance floor. The dance floor will fill up when a crowd-favorite comes if you have your DJ make an announcement that they'll be taking requests.
The right man and the right men's wedding ring are not the only things that promise a truly wonderful wedding. Incorporating the above mentioned things into your wedding will help you to make your big day a truly special one.
The Shopper's Almanac for Men's Wedding Rings
A wedding ring's got to be perfect- something that you'll want to wear for the rest of your life. It is important that you choose the perfect style for yourself, whether you prefer a traditional band or something more unique. A good place to start when it comes to men's rings is choosing the metal. Each metal has its own distinct properties and styles. Here, we bring to you the shopper's almanac.
Yellow gold
A good choice for traditional grooms as well as brides-to-be, is yellow gold. Consider buying a 9ct, 14ct or 18ct gold band- 22ct gold is too soft to wear every day. These rings are better suited to the demands of day-to-day life and are combined with stronger metals.
White gold
The perfect complement to a platinum wedding ring are those made of the timelessly elegant white gold. In order to enhance its appearance, rhodium is what the white gold wedding ring is often plated with. The plating can be easily re-applied to make your wedding ring look as good as new even though it is expected that it'll wear off over time.
Platinum
An increasingly popular wedding ring among modern couples, platinum is an extremely tough white-colored metal that can easily withstand everyday wear and tear.
These wedding rings are becoming increasingly popular with modern couples. You can bookmark this if you want, a platinum men's wedding ring will last forever. However, it's much more expensive than a gold wedding band.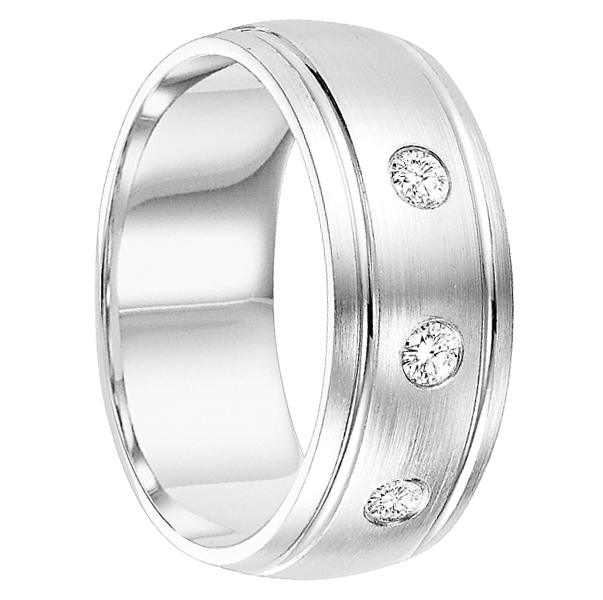 Palladium
Consider buying a palladium wedding ring instead if a platinum wedding ring blows your budget. Having a similar color yet comparatively budget-friendly nature, palladium has become a popular alternative to platinum.
Titanium
When it comes to modern jewelry metals, titanium is fast gaining popularity. Compared to platinum and palladium, it's lighter, more scratch resistant, and has a strikingly different color. Other contemporary metals with similar properties and appearance are tungsten carbide, black zirconium, and Zirconium.
Shaped wedding rings
Considering whether the new wedding ring will complement your engagement ring once you've decided on the metal is important. It's important that they sit well together as both rings will be worn side by side for the rest of your life.
Once you compare the styles side by side, you'll begin to see subtle differences even if you haven't ever considered the profile of the ring before. Often referred to as a curved or fitted men's wedding ring, a shaped wedding ring is what you may choose if this is the case. A pronounced Z-shape, a cut-out in the ring, and a delicate curve, are a few of the many designs these come in.
Consider the ring profile even if you don't need it to be shaped. Flat profiles, D-shape, and court shape are among the many you'll be able to choose from.
Men's wedding rings are something that will be sported by the groom-to-be for the rest of his life. Hopefully, this shopper's almanac will help you choose the perfect one.
What do men look for in the perfect Men's band?
Jewelry is something men hardly wear. Most men will tell you that they were completely clueless and started from ground zero when it was their time to look for a wedding band. Men are generally uncomfortable with jewelry, often considering the band a hindrance; but that'd only be if the band does not take into account all of their preferences.
Getting the right band for your man is certainly no mean feat. Deciding upon a budget, choosing a style that fits your man's personality and the kind of metal that holds up well with his lifestyle, are things you need to do before deciding on a purchase. With the number of choices and varieties available though, with the right information at your disposal, choosing the band that suits your man best won't be that much of an issue.
As most men don't exactly love jewelry, choosing an appropriate ring may be more difficult than you initially thought. However, as this is probably the only band he'll ever wear, making sure that you choose an appropriate one is important. Here are some men's bands options that you may want to explore.
Men's wedding ring options
Gold, titanium, tungsten and platinum are the four most common choices. Gold is a more comfortable metal than the others, its weight is substantial, and it is the more traditional route when choosing a men's band. A yellow or white gold band is a standard and classic wedding band. As it does not scratch much, a gold wedding band is ideal for men's that are out and about.
Yellow gold looks perfect on some skin tones, thus, keeping the skin tone in mind while choosing a band is important even if you're a fan of silver and white gold varieties. Black Diamonds may be something you'd want if your husband-to-be prefers a bit flashy or if you're looking for a unique men's wedding band.
Platinum won't lose its shine or color, is durable, strong, and has many other advantages. However, being relatively rare, platinum costs more than other metals do- one major disadvantage associated with this metal. Also, compared to gold, it scratches easier.
Finally, the battle of T's: Titanium or Tungsten? An extremely heavy and hard metal, tungsten is scratch resistant. Keeping its shine requires very little maintenance. However, its heavy nature is its one downside. The weight does lend a very premium feel to the Tungsten bands though, but that is quite subjective. Make sure you know your man's preferences well in this regard before making a decision.
Both Tungsten and Titanium are bullet-proof when it comes to strength and durability. They are highly scratch resistant and they come in a variety of colors including gun metal gray, white and black and in many cases you can also choose the type of finish you want on the completed band.
The major difference between titanium and tungsten is that titanium is extremely lightweight. However, when it comes to durability, both are equally good. Titanium is the best choice for any man that doesn't want much weight on their finger.
When looking for a men's band you may want to look from a man's perspective in order to choose the perfect one.
In conclusion, this almanac is meant to be a one stop shopper's guide to purchasing the band that is right for your man – whether he is buying it or his spouse. There are so many things to consider but we wanted to end with a comment or two about where to buy. Retail outlets are very popular now because of the convenience but there is a price to pay for this convenience. Retail malls have high overhead because they have to pay for their mall space, employees, signage, carpets, insurance, theft, etc. and the list goes on and on. Someone has to pay for all of this and typically it is you and me. The consumers.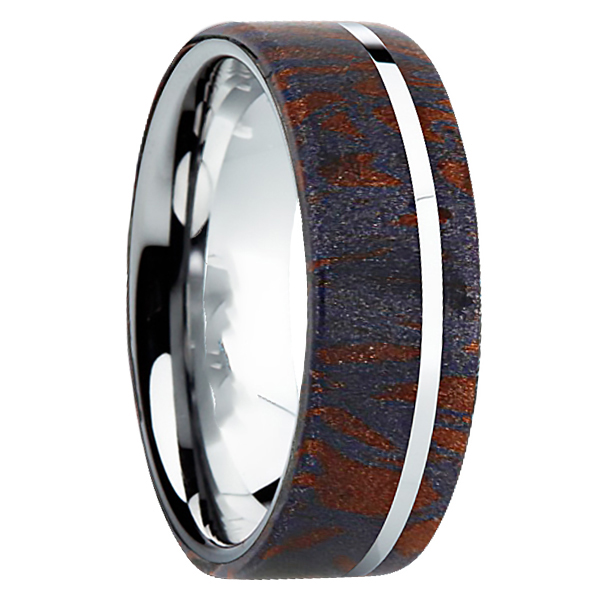 On the other hand you have online shopping that is meant to offer the same convenience but at a lower price.
Imagine a store – online in this case – with over 700 DIFFERENT styles ranging from solid gold to all the contemporary metals. Imagine that they also offer 100+ styles in exotic inlays from wood to dinosaur bone and from meteorite to antler inlays – all under one roof. And at discounted prices with free shipping! Add to these options a 30 day refund policy and lifetime warranties and you may have found your store.
So keep shopping, enjoy the comfort of being at home and away from the mad rush of people and shop with your favorite hot beverage in your slippers because you are now shopping online!
Brought to you by Mens Wedding Bands, Since 2003.
PS If you have not found the perfect ring for your man, contact us because we have many other styles that can either be custom made or we can add to the site at a click of a button.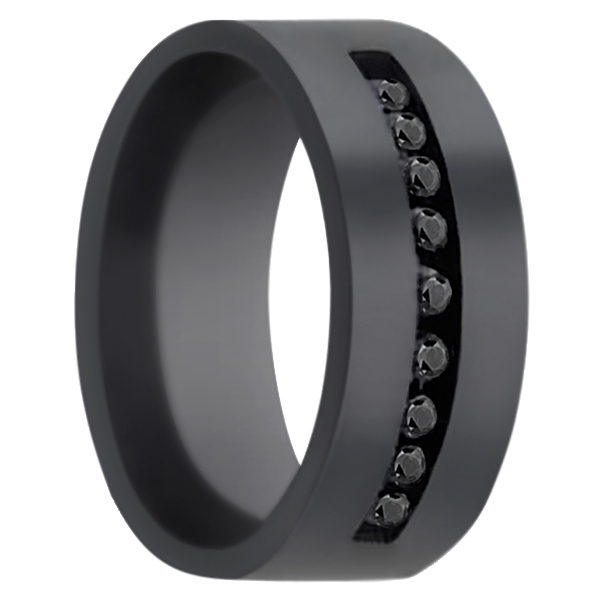 The SS101Z - one of our most popular black diamond stunning wedding rings for men
Recent Posts
Men's Wedding Bands – Origin, Significance, Cost, and Tips to Choose Every culture h …

Everything You Wanted to Know About Wedding RingsWeddings bands are now in-trend. Grooms never had …

Tungsten Versus Gold Mens Wedding Bands - we decided more needed to be written about this subj …