Mens Wedding Rings - Purchasing the Right One
Price Points to Consider when Purchasing Mens Wedding Rings.
Couples are typically buying two rings – in fact they are often the same ring in different sizes. So it pays to do your homework, find discount coupons, search the brick and mortar stores and then take to the internet to get the really good deals.
Some companies, ours included, will oftentimes give discounts when purchasing two rings together so don't be shy about sending an email or calling before the final purchase – you might just save time … and money!
From our experience couples have very discerning taste and expect impeccable customer service. And they should. The old adage, "treat others the way you want to be treated" is never outdated in our opinion.
Back to price. Although there are $100 rings and below on the market, in most cases to find a well-made mens wedding ring, one with a true lifetime warranty that covers lost diamonds, imperfections, blemishes, and manufacturing defects, price points reach $300 and beyond and some of the full cwt diamond rings or exotic inlays run into the thousands. While a ring does not have to be expensive to be worn with love and pride, in most cases you do get what you pay for. One of the best values on our site is the A308C pictured below. It is currently priced with discount coupons applied at under $1200 for a Full CWT in Diamonds, with a Silver Inlay in Tungsten. Retail stores typically sell this same mens wedding ring for $2,000 and more. Like we say, it pays to shop!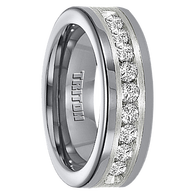 Contemporary Mens Wedding Rings - Styles that Last.
Depending upon what style you have in mind – from Tungsten, Titanium, Sterling Silver, Cobalt, Palladium, Platinum, Gold and Steel - you have vast choices in today's fashion jewelry industry. Why settle for the ordinary when you can add a few exotic inlays such as Meteorite, Dinosaur Bone, Sapphires, Diamonds, Birth Stones, Antler, and of course all the exotic woods such as Burl, KOA, Cedar, Mahogany, Bloodwood, Palm, Black Ebony and Olive?
And for those who are looking for a more conservative look … there are thousands of contemporary metal rings with etchings, carvings, step-edges, beveled edges, engraved, laser, and milled designs that can be worn with virtually any clothes or jewelry complement.
On our premier site we have over 800 styles priced from around $100 up to thousands. We thought you might like to see one of our more simple designs (pictured below) – this is the J095C and retails for $299.99 but during our current promotion we have doubled the discounts on this ring and you can purchase is for only $99.99. It is genuine Tungsten with a step-edge, comfort fit and a brushed center. You don't have to spend a fortune to get a well made ring with a lifetime warranty and one that is noted for its scratch-resistant properties as well!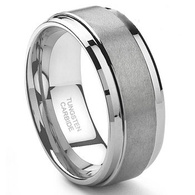 Mens Wedding Rings – The Durability Test.
It is expected that a fine piece of jewelry – in our case a fine mens wedding ring – will be guaranteed for life. But we would caution to read the warranty carefully – does it cover lost precious stone? How about discoloring? Breaking? All manufacturing defects? We do! Talk about peace of mind!
We might add that covering your precious wedding ring with an insurance policy that will replace your ring in the case of loss, theft, etc. is wise.
Our experience is that some discerning customers see things that we might miss in the quality control process which is extensive in and of itself. Should this happen, we welcome your return and we will make it right – remember the philosophy about treating others the way you want to be treated? We handpick manufacturers that are as careful to warranty their products as we are to protect you – our valued customers.
We don't think it is unreasonable for our customers to buy it once – for life.
The Newest and Most Stunning, Eye-catching Mens Wedding Rings in Today's Market.
It is hard for us not to play favorites!!
What we mean is that with over 800 styles on our website – does it seem fair to have a few favorites? Well, even it is not fair, we do have our favorites and our pick can be summed up in a pretty simple phrase – Exotic Inlays!
The biggest reason is that if you are looking for a ring that is unique to you – that no other person or couple will have (EVER) then you must at least consider the Exotic Inlay Collection. These rings are made by hand, not with molds that mass produce look-alikes all day long. For example – every antler inlay ring we carry is a unique one-of-a-kind masterpiece. Each will look a little different depending upon the amount of blood in the antler at death, the age of the animal, whether it is a white-tailed deer or a caribou. We could go on and on but suffice it to say this same reasoning pertains to wood inlays, meteorite inlays, dinosaur bone inlays and mineral inlays.
We have added one very popular ring below that we think you might like – it is the C121M available in sizes from 6 – 16 including ¼ sizes. But don't take our word for it – please shop all of our styles and if you have questions, we would love to hear from you!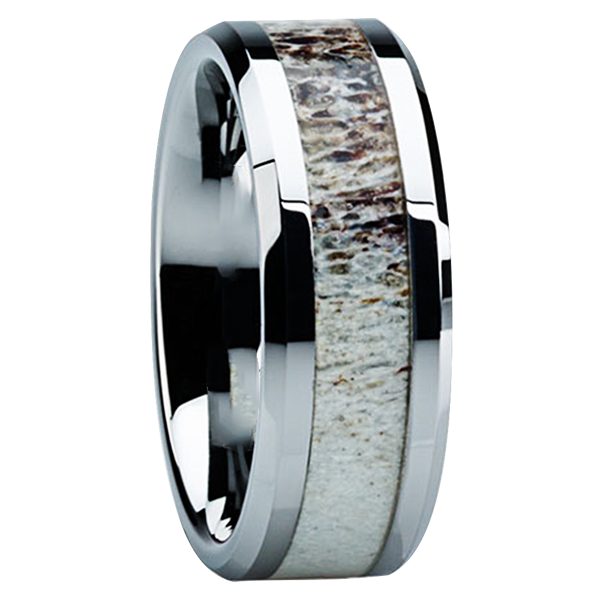 About Tayloright LLC.
Based in St. George, Utah, Tayloright LLC, began operations in March of 2009 selling wedding rings, men's jewelry and rock climbing holds. Currently, Tayloright LLC serves the international wedding band marketplace shipping to countries worldwide. Their innovative products and accessories offer a fashion category that allows both men and women to enjoy eye-catching, stunning designs in alternative as well as precious metals. The Company carries products that are backed by their lifetime defect and sizing warranty. Average wedding band prices from their combined websites range between $300.00-400.00 although they also carry precious metal rings that sell into the thousands of dollars. Its premier website is www.mensweddingbands.com. To see their vast collection of precious and exotic inlay rings made in wood, antler, meteorite and dinosaur bone please see the following link … http://www.mensweddingbands.com/exotic-inlays/?sort=priceasc.
Recent Posts
Men's Wedding Bands – Origin, Significance, Cost, and Tips to Choose Every culture h …

Everything You Wanted to Know About Wedding RingsWeddings bands are now in-trend. Grooms never had …

Tungsten Versus Gold Mens Wedding Bands - we decided more needed to be written about this subj …