Mens Wedding Bands expands the offering of the FREE J095C within its Exotic Inlay Collection
The mensweddingbands.com website recently expanded its free offering of the J095C ring within the Exotic Inlay Collection featuring just under 100 of the finest inlay rings on the internet!
St. George, UT — July 9, 2014 — Today Tayloright LLC announced the expansion of its free ring offering to the Exotic Ring Collection on its premier website – www.mensweddingbands.com.
The J095C (pictured below) is a tungsten carbide ring that sells for $299.99 and is offered in sizes ranging from 6-16 including half sizes. It was recently offered in black - complementing the classic gray style of the J095C.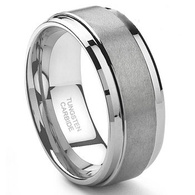 This collection features men's wedding bands in natural, earthy, and "living" fashions utilizing skilled crafstmen who craft each ring by hand with no two exactly identical. Materials include dinosaur bone, Opal, Hawaiian Koa wood, Bloodwood, Buckeye Burl wood, Gold Tiger's Eye wood, Sea Shell inlays, Palm wood, Blue Lapis, White and Black and Red Carbon Fiber, Amboina Burl wood, Milo and Mango wood inlays, Meteorite inlays, and Antler inlays.
"We are thrilled that the J095C is now available at no extra charge on the entire collection" said Taylor Johnson, founder of Tayloright LLC.
"With the recent expansion of the Exotic Inlay Collection – we now offer 94 mens bands in a huge variety of styles, inlays, sizes and combinations of materials. Why the free J095C? Two reasons really, first, is that when a customer orders the handmade exotic ring – we need for it to be the correct size and by receiving the size they ordered in the J095C first, it ensures that the custom ring we fashion for them will be correct. Additionally we recommend that the customer wear the tungsten carbide J095C when doing the dirty, harsh jobs at work or around the house thus protecting their custom made exotic inlay ring," he continued.
For more details please visit www.mensweddingbands.com.
About Tayloright LLC
Based in St. George, Utah, Tayloright LLC, began operations in March of 2009 selling wedding rings, men's jewelry and rock climbing holds. Currently, Tayloright LLC serves the international wedding band marketplace, shipping to virtually every country in the world. Their innovative men's products and services offer a fashion category to men and women seeking eye-catching, diamond-enhanced, durable, scratch-proof and quality wedding rings.
Other sites owned by Tayloright include www.tungstenrings.com, www.mensringstore.com, and www.tungstenringsforhim.com (co-owned with Harrison Concepts).
Recent Posts
Men's Wedding Bands – Origin, Significance, Cost, and Tips to Choose Every culture h …

Everything You Wanted to Know About Wedding RingsWeddings bands are now in-trend. Grooms never had …

Tungsten Versus Gold Mens Wedding Bands - we decided more needed to be written about this subj …