Meteorite men's wedding bands are the talk of the fashion industry when it comes to custom rings these days. Why? Why are meteorite rings so hot - so popular? And why the surge in interest for custom rings in wood, meteorite, dinosaur bone and wood. Are we experiencing a fad or is this a trend for the foreseeable future? Given our research and experience over the past decade of being in this industry of online sales and service for mens wedding rings, we think that there are many reasons for this phenomenon but we will explore 3 of the main reasons below. We would love to hear your feedback and impressions as well. Feel free to email us at ringsales@live.com or at sales@mensweddingbands.com or call or text 801-755-1661. We will notify you and respond the moment we hear from you - promise!
First, looks. For example take a look at the H119M pictured below - a stunning and beautiful ring crafted with Titanium and inlaid with meteorite which has a higher market value than gold! Customers and visitors have explained that they not only like the idea of wearing a rare metal - they love the look of a meteorite inlay - whether it is a wider inlay or a narrower inlay. The meteorite is a natural contrast against the shiny look of titanium or tungsten as one can see when looking at the H119M pictured below.
Most meteorite inlays have a silver gray appearance - similar to a common metal look that has not been polished. In rare cases the meteorite can rust so care should be taken not to leave the ring immersed in fluids or letting it stay in a moist environment. Chemicals are also to be avoided - but this is the case with all exotic inlay materials including wood and deer inlays. If exposed to harsh chemicals and if rust appears, the rings can be re-etched for a small additional fee at most reputable manufacturing facilities. Proper care of meteorite includes using a dry cloth and rubbing gently to remove any dust or other materials after having been worn.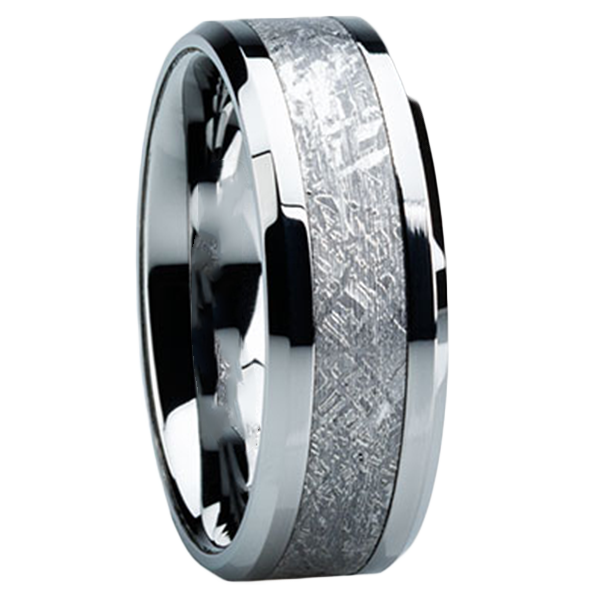 Second, cost value. Even though a meteorite inlay ring has a higher market value than gold the average price of a beautiful meteorite ring is about $500-600 although some are as high as $2,000 and more. For instance the E118M shown below sells for under $500.00 and has a 2 mm stripe of meteorite offset to the side of a titanium or a tungsten wedding band.
If you are looking for a ring under $300.00 it might be best - if you want an exotic inlay - to look for wood or mineral inlays - they seem to cost less in most cases. Meteorite, being as rare as it is, will be on the higher cost end of the spectrum when searching for inlays in exotic materials. Although some meteorite rings cost upwards of $1,000.00, most are priced below this price point. A general rule of thumb when pricing meteorite inlays is that the smaller the amount of meteorite, the less the finished piece will cost - very similar to buying a precious metal ring in platinum for instance.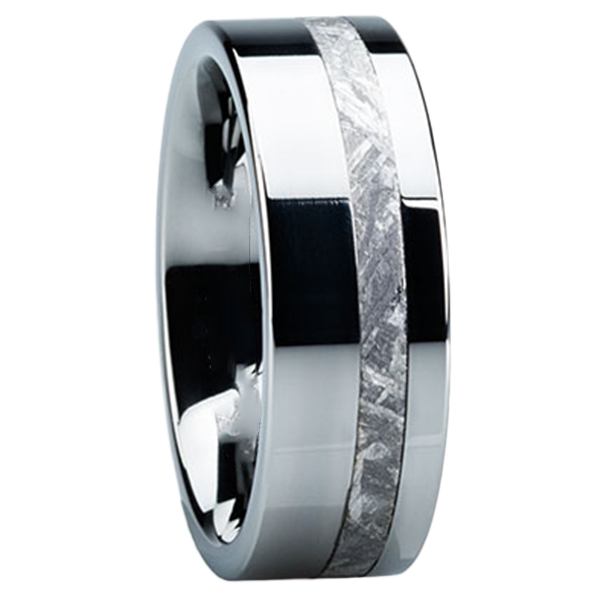 Third, uniqueness and rarity. Once you have seen all of the tremendous styles available on the market today you will never wonder again as to why these genuine and authenticated meteorite inlay rings are so popular - they simply are made with very rare materials and are eye-catching, unique, one-of-a-kind masterpieces! The M740FS is one such beauty. See pictured below.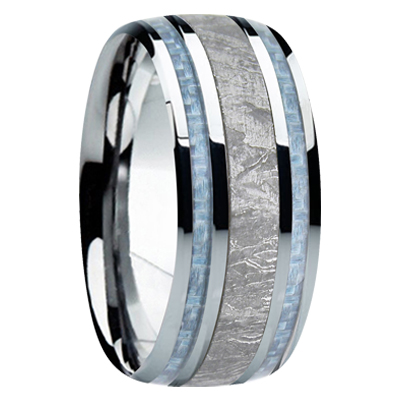 The M740FS has not only a meteorite inlay in the middle of the ring it also has two twin blue carbon fiber bands running around the circumference of the band - one of our hottest models on the entire site. Not everyone can afford a model like the M740FS but for those who a thousand dollars to spend on their mens band - this is the one!
There are deposits or fields of meteorite showers throughout the world but the most stable and most reliable for the manufacturers when making precious meteorite inlay rings is centered in the fields of Namibia Africa where the Gibeon Meteorite field is located. This field is estimated to be prehistoric in terms of timeline - no wonder meteorite is of such a high market value when considering how rare it is!
One more addition! We thought you might like to see the ring we have added below - yes it is meteorite of course!! It is called the BBE496M. This amazing meteorite inlay band is made with blue box elder wood and a think sliver of meteorite offset to one side with the same blue box elder in the inside - a position the manufacturers call the "sleeve". The titanium on the opposite side of the blue box elder wood is what they call "sandblasted" and adds a touch of pizzazz to this stunning mens wedding ring. This particular ring is made in 7 mm width standard although we can make it wider or thinner based upon your taste. We can also make it in a variety of sizes starting at size 4 and extending all the up to size 16 including 1/2 and 1/4 sizes.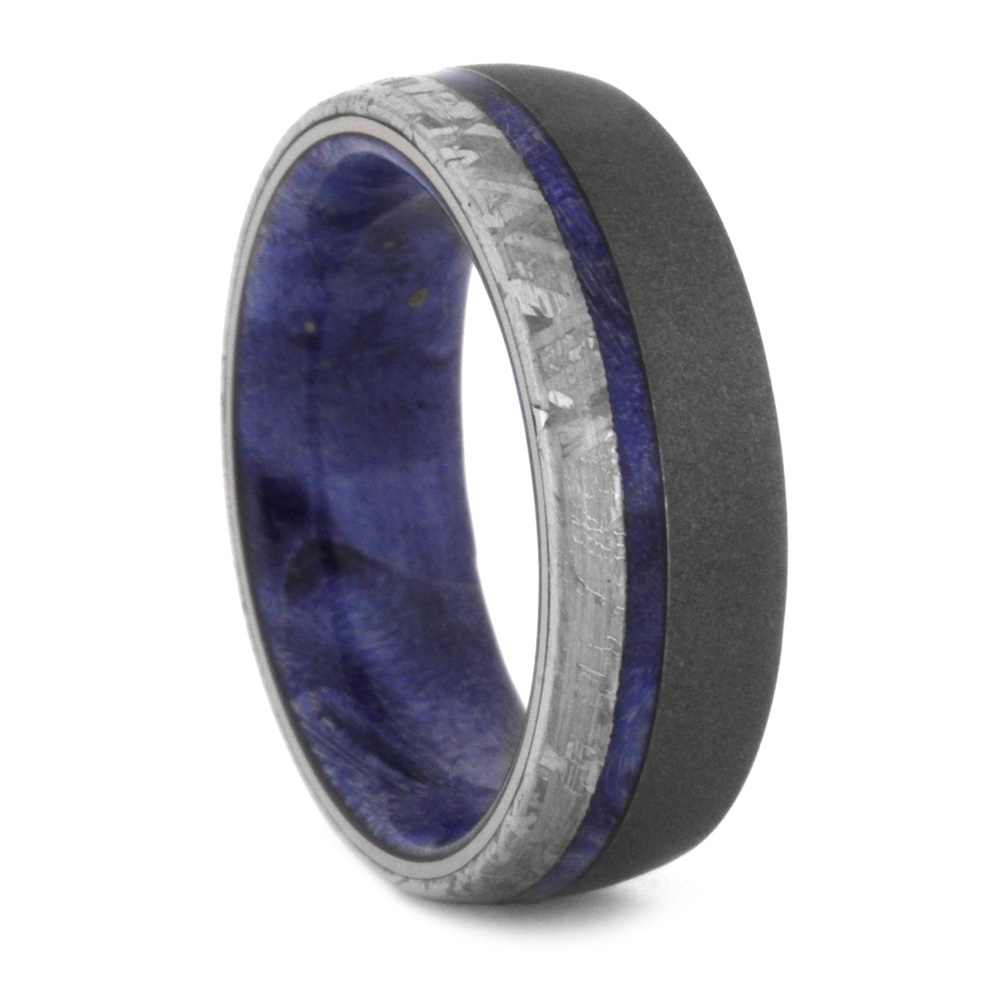 When you begin your search for your personalized and stunning one-of-a-kind meteorite mens wedding band, make sure to look for a certificate of authenticity to be included with your order and to double check your meteorite as authentic they are almost always magnetized - simple place a magnet on your meteorite band and you will see the magnetic pull - just one more sign that your money was well spent on an authentic and certified piece of the eternal elements!
Some have asked if all meteorite bands are made the same way and if all come from the same meteorite "field" or if you can discern some quality difference from one piece to the next. In our honest opinion, there are two, maybe three manufacturers who have earned a reputation for providing a finished quality piece and they are both in the United States. We might add that anything coming from overseas, particularly at a discounted price, might be suspect - again ask for a certificate of authenticity and make sure to test it with a magnet - unless it is too late and you have no recourse to send it back!
There are no standard looks in the world of meteorite - they are often combined with other materials such as wood, ceramic, titanium, tungsten, dinosaur bone and antler. Making your meteorite in tungsten versus titanium is not good versus it is simply a determination if you want a lighter weight (titanium) band or a heavier weight band (tungsten). Some are even crafted using precious metals such as palladium, platinum or one of the many colors of gold. Which one to choose - the best determinate is budget - what can you spend or what are you willing to spend. That typically narrows it down real fast!
Would you like to peruse a few more stunning bands from the Meteorite Collection - well here are some to wet your appetite. First is the simple, classic E118M with 2 mm of meteorite inlay in titanium. Please note this exact ring can be made in tungsten at the same price!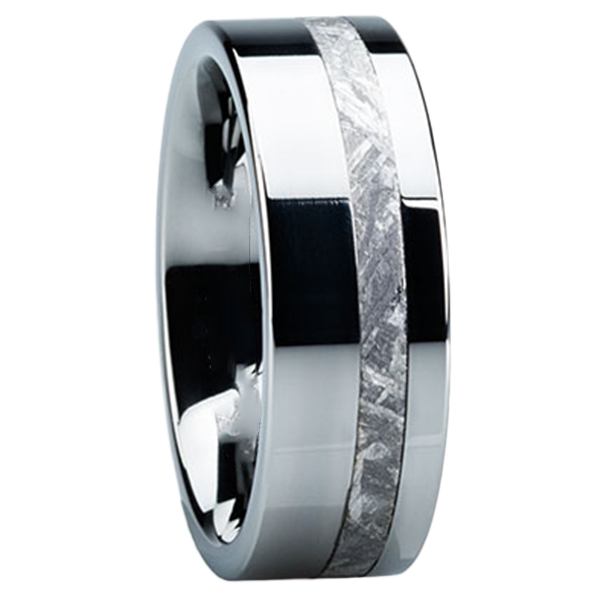 And the ever popular BC166M in black ceramic for those who like a black band with elegant meteorite highlights. Black ceramic is hard, trouble free and about as durable a material as we have anywhere on our website. It is bullet proof when it comes to a ring that doesn't scratch but always looks shiny and beautiful. So, many men these days wear black accessories, this might be just the band he is seeking to complement his fashion taste.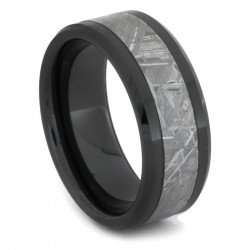 For a link that highlights all of the many looks of meteorite on our site please click here. and happy shopping!
Mens Wedding Bands, Since 2003
Recent Posts
Men's Wedding Bands – Origin, Significance, Cost, and Tips to Choose Every culture h …

Everything You Wanted to Know About Wedding RingsWeddings bands are now in-trend. Grooms never had …

Tungsten Versus Gold Mens Wedding Bands - we decided more needed to be written about this subj …