Mokume Gane Mens Wedding Bands

What is Mokume Gane?
Mokume Gane translated means wood grain metal and the process originates in 17th Century Japan. It is named after the patterns created by heating the layers of metal until they are bonded into a solid laminate billet of varying colors. Once the various metals are bonded the artisan creates the piece through forging and carving to reveal the hidden layers of color and pattern.
The lamination process involves securing several layers (between 10-30) of colored gold and silver between blocks and heating it in a kiln. With a careful combination of heat and pressure, the layers fuse but do not melt. A fused stack of metal, called a billet, is forged, twisted, hammered, and rolled to create a thin sheet. The delicate and original patterns are created by hand carving through the layers in the laminated stack. The carved laminate is then forged to flatten it out. The process of carving and rolling is repeated many times to create the finished pattern.
It is a time consuming and expensive process and very few craftsmen truly understand the art well enough to have the finished piece become a true masterpiece. In reality no two pieces are identical making them a sought after collectible as well as a stunning mens band.
What do Mokume Gane Mens Bands look like?
Because no two pieces are identical, the only truw way of showing color patterns is by showcasing samples of the actual products. Please see below: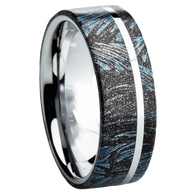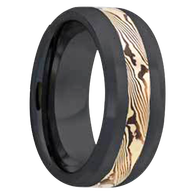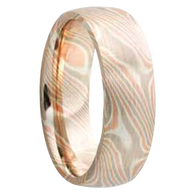 How Expensive are Mokume Gane Bands?
Some can be quite expensive – ranging into the mid $3,000 when a ring is made with a pure or precious metal such as platinum or gold.
However, the average price on our online store is roughly $600.00 in a silver inlay variety. Others range a little higher when crafted with white or yellow gold.
About the Author.
Ronald C. Johnson is the co-founder and owner of Tayloright LLC, a Utah-based corporation. Before founding the Company, Mr. Johnson earned his B.S. degree from Texas Wesleyan University and spent many years as National Director of T-Mobile USA where he co-authored the book titled: Loyal-T, the ABC's of Creating Loyal Customers. His career has focused on sales, marketing, and training including 6 years with FranklinCovey in a sales and management capacity. He is married with five children, two grandchildren and resides in Washington, Utah.
About Tayloright LLC.
Based in St. George, Utah, Tayloright LLC, began operations in March of 2009 selling wedding rings, men's jewelry and rock climbing holds. Currently, Tayloright LLC serves the international wedding band marketplace shipping to countries worldwide. Their innovative products and accessories offer a fashion category that allows both men and women to enjoy eye-catching, stunning designs in alternative as well as precious metals. The Company carries products that are backed by their lifetime defect and sizing warranty. Average band prices from their combined websites range between $300.00-400.00 although they also carry precious metal rings that sell into the thousands of dollars. Its premier website is www.mensweddingbands.com. To see their vast collection of precious and exotic inlay rings made in wood, antler, meteorite and dinosaur bone please see the following link … http://www.mensweddingbands.com/exotic-inlays/?sort=priceasc.
Recent Posts
Men's Wedding Bands – Origin, Significance, Cost, and Tips to Choose Every culture h …

Everything You Wanted to Know About Wedding RingsWeddings bands are now in-trend. Grooms never had …

Tungsten Versus Gold Mens Wedding Bands - we decided more needed to be written about this subj …