Out with the boring and in with the unique and stunning!
Boring! Boring, period. Yuk. Old fashioned. Same old. Quiet. Quaint. Anything but stunning. anything but unique. Yeah, we've seen that. Oh no, not that again. Nothing new ...
There are a lot of words to describe the same old men's wedding ring. And at this time of year, most people want a little kick in their purchase. They want some pizzazz. Some sparkle. Something stunning and unique. Something different - not the same old.
Enter the fashion world of exotic inlays. We've included a few below for your shopping pleasure. Anything but the same old and most people would not refer to these as well, yawn.
Try this one on for size, it's called the C121M - an antler inlay mens wedding band that can be made with YOUR piece of antler! Yep. Yours. Same price. Talk about different. Talk about stunning. Talk about ... well you get the picture: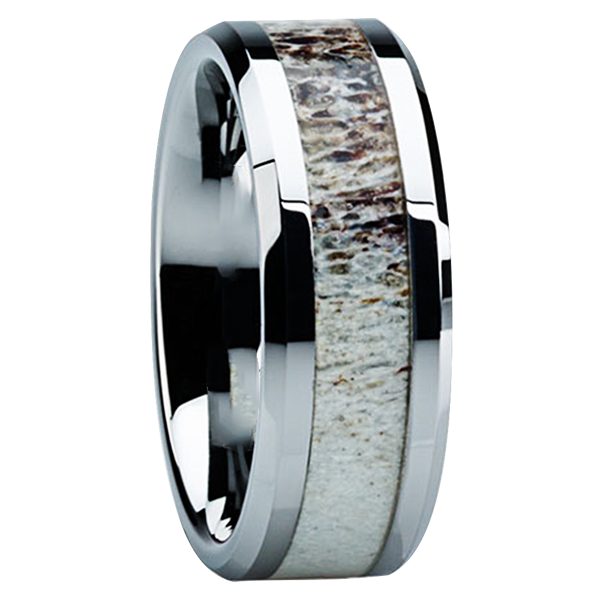 Something else to please your eyes? How about the Hawaiian inlay wedding band that is part of the exotic ring collection? We'll dazzle you with a picture here:
This one is called the K109M and is the most popular of ALL Exotic rings in our collection. Did we mention they are all $100.00 Off for Christmas? Well, if we didn't, they are!
Unique but more traditional? Got it - how about the black diamond M252HC pictured below. None (9) black diamonds in a unique white tungsten piece made by Triton. Stunning? Yeah, we thought you'd like it!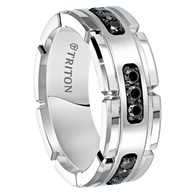 If you simply can't make up your mind, you can also look into unique gold and diamond wedding bands that are anything but the "boring" word. To share a few samples - please see below: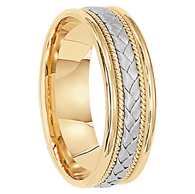 The Madrd - pictured above is an all time favorite and is anything but traditional. A stunning herringbone design complements the outer high-polished beveled edge in a two-tone gold masterpiece. Want it in all yellow or white gold instead of two-tone - not a problem! Need a 1/4 size instead of just 1/2 or full sizes? No problem! Need it engraved. Not a problem. Have we said that before?
Shop with us and enjoy over 20,000 different combinations of unique mens wedding bands - all on sale for Christmas.
Recent Posts
Men's Wedding Bands – Origin, Significance, Cost, and Tips to Choose Every culture h …

Everything You Wanted to Know About Wedding RingsWeddings bands are now in-trend. Grooms never had …

Tungsten Versus Gold Mens Wedding Bands - we decided more needed to be written about this subj …