The Advancement of Men's Wedding Rings
Marriage is one of the most respected ceremonies ever since the early days. However, the wedding ring was not given a lot of emphasis back in those days. The wedding ring is a symbol of the celebration. The marriage custom has been undergoing a lot of changes. The ring is now used to symbolize marital status. Looking back over the years, men never used to wear wedding rings. It was only the women who have been wearing rings since the old days. Men on the other hand started wearing their rings a few years back.
The evolution of the wedding ring came about as a result of a number of events that took place. It started with the soldiers who went for the World War I and World War II. They wore wedding rings as a symbol of their love to their wives. This was a reminder that someone was waiting for them at home. It was since then men started wearing wedding rings. This has never changed but there have been different types of wedding rings.
The equal right movement was the other event that made men start wearing rings. This took place at the end of the Second World War. This has made it a norm since men now have to war wedding rings after getting married. There have been equal rights and women are the only ones who have to war wedding rings as a sign off being married.
In the old days, the most common wedding band for men was the yellow gold. This is different because now there are a wide variety of bands that men can buy. There are now different metals and designs used in making rings. Gold and platinum were the commonly used but this trend has changed and designers are going for titanium rings, cobalt chrome as well as tungsten rings. These are affordable and last longer. They are also easy to maintain. You do not have to worry about spending a lot of money in maintaining these rings.
Palladium, black titanium and stainless steel mens wedding rings are also fast gaining entry into the market. Men's wedding rings are acceptable and men do not have any choice. You will get the best rings from online stores. This will also allow you to save money since they are less expensive. You can choose any of these to get a unique look that you desire. It is definitely worth your time to get a ring either for wedding purpose or just for fashion. It will define your status. There is no doubt about that.
Now, you know the evolution that the men rings have taken. Make sure that you choose an outstanding piece on your wedding day. You can also buy the ones that are meant for fashion reasons. You can choose any.
Mens wearing rings is common among men nowadays. Men who wear rings apart from their wedding rings acquire a different status. You can join the wide number of people who have revolutionized when it comes to rings. Do not be left behind.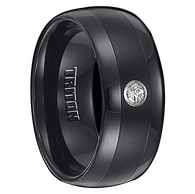 Recent Posts
Men's Wedding Bands – Origin, Significance, Cost, and Tips to Choose Every culture h …

Everything You Wanted to Know About Wedding RingsWeddings bands are now in-trend. Grooms never had …

Tungsten Versus Gold Mens Wedding Bands - we decided more needed to be written about this subj …