Seeking a gift that says "never-ending"? One that is symbolic of eternity? One that means forever? One need look no further than a stunning mens wedding band in inlays from wood to dinosaur bone, from diamonds to meteorite. Today's world of fashion is unlike any in the past - there is no end to selections in mens rings that say unique, one-of-a-kind, unlike any other ... and today's man is ready for the change! No need to "settle" for precious metals, no need to settle for contemporary metals - in today's fashion world there is a blend these days that adds a stunning new category to the world of men's fashions when it comes to a men's wedding ring!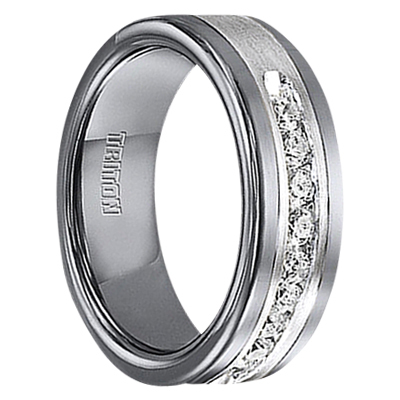 Some thirty years ago contemporary metals were virtually unheard of and the craze was adding a diamond or an inlay to your precious metal band - nowadays you can have almost any combination you desire because of the ready availability of tungsten, titanium, cobalt and other metals such as zirconium. Although palladium and other precious metals such as white and yellow and rose gold are still very popular you also have platinum and silver depending upon which end of the budget spectrum you are spending on ... silver is one of the most affordable of precious metals but there just might be a hidden cost to that decision as well - silver is known to scratch and to look worn in less than a year. However, contemporary metals such as tungsten, titanium and cobalt have properties that make them almost (ALMOST) impervious to scratches, dents and scrapes. We say almost in that all metals will show wear over time - ALL metals regardless of whether to not it is tungsten or titanium or cobalt. But with that said, these last three metals mentioned have amazing scratch-resistant properties that make them a hit the world over with all men regardless of age or ethnic background.
To many buyers, a band needs to be under $200.00 which is fine - there are hundreds of fashions in this price range including stores like Amazon and eBay and Overstock. For the daring buyer who has up to $500.00 to spend on their band, you might consider looking for something a little more daring - something that sparkles with excitement and uniqueness. One that says anything but "me too".
Our most popular band on Pinterest is the M740FS pictured below and it is anything but a $200.00 classic mens band. In fact it sells for about a thousand dollars when it is one sale!
This ring as pictured - the M740FS has a wide meteorite band in the middle of two matching blue carbon fiber inlays - it is so unique it is award winning in style and versatility. This ring comes standard in 9 mm but it can be made in a variety of widths and the sizes rand from 4 to 16+ and all the 1/4 and 1/2 sizes in between! So there is really no reason from a size perspective that a person could not wear this beauty. Want platinum instead of titanium as the base metal - no problem. Want it made n cobalt instead of titanium - we can do that. Want the dual carbon fiber inlays to be a different color - say coral instead of baby blue? Yes, we can do that.
Lest we forget the wood inlay market, we thought to add one of our more popular wood bands - the K109M in popular KOA inlay with a protective wood protection called ring armor that seals the ring against possible water damage. This elegant men's band is handcrafted in the U.S. for us and has the ever-popular titanium stripe offset to one side. And for those who like the look of the KOA wood but want something more precious - as in gold - it it available in 14 kt white or yellow gold also. This particular band is made in 8 mm but it can be crafted in virtually any width you desire from 4 mm up to 12 mm. All of these custom inlay bands come with a one-year warranty against manufacturing defects and they also come with the J095C sizing ring so that we know for certain the size you are ordering is accurate. We encourage our buyers to wear the J095C tungsten carbide band when doing those tough outdoor jobs or weightlifting so that the custom band we have produced for you can remain in pristine condition.
And if you are one to like diamonds - what about the Varrius in white gold (pictured below) with about a third of a cwt of stunning white diamonds ... no need to add meteorite to this original beauty! And it can come in a variety of other colors such as rose and yellow gold if white is not your thing. The Varrius contains 9 brilliantly white genuine diamonds and is inlaid in 14 kt white gold - a truly stunning men's band for the ages. One of the many unique traits about this solid gold masterpiece is that the diamonds have a lifetime warranty against falling out - if that happens customers may send the piece back to www.mensweddingbands.com for a replacement at a nominal fee. Worried about needing a different size over time - no worries this amazing bands also comes with a lifetime warranty against any sizing issue although based upon the current price of gold there might be a charge for larger sizes.
Although there are over 500 different styles of elegant mens rings on our site - these pictured above have been singled out in that they occupy a discount fashion niche in mens wedding bands - whether one likes gold, titanium, tungsten or one of the other contemporary metals - you will more than likely be able to find the one you want for a symbol of eternity. In any event, whether you find the perfect solution on our site or somewhere else we hope you find the one that speaks to you - to symbolize your eternity.
Mens Wedding Bands, Since 2003
PS Pictured below is the J095C sizing ring that comes with all of our custom inlay mens bands.
Recent Posts
Men's Wedding Bands – Origin, Significance, Cost, and Tips to Choose Every culture h …

Everything You Wanted to Know About Wedding RingsWeddings bands are now in-trend. Grooms never had …

Tungsten Versus Gold Mens Wedding Bands - we decided more needed to be written about this subj …