Unique Gold Mens Wedding Rings
Gold is dazzling. Gold is priceless. Gold is distinctive and traditional. Gold is never out of style or dated. In fact many of our priceless heirlooms left by those who have passed on are fashioned in gold. In most cases, gold increases in value year after year after year. So it is with mens wedding bands.
There are a few characteristics that make gold wedding bands unique. Let's explore a few of those characteristics. We might see a gold piece that is fairly traditional in design but one that has a brilliant etching on it - like the Tokyo-10 as pictured below. Traditional? Yes. Plain? Yes. But what makes this a unique gold men's wedding band is the finely crafted outer dual edges and the dual cut grooves running symmetrically down the center of the ring. A masterpiece in simplicity.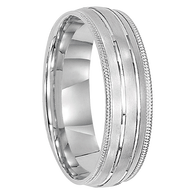 We might also occasionally see a more sophisticated look with diamonds like the Caius below. Again, 14 kt white gold crafted with a medley of diamonds to accentuate the craftsmanship by Frederick Goldman in New York. A full 1/6 cwt in genuine diamonds with I color - this finely crafted eye-catching band carries a lifetime warranty and a lifetime sizing warranty as well. You won't see many of these on the streets - it is unique enough to be different. Customers tell us what they love about this band is the hand made grooves in the middle of the piece separating it from the more traditional and plain-cut styles.
Another gold piece that has been a customer-pleaser is the Chiron (pictured below. Again, white gold with 14 kt and a unique and carefully placed medley of diamonds in I color. The diamond medley is created in a cross pattern for those wishing to draw attention to their deepest religious feelings. And the olive branch design adds a deeper and richer meaning to the overall fashion. Looking for something unique but in yellow gold. Well, please look below!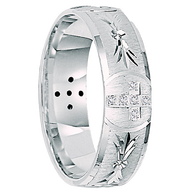 The Madrid is popular - one of the most popular of all the unique gold bands for men that we carry in our line. it features a herringbone design in white gold complemented by a 14 kt yellow gold milgrain-like edge and step edge. Priced at just under $600.00 this piece is also one of the more popular in the fashion category. Want the exact same piece in all white? Not a problem - it can be ordered in many different enhancements.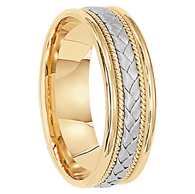 Overall, gold is here to stay and is a rich reminder that the past is always with us. We have hundreds of styles to choose from ranging in price from a few hundred to thousands of dollars. So browse through the lineup and pick something that is sure to be an heirloom when it is no longer your turn to wear it!
About www.mensweddingbands.com. This site was originated over a decade ago and is now the resting place of over 20,000 iterations of men's wedding bands ranging in material content from gold to silver; from titanium to tungsten with another dozen or so materials if those do not please. This site is part of the Tayloright group of companies offering men's fashions and accessories and also offering SEO and website design for those needing to boost their presence online. For more information please contact a member of the Mens Wedding Band's team at sales@mensweddingbands.com or call 801-755-1661.
Recent Posts
Men's Wedding Bands – Origin, Significance, Cost, and Tips to Choose Every culture h …

Everything You Wanted to Know About Wedding RingsWeddings bands are now in-trend. Grooms never had …

Tungsten Versus Gold Mens Wedding Bands - we decided more needed to be written about this subj …