Unique Mens Wedding Bands for Your Man
The hottest trends in unique mens bands for men center on 3 main categories – simple, titanium and platinum. You ask – what about gold and tungsten or maybe palladium and cobalt? Generally speaking, from our research and experience of many years following trends in the fashion jewelry industry, these 3 categories have changed little over the past years. Men like a simple yet stunning design that makes a statement and because titanium has proliferated into a category of elegance and exotic styles – this category is becoming the hottest trend of all. And of course platinum is never out of style albeit it is out of reach of some pocketbooks!
Although our research is based primarily upon data collected from our 4 main websites, it is nevertheless indicative of a broader trend at least from the perspective of online sales. And when one considers that the internet has become the last place to make the final decision, after having spent effort and time in due diligence in the brick and mortar stores, then online sales really do point to a broader spectrum of activity in buying luxury jewelry.
Most of our research has been conducted within the United States although a number of sales have occurred in Canada, Australia and Europe.
Please join us in visiting these top 3 trends:
Simple is Always in Style.
We have included a picture of a simple design in mens bands. It is called the classic look and comes in tungsten gray as pictured and is also available in black. Understated in design characteristics, it is nevertheless a powerful and simple statement of meaning beyond a price point – it speaks of trust and love and an eternal bond.
Tungsten is popular across all spectrums – it simply has certain characteristics that draw attention to itself – the most important is the fact that it has what has been generally called a "permanent shine". The luster remains long after the newness has worn off. And tungsten is remarkably resilient to scratches and dings and discoloring.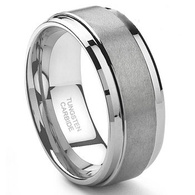 Titanium Wedding Rings are Hot.
Space-age Titanium is used on heat-shields for re-entry of spacecraft into the earth's atmosphere and has also been the primary material used in golf for taking the impact of the gold ball against the driver head. Is it any wonder then that craftsmen across the world re-purposed this highly tensile yet uniquely strong element to use in the fashion ring category? Add to this its hypoallergenic capability and the fact that it is scratch resistant and you have one hot trend!
On our premier site, the most sought after and in some cases "pricey" mens bands are made in Titanium. We have an entire category of Titanium products called "Exotic Inlays" that are in high demand even though they are priced at roughly two times the average ring on our site. Why? Style? Strength? Design? Flair? Eye-catching appeal? Yes to all!
You must check out this category – simply go to this link ( ) and see for yourself why so many men are motivated by meteorite inlays, dinosaur bone inlays, wood inlays and even antler inlays. Stunning, simple, elegant and so unique – no two are alike! They are all made by hand and you literally receive a ring that no one else in the world can get because each band has its own pattern, its own hue, its own characteristics. It was hard to choose but we included a picture below of one of our popular wood inlay rings from the Exotic Inlay collection – we think it illustrates the beauty and appeal we have been talking about.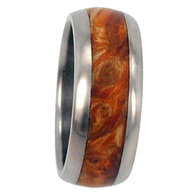 Platinum Wedding Bands are Never out of Style.
A unique and very stable/consistent trend in fashionable mens bands is actually not so unique … but very consistent! Who does not like the look of Platinum – one of the rarest materials on the planet – with a striking white patina that sets it apart from all other metals in the fashion jewelry business. Intricate designs? No problem – they are available with or without diamonds and range in price from a few thousand to as high as $10,000-20,000.00.
Even though Platinum is a more costly metal and is known for its pricey nature, a number of styles in Platinum in the 3 to 5 mm widths (with very little design work – back to the simple concept spoken of above) – have become popular in part because they are simply more affordable.
And in many cases, trends point to titanium and tungsten with platinum inlays as a way to have the platinum look and feel and beauty and still not compromise on the durability of the contemporary metals. One such ring is the R098P7C pictured below.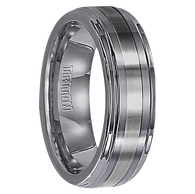 About Tayloright LLC.
Based in St. George, Utah, Tayloright LLC, began operations in 2008 selling wedding rings, men's jewelry and rock climbing holds. Currently, Tayloright LLC serves the international wedding band marketplace shipping to countries worldwide. Their innovative products and accessories offer a fashion category that allows both men and women to enjoy eye-catching, stunning designs in alternative as well as precious metals. The Company carries products that are backed by their lifetime defect and sizing warranty. Average band prices from their combined websites range between $300.00-400.00 although they also carry precious metal rings that sell into the thousands of dollars. Its premier website is www.mensweddingbands.com. To see their vast collection of precious and exotic inlay rings made in wood, antler, meteorite and dinosaur bone please see the following link … http://www.mensweddingbands.com/exotic-inlays/?sort=priceasc.
Recent Posts
Men's Wedding Bands – Origin, Significance, Cost, and Tips to Choose Every culture h …

Everything You Wanted to Know About Wedding RingsWeddings bands are now in-trend. Grooms never had …

Tungsten Versus Gold Mens Wedding Bands - we decided more needed to be written about this subj …