Unique Mens Wedding Bands … HOT SELLERS
HOT SELLERS
Unique is hot right now. Red hot. Unique mens bands have always been in style but with the addition of alternative or contemporary metal rings they have skyrocketed to the top of the fashion ring industry. They are no longer just available in gold or silver, they are now available in titanium and tungsten with an enormous variety of inlays including eye-catching wood inlays from Hawaiian KOA woods to the always popular black and ebony wood inlays. Don't want wood – why not an antler inlay or maybe even a meteorite inlay? Or for the daring, we can even craft by hand a unique mens band in dinosaur bone …. Wow – no wonder unique is in and it's hot!
If you are not the kind that wants an exotic inlay – would you prefer a black diamond medley in zirconium? Yes, they are available – just see the SS101Z as pictured below.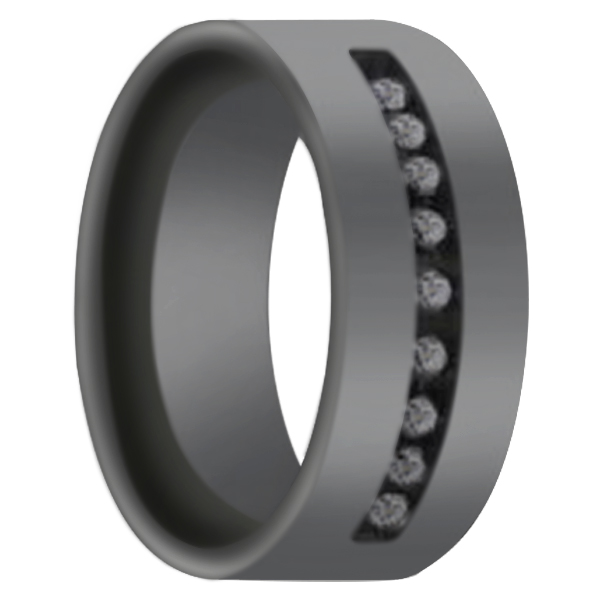 To be a hot seller, it needs to be in the "best seller" category regardless of price. One might think that a ring under $200.00 would sell far better than a hot, unique piece over $500.00 and while this may be the case in some markets and on some websites – not so with us – not what we are experiencing!
Price is secondary we have found when it comes to these new additions to the fashion ring industry. When you think about it – a band is typically a once in a lifetime (maybe twice) purchase. That being the case, why not buy it once – for life. That is our slogan and we think it has meaning when purchasing something with so much meaning and love and emotion.
MAKING THE CASE THROUGH PICTURES
The Hawaiian beauty – with genuine blue opal inlaid by master artisans comes complete with a lifetime warranty against sizing changes and defects of any kind in the workmanship of the band. This is not just unique – it is a stunning beauty that will be the talk of the party in that no one else will be wearing one!
M252HC
If you want white tungsten and at the same time you want the look of genuine black diamonds, then you have found the ring of your dreams. Stunning, exquisite, and unique – words are a mere mortal attempt to describe a ring that is as compelling as its warranty. Covered for life, with no questions asked. Even if you lose a stone from this beauty – send it back for a brand new ring or if you need a new size – no problem – return it to us and within days you will have a brand new ring in the size you require. How is that for a lifetime warranty – stones and sizing combined!
Antler. Now how could that not be unique? It is and you will love it – we guarantee it!
Mokume Gane at its finest – with a blue tint and available in sizes from 6 -16 including ¼ sizes! This one is an outstanding example of an eye-catcher that very few will be wearing in your neighborhood!
Simply put – our most popular ring – EVER.
This band comes with a full ½ cwt of genuine fiery-white diamonds and titanium. The titanium us the same material that is used to cover the wings of the space shuttles for a heat-resistant barrier when reentering the earth's atmosphere. Strong enough to cover the damage your man will inflict upon his band – we think so! Titanium is known as the lightest of all contemporary rings yet has the strength to withstand physical stress in the harshest conditions.
How could we not showcase a gold band in the unique mens bands category? One of our more popular pieces, this sold gold, 14 kt two-tone gold herringbone design is not just hot but a step beyond a traditional gold wedding band. Available in sizes 4-16 including ¼ sizes, this one is sure to please your man – for life!
CONTEMPORARY METALS – WHY ALL THE FUSS
You are probably aware at this point in a rather sophisticated and aware market that contemporary wedding bands are comprised of metals outside the standard gold, silver, palladium and platinum. Rings made of tungsten carbide, titanium, cobalt chrome, vitallium, zirconium, and ceramic would all be considered part of the contemporary or alternative ring market.
The newer contemporary metals have many advantages when comparing them to the more traditional metals not the least of which is that they are less expensive. Also, in most cases a ring made with tungsten carbide or aircraft-grade titanium are virtually scratch-proof especially when compared side by side to precious metals such as gold, palladium, platinum and even silver.
Contemporary metals also have a most unique capability to be crafted into a wide variety of stunning designs – even though they are very hard metals. So, if you are searching for something always in style and in a variety of stunning designs – you will find it with unique, contemporary metals.
WHO'S BUYING UNIQUE MENS WEDDING RINGS
Couples. Partners. Individuals. Internationals – Americans. Rich, poor and in between. Singles and married. It is a broad spectrum buying these unique bands but one thing stands out – the buyers had something in mind that was different than the norm – far from traditional. Unique says it all – they wanted something that the guy next door or at the office or the ballpark did not have. Something that spoke to them, personally. Another thing we noticed is that the people buying these unique and one-of-a-kind bands also seem to be very appreciative of the customer experience. More so that those buying traditional. Hard to explain but they are willing to wait for just the ring they want and they are so interested in it being different yet rich in quality. It is a fun experience for us at our online store because the process of ordering and inspecting and engraving and shipping to these appreciative buyers make it all the more interesting and compelling for us. We like to add little extra touches because these buyers really notice the little things. A card in with the ring expressing our appreciation for their business ot an extra gift box or expedited service when it wasn't expected … simple little things that say "we care".
Mens Wedding Bands, Since 2003
Recent Posts
Men's Wedding Bands – Origin, Significance, Cost, and Tips to Choose Every culture h …

Everything You Wanted to Know About Wedding RingsWeddings bands are now in-trend. Grooms never had …

Tungsten Versus Gold Mens Wedding Bands - we decided more needed to be written about this subj …