Unique Mens Wedding Bands VS. Mediocrity
To be a unique mens band means that, well, it has to be unique.
Kind of hard to explain so we have broken down the subject into 4 main categories as seen below. We'll begin by defining terms …
How would YOU define unique?
Let's begin by showing you what is not unique. See the J095C pictured below.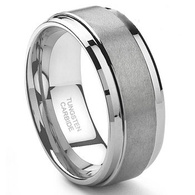 Kind of simple, with a brushed center and step-edges and the normal, classic gray color of tungsten carbide. Excuse me while I yawn. OK, now on to more definitions.
Unique means different, stand out, eye-catching, stunning, the wow factor, something to talk about, memorable. A conversation piece, bold, maybe even one-of-a-kind!
We'll continue the discussion and even show you a few more pictures that we feel belong in the unique mens wedding bands category.
Made with a contemporary metal and still be unique?
In the contemporary metal market you will see Titanium, Cobalt Chrome, Ceramic (in all colors), Tungsten Carbide, Stainless Steel – but we are finding more truly unique mens bands made with Titanium over the past 5 years or so. Why? A few reasons – Titanium is extremely durable and is the main covering on golf clubs to withstand the blow against the golf ball. It is also lightweight and is far easier to craft a unique and compelling fashion piece in Titanium than one where the metal is so hard like Tungsten Carbide.
The ring pictured above is a good example of a Titanium contemporary metal ring with an exotic inlay that is not just unique but very compelling! The entire exotic collection of inlays is hotter than hot and each one is a custom, one-of-a-kind masterpiece, unique in its own right.
Does it have to be Platinum to be unique?
Platinum is unique in that it is expensive, easy to craft and is precious, limited-supply metal. To be unique does not mean it has to be Platinum but most Platinum mens bands are unique!
Add a few diamonds and wow – what a band!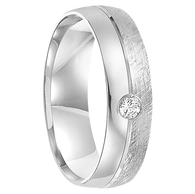 Does a Diamond guarantee uniqueness?
Diamonds are forever – but simply adding one to your favorite mens wedding bands does not mean that it is automatically a unique band.
We have attached one of our most dynamic and unique bands below and would love to get your opinion on this one. In our opinion, it is ranked at the top of the unique mens bands list.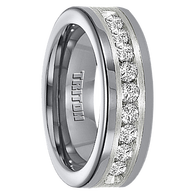 For more styles and selections of truly unique mens wedding bands please visit our store at www.mensweddingbands.com.
Recent Posts
Men's Wedding Bands – Origin, Significance, Cost, and Tips to Choose Every culture h …

Everything You Wanted to Know About Wedding RingsWeddings bands are now in-trend. Grooms never had …

Tungsten Versus Gold Mens Wedding Bands - we decided more needed to be written about this subj …