Why do men like diamond mens wedding rings?
Diamond mens wedding bands for men have surged in popularity - and not just in the United States. They have become THE ring to wear among the most discerning of buyers in the mens fashion industry. Why? To find the answer we asked a few men who bought diamond rings and their answers might surprise you: Top of the charts was as a matching band for my wife's ring! Other top answers included the fact that a diamond ring makes a statement - if the right type and quality of diamond is purchased it shows sophistication, strength, and bling - all in one! So it appears men have somewhat of a similar desire as women when it comes to what they wear on their fingers ...
Diamond bands can be cheap, inexpensive, moderate and high end. Typically this means that the less expensive the cut, color and clarity of the diamond, the cheaper the ring - but you knew that. So how do you pick out the right diamond ring for you man? First, find a quality operation - a tore you trust. Online or brick and mortar will work as long as they have been in business for a long time, have the backing of a substantial warranty and offer plans whereby you can get the ring exchanges should the size not be right for you anymore.
One of our favorites is actually not all that expensive yet it has a stunning diamond medley and the base metal is tungsten - it is the black tungsten T212BC. priced at under $450.00 it is a good value with a beautiful .05 cwt genuine diamond. Spend more - sure - find a better looking ring? Keep looking.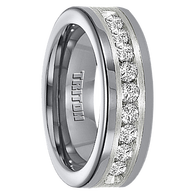 Recent Posts
Men's Wedding Bands – Origin, Significance, Cost, and Tips to Choose Every culture h …

Everything You Wanted to Know About Wedding RingsWeddings bands are now in-trend. Grooms never had …

Tungsten Versus Gold Mens Wedding Bands - we decided more needed to be written about this subj …