Custom Bands
Mens Wedding Bands has one of the largest selections of custom wedding bands on the internet featuring precious metals, authentic meteorite, antler, dinosaur bone and wood - each one made by hand in the USA. Custom wedding bands are made to order and handcrafted and unique for each customer.
One of our most popular custom sold-gold bands is the Dublin-10 shown below.
Click Here to visit our Luxury 5-Star Meteorite Collection.
We specialize in custom Meteorite Bands ... at once an eye-catching conversation piece and each one is custom made by hand to order. Meteorite has a higher market value than 14 Kt Gold making your luxurious creation rare, yet sophisticated. Browse through our Meteorite Education Center to learn more ...

Meteorites are over a billion years old and have survived a journey to Earth from outer space! Originating as a solid piece of debris typically from an asteroid or a comet, a Meteorite ring makes a one-of-a-kind masterpiece - truly eye-catching and stunning.
Most of our rings are made from Gibeon Meteorite because of its unique pattern and finish.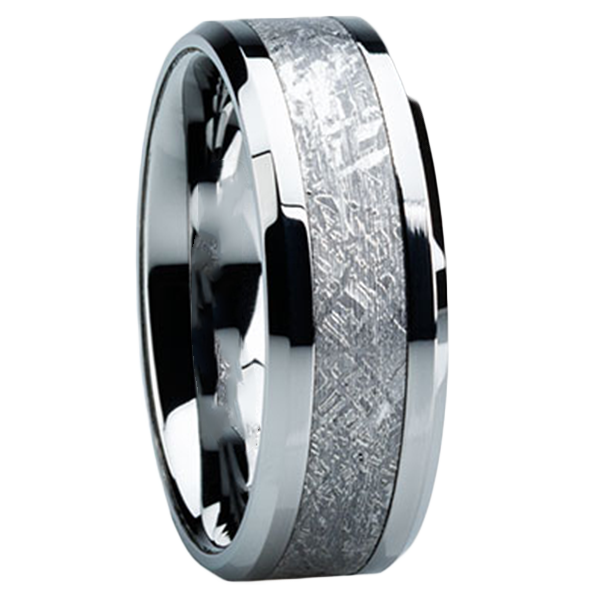 The elegant H119M featured above is one of our most popular styles in the Meteorite Collection (available in Titanium or Tungsten).
In authentic Meteorite rings you will often see Troilite etchings which are dark spots called "Meteorite Fingerprints" (pictured above); these appear randomly among a Meteorite's metal patterns, caused by hurling through space sometimes approaching millions of degrees as they approach the sun! These Troilites are not defects but are signs of authenticity and are a unique aspect of the history and origin of Meteorites.
To view our entire Custom Band Collection please click HERE.
Thank you,
Mens Wedding Bands, Since 2003