How Do You Size A Comfort Fit Ring?
Comfort Fit Ring Sizing Guide
At the risk of being too brief and too simple - I am going to suggest as a general rule of thumb that you size down a 1/4 to 1/2 size when purchasing a ring that you know to be a "comfort fit" ring. Why? Because of the very nature of how a comfort fit ring is designed and manufactured. The entire design concept is not meant to save the manufacturer money by removing material from the inner part of the ring but is designed to fit more comfortably on the finger. What a novel idea - a ring to fit more comfortably called a comfort fit ring!

How are rings made with this "comfort fit", how are they different and why size down up to a (1/2) half size? This concept calls for the ring to be beveled (softened, polished, carved) on the inner parts of both sides of the ring so that it slips over the knuckle easier. Many times a person has to buy a larger ring than wanted simply because the knuckles are so large - the problem is seen when the ring is on the finger - it fits loose and is not as comfortable as it should be. Some people even stop wearing rings because of the poor fit. I mean why wear something if it bothers you?
This comfort fit concept suggests that if it slips over the knuckle easier then it should fit more snugly on the finger once it is over the knuckle. As stated, this gentle beveling of the inner parts of the ring allows for a much more gentle feel once on the finger. Some ask then why not size down 1/4 size instead of sizing down a 1/2 size? The simple answer is that most contemporary metal rings only come in full and 1/2 sizes. There are very few contemporary metal rings (tungsten, titanium, cobalt, stainless steel, etc.) that come in 1/4 sizes. Only precious metal rings typically come in 1/4 sizes such as gold (both white and yellow), platinum and palladium.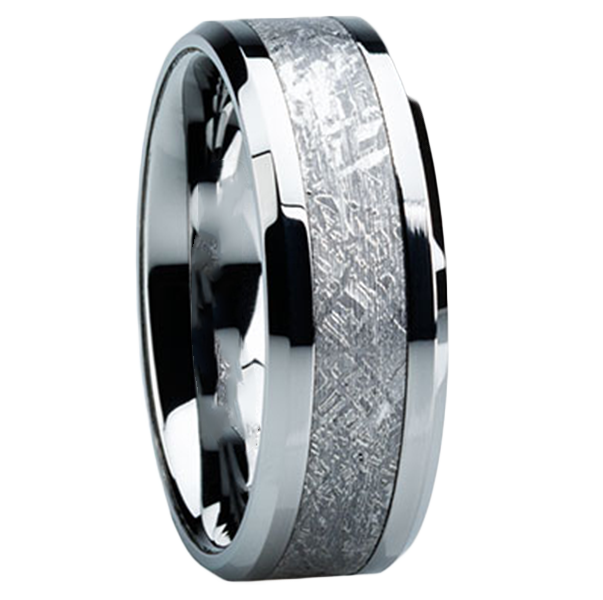 An example of one of our very popular custom made rings is called the H119M (pictured above). How can one tell if the ring they like is comfort fit - can you tell just by looking at it? Great question. If you are shopping online you have to trust the seller - do they clearly state that their rings are comfort fit - if not it is best to contact them to make certain before you buy and have regrets. That said, most sellers online today have transitioned to the newer and more contemporary comfort fit bands.
So the next time you are shopping for a true comfort fit ring, keep in mind the design concepts as described above and order the size accordingly. Many stores send a sizing ring before the actual ring you are purchasing is crafted to make sure the size you have ordered is accurate. And it helps to make sure that whoever you are buying from has a simple to use ring-size return policy. At mensweddingbands.com we are always sending and receiving rings back and forth with customers to help them receive the perfect size and we turn around most rings in less than a week because we know they want to have it back as quickly as possible.
If you have questions about your next comfort fit band or if you even want a comfort fit style - we are happy to help you. Please reach us at 801-755-1661 or email sales@mensweddingbands.com.
Thank you,
Mens Wedding Bands, Since 2003