Choosing correct sizes in mens wedding rings
How does one purchase the correct size of the wedding band if the exact size is not known? This is the dilemma facing many who know the ring the want to buy -the style and the color in the material-but have no idea what ring they need to purchase. This problem is exacerbated when purchasing online in that there is no one from a retail store who can measure your finger. If you've ever shopped online for a ring or a wedding band you have probably seen the online sizers that guarantee that by using them you will determine easily what size ring you will need. Not so. We have spoken with many people who have tried these online devices with little to no success. Then what is the real solution?
The only sure way to make a determination as to what size wedding and would be best for you is to go into a jewelry store with her in the mall or a close store to your home and have them place a ring on your finger, the exact finger you are choosing for, and then to give you the size that is selected. One other caution when doing this, it is important to understand that there is a difference when choosing a comfort fit ring versus a non-comfort fit ring. If you're in a jewelry store and they place a non-comfort fit ring on your finger to size your finger and then you go online for instance to choose and select and purchase your ring and it happens to be a comfort fit, the sizing may be off by one half size or more.
One may explain why. In a comfort fit ring the inside and the outside of the inner part of the ring is beveled to help but slip over the knuckle more easily. Non-comfort fit wedding rings do not have this design. It is because of this characteristic that a comfort fit ring often times should be purchased one half size smaller than a non-comfort fit ring.
With this in mind the correct way to make a ring sizing decision is to try on a comfort fit ring in the store if that is the type of ring you are purchasing and find the exact size. Then whether purchasing in-store or online you will know the correct size in that particular type of ring. It takes a little extra time to size your finger using this new manner of sizing but it is truly the only correct and accurate way to make this important decision. You do not want to have to go into the store or online and reorder or send the old ring if the sizing is wrong because this can cost fees that many others do not want to spend.
See theH306T below.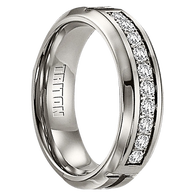 Recent Posts
Men's Wedding Bands – Origin, Significance, Cost, and Tips to Choose Every culture h …

Everything You Wanted to Know About Wedding RingsWeddings bands are now in-trend. Grooms never had …

Tungsten Versus Gold Mens Wedding Bands - we decided more needed to be written about this subj …