Custom Mens Wedding Bands are hot right now - they are in high demand because discerning men want a band that speaks to them, who they are, what they believe in, what their taste is. And exactly what types of mens bands are included in this custom category - let's take a look at all of the exotic inlays on the market as a starting place: meteorite inlays, dinosaur bone inlays, antler inlays, all types of exotic wood inlays, and diamond and precious metal inlays. Popular? These unique and eye-catching handcrafted statements will probably never go out of style because the men who wear them are not looking for the latest "fashion statement" - instead they are looking for what defines them - what they love - who they are - what speaks to their unique characters and personalities.
To get started let's take a look at some of the ring styles that lead this category. We will begin with meteorite. And the H119M is by far the lead ring in meteorite inlays. See image below.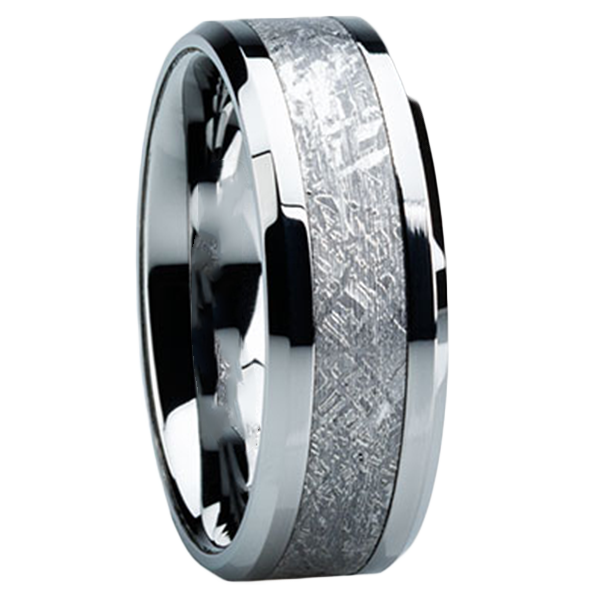 Why meteorite? Meteorite has a higher market value than gold currently - it is in high demand and in low quantities. You don't find pieces of billion year-old meteorites lying around these days. They are rare and once authenticated, they are expensive to purchase - that is why most meteorite rings are above $400.00 and that is just a starting place. The Gideon Meteorite is very popular to use in rings because it is more stable than some of the other meteorite "finds" in the world and true craftsmen are seeking a product that they can put their name on - one that will stand the test of time (not to mention wear and tear). When wearing meteorite wedding bands, one should remember that this is a metal and when it gets wet - it can rust. Although most meteorite mens wedding bands are rust-protected and can be re-etched if necessary - it is still best to keep them away from harsh chemicals and to keep them as dry as possible. We offer a sizing ring that comes with the meteorite completed ring - it can be worn when doing the really harsh, dirty chores or work assignments thus protecting your exotic inlay. It is wise to take advantage of means to protect your inlay in meteorite whenever possible.
There are a number of other exotic inlay custom mens bands on the market although none as high in demand as meteorite. We will next look at the antler series - the nice thing about this collection is that you can add your own piece of antler - one you have brought down yourself - and make it a true one-of-a-kind masterpiece! The C121M is a highly popular antler inlay custom band featuring white tailed deer antler although we sometimes make this ring using caribou and other antler pieces. See the C121M pictured below.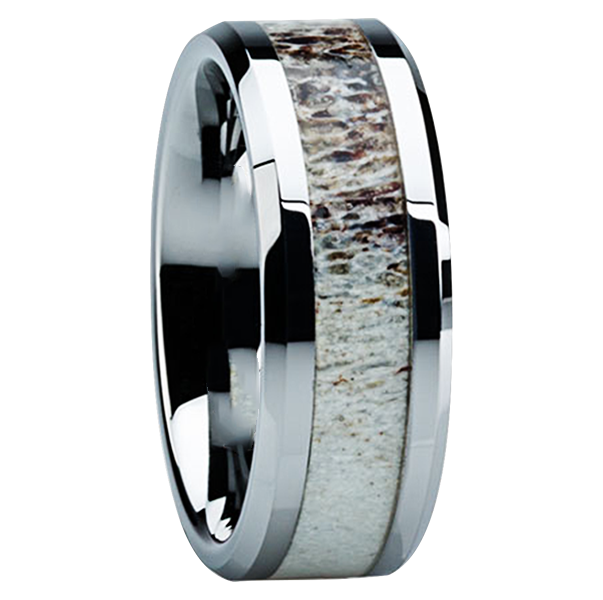 The C121M (above) looks very similar to the H119M in meteorite - the main difference is that the custom inlay is made using antler instead of meteorite. What is so unique about this category of mens wedding rings is the fact that customers can use their own antler to inlay into the finished piece. We have had customers send us even very small pieces of antler which can be crushed and used in the finished inlay and even coated with our patented ring armor to ensure against water damage once the ring has been crafted.
Using either antler or meteorite ensures that the finished piece is a one-of-a-kind (literally) keepsake. A hundred years ago the thought of crafting a piece of "space" into a wedding ring was almost unheard of and now using skilled artisans in the United States a person can custom order anything from ocean shells to antlers. and from meteorite to exotic woods. Speaking of woods, let's now turn to what has been and will probably always be the number one category of custom mens wedding rings - exotic wood inlays!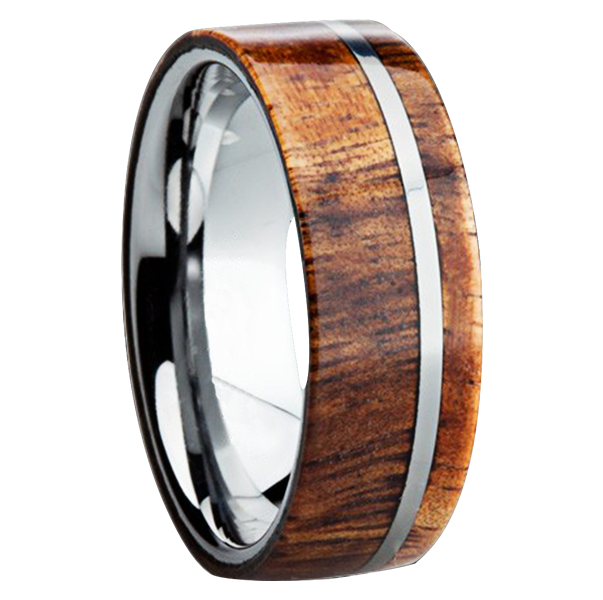 The K109M featured above is hot - so hot that we have added an entire line just to this one style - a subtle pinstripe running along one edge of a beautiful KOA wood inlay - and what is so unique to this stunning wood band is the fact that unlike cheaper wood inlays - this ring boasts NO SEAMS. Can you see why this is so important? A seam tends to crack and come apart and warp - not so with this beauty! No seams - anywhere!
For your viewing pleasure we have added a few more images from this exotic wood inlay category - all the same style - just with different wood inlays from all parts of the world of exotic woods:
K109M - Ruby Red Burl Wood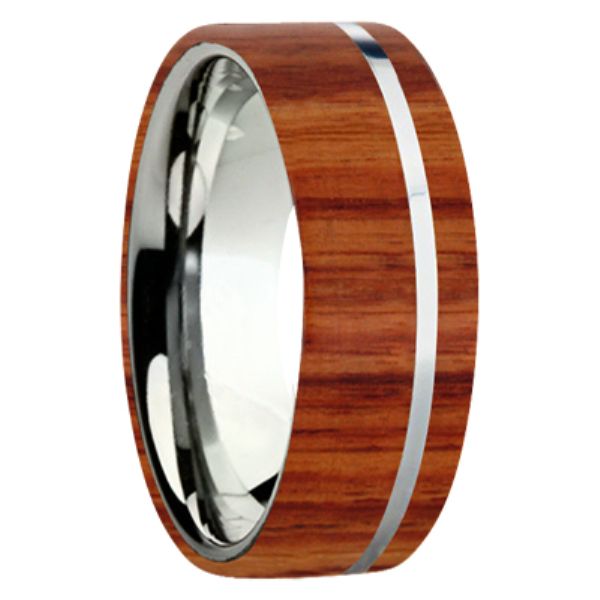 K109M - Tulipwood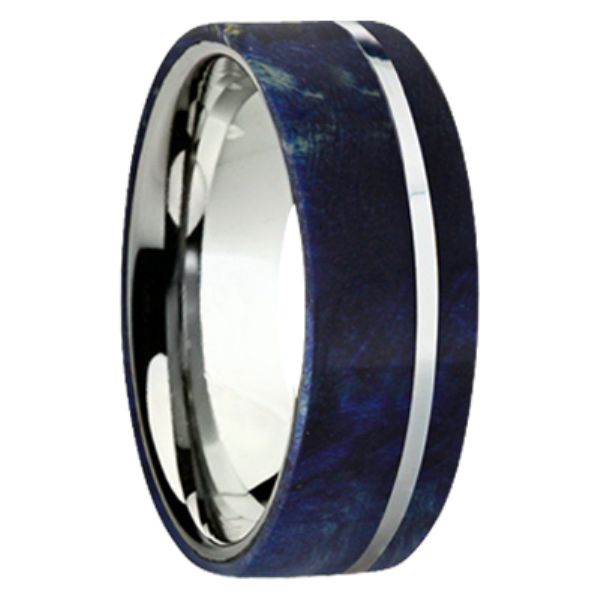 K109M - Box Elder Blue
Want to see the entire collection - look no further than this link (click here). Many men love the thought of having a piece of real wood on their hand. It reminds them of younger years while playing with friends in the woods and meadows or when hunting with dad or their best friend. Or maybe a midnight stroll along a stream with their loved one. Whatever the case the exotic wood collection is the largest of all the exotic/luxury brands we carry and for good reason - the discerning man wants to know he has seen them all!
Another incredibly unique inlay within the exotic inlay collection is dinosaur bone - that's right, authentic bone from a prehistoric dinosaur. Wear it knowing that maybe one out of 100,000 men have anything so stunning and eye-catching and imagine the conversations that ensue!
The one listed below is the D138M. When someone purchases a dinosaur bone wedding ring, we typically send them images of the bone we have in stock so that they can ell beforehand what the color combinations are and in most cases we crush the bone when installing it thereby allowing us to apply the protective ring armor that protects against water damage and cracking and splitting. Most of these dinosaur bone inlays are inlaid into titanium with sizing from 4- 16 including 1/4 sizes. Be unique - be daring - buy dinosaur bone!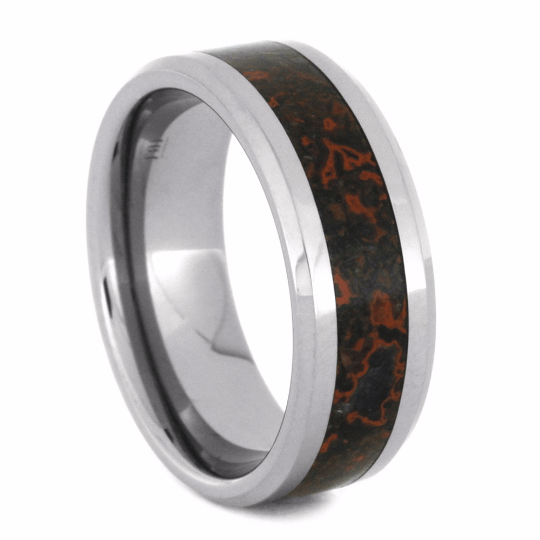 D138M - Dinosaur Bone
We have taken great care to incorporate only the finest quality custom mens weeding bands on our site - we now have one of the largest selections to be found on the internet with hundreds of different styles of custom rings in inlays ranging from antler to wood and from dinosaur bone to meteorite. Another unique capability that we have is to meet the discerning needs of our customers by exchanging metals for precious metals, changing the widths of the rings from 4 mm - 12 mm, adding diamonds, and exchanging inlay materials in a variety of different patterns and colors. For example, the DD726M pictured below. This magnificent mens band features Palladium precious metal as the base metal with inlays in damascus, dinosaur bone and meteorite. We could also add a beautiful diamond in any color and clarity for our customers. If you find a ring you like but you want to make it even more "yours", simply contact us and we can work up the design with your input and get you a price for the finished piece within 24 hours. You can always reach us at sales@mensweddingbands.com or by calling 801-755-1661.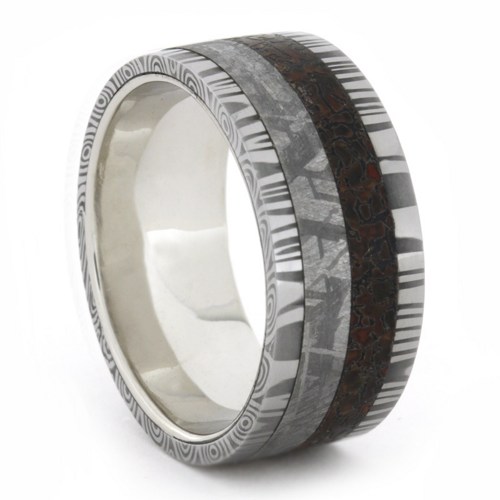 We hope you enjoy our vast and stunning collection of custom mens wedding rings - each one handmade for the discerning tastes of our customers. You will probably have some questions - if you do please contact us at the number listed above and we would be happy to give you our honest opinion and feedback. We also welcome your suggestions regarding our styles and prices - if you would like to see us add a special ring or if you think we need to adjust a price - contact us - we try to listen to each and every customer.
In conclusion, we thought you might like to see one our very popular newest additions in black diamond - the M252HC pictured below. This ring, along with all custom inlay rings, comes with the J095C as a sizing ring to ensure that they size you have ordered is accurate. You can wear the J095C sizing ring (in black or silver tungsten) when doing those tough, dirty jobs thus protecting your custom inlay! Our customers love this feature and we have received wonderful feedback on this service - at no extra charge to you, the customer.
Thank you,
Mens Wedding Bands, Since 2003
Recent Posts
Men's Wedding Bands – Origin, Significance, Cost, and Tips to Choose Every culture h …

Everything You Wanted to Know About Wedding RingsWeddings bands are now in-trend. Grooms never had …

Tungsten Versus Gold Mens Wedding Bands - we decided more needed to be written about this subj …