How 14k Men's Gold Wedding Rings are the Best Option?
Men's rings have gained a lot of popularity today than it was in the past. When it comes to rings, men are always stranded on the one to choose. For a long time, now gold has been the most preferred choice of men rings. However, the difficulty is usually in making a choice between the 14k and 18 karat. The one thing that you most men do is to make choice based on their budget. There are several things that make the 14k gold ring the best choice. This ring has been around for a long time. Gold in its purest form is usually 24k. This means that it is prone to getting damaged because it is soft. The 14k is a combination of 10 parts of other metals and 14 part of gold.
Maintenance:
This ring does not require a lot of maintenance procedure. All that you have to do in order to keep it polished and looking new is mild soap, small brush and warm water. You can also take it be polished at affordable costs.
Designs:
There are several designs of this ring that you can choose to buy. This means it is suitable for use as wedding ring and engagement. You can great a custom made design depending on what you want. You can get a design that will symbolize your love. With this ring, you will get endless possibilities when it comes to designs.
Purpose:
You can get the 14k ring for different occasions and not specifically for weddings. Gemstones such as moissanite, cubic zirconia, jade and onyx can be presented in this kind of ring. Apart from this, they come in a wide variety of designs. Mens Wedding Rings - in gold - to stay!
Price:
When it comes to pricing, the 14k is usually more affordable than the 18k gold ring. This only means that you will get to save on your budget. You are also guaranteed of getting the best ring. Buying the 14k will ensure that you get heavy metal for less. Mostly men like heavy rings.
Toughness:
The 18k ring is softer as compared to the 14k or the10k gold ring. It is advisable that men go for heavy rings; this is because of the kind of work that they do. You will probably be wearing the ring on a daily basis and this needs something that will last. The 14k will not give you a hard time when you are doing your chores.
These are some of the things that make the 14k a preferred choice. Jewelers have known this and know men can get different designs of this ring. There is no doubt that you will get a durable piece of ring at affordable costs. Make your wedding a memorable affair by getting the ring that will last you fir a long time. You will never go wrong with this ring. Buying this ring will show your partner that you value your union. Do not look far for the best ring for engagement or wedding. The 14k is the ideal choice to go for.
See the Omaha-10 below.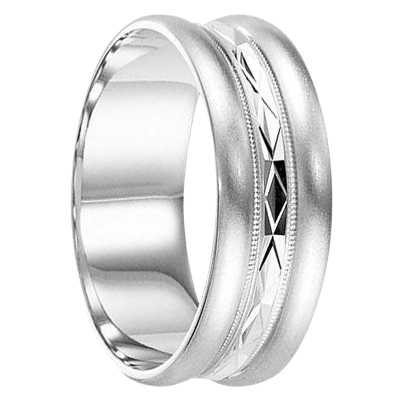 Recent Posts
Men's Wedding Bands – Origin, Significance, Cost, and Tips to Choose Every culture h …

Everything You Wanted to Know About Wedding RingsWeddings bands are now in-trend. Grooms never had …

Tungsten Versus Gold Mens Wedding Bands - we decided more needed to be written about this subj …