Mens Wedding Bands – Top 5 FAQ's

In general, there are about 5 major questions based upon our research regarding Mens bands and although we do not have a corner on the answers we have been in this space, buying and selling bands, for many, many years and we thought it might be benefical to chare not just the main questions but our best attempt to answer them.
We would love to hear from you and welcome your suggestions and opinion on this subject – we can be reached at sales@mensweddingbands.com. Here are our top 5 questions and answers …
What is a contemporary metal men's bands?
The material used in men's bands has changed dramatically over the last decade. In the 1990's you could find a high percentage of precious metal rings such as platinum, palladium, gold and silver.
Enter the contemporary or alternative metal market! Rings made in sterling silver, cobalt, stainless steel, tungsten, titanium, vitalium, zirconium and ceramic constitute the contemporary ring market.
Contemporary metals are less expensive to product than those in gold and platinum but aside from cost there are some other real benefits – for the most part – and I am referring to tungsten, cobalt, ceramic and titanium – they are very durable and scratch-resistant. Far more so than their precious metal counterparts.
The gap in style differences has been greatly reduced in the past 10 years with contemporary metals now crafted with stunning inlays in exotic woods, platinum, dinosaur bone, meteorite and of course diamonds. Our conclusion is that the discerning man will want to at least explore the new contemporary mens wedding rings market before deciding on a traditional gold band.
What does it mean when they say this is a Comfort Fit band?
Comfort fit is fairly easy to describe – it entails beveling (removing) a small layer of the inside and outside of the wedding band in such a way that the ring has the tendency to slip over the knuckle easier.
A non-comfort fit band does not have this beveling – it has straight edges that can make it harder and more uncomfortable to place on and remove from the knuckle. Most rings in today's marketplace are made in comfort fit design.
How does a person know if the size they are ordering is accurate?
This is a great question and there is not one perfect answer. We highly recommend that someone looking to purchase a mens band go to a jewelry store and get measured for the right fit. That being said, it is benefical to go to more than one store in that sizing in one store using their sizing tool might vary in some way from a different store.
If this cannot be accomplished, there are sizing guides on the internet that can be downloaded and printed to place around the ring finger for sizing – these are a total waste of time and energy and simply do not work for the most part.
At Mens Bands we have a solution that works 99% of the time. When purchasing a ring and when one does not know the exact size, we send a sizing ring at no extra charge BEFORE we order the ring a customer has purchased. Once the sizing ring has been tried on and the size has been determined to be accurate then we order the original ring and the sizing ring can be returned to us – this takes a few extra days and is well worth the time particularly when personalized engraving is to be performed on the original ring.
Are lifetime warranties legitimate?
It depends. What happens if the manufacturer goes out of business or the establishment from whom you purchased the ring? What does the lifetime warranty cover and is it in writing or is it merely an "understood" arrangement? Does the lifetime warranty cover loss of precious stones? Does it cover discoloration? Does it cover all manufacturing defects including breaking and cracking?
Check the brand of the manufacturer – is it a name brand – one that can be trusted such as Triton? Triton, by the way, not only puts their warranty in writing but they give a warranty card with each and every ring they sell.
Make sure to read through the written details of the warranty. At our stores we pride ourselves in offering a lifetime warranty that covers all precious stones – even if they are lost from the setting – and this is placed on our online sites in print for the customer's protection. We have many customers call us before they place their order just to make sure we are a legitimate company and not just an online shell. We welcome calls and are happy to help our customers place their order if they prefer (over the phone).
What style is the most popular of all mens wedding rings today?
We get asked this a lot! What is your most popular style? Does it have diamonds? Is it the new black mens wedding rings? Is it a contemporary metal of a precious metal ring? And as to price – what is the most popular price point?
Although we cannot state definitively that style "X" is the most popular – we have a number of models that compete head to head in that space – we can say unequivocally that the new "Exotic Inlay" mens wedding bands are at the top of the charts!
We have included some of the most popular in the Exotic Mens WeddingRings category below. They are the K109M, the C121M, and the B115M.
Happy shopping – we hope this has helped in your search!
K109M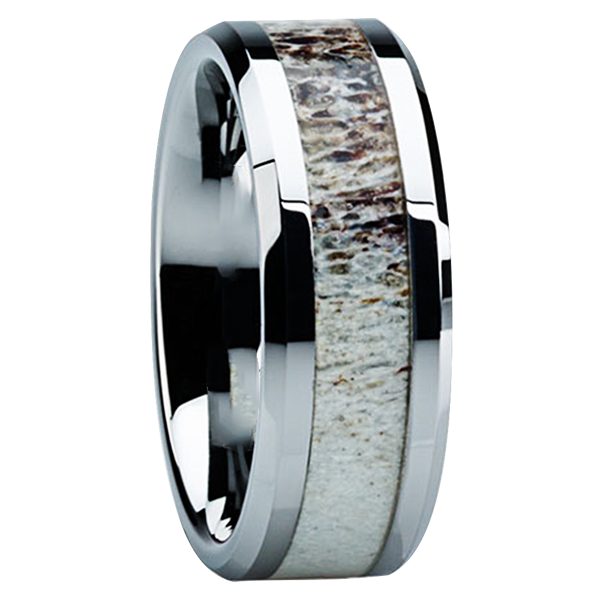 C121M
B115M
__________________________
About the Author.
Ronald C. Johnson is the co-founder and owner of Tayloright LLC, a Utah-based corporation. Before founding the Company, Mr. Johnson earned his B.S. degree from Texas Wesleyan University and spent many years as National Director of T-Mobile USA where he co-authored the book titled: Loyal-T, the ABC's of Creating Loyal Customers. His career has focused on sales, marketing, and training including 6 years with FranklinCovey in a sales and management capacity. He is married with five children, two grandchildren and resides in Washington, Utah.
About Tayloright LLC.
Based in St. George, Utah, Tayloright LLC, began operations in March of 2009 selling wedding rings, men's jewelry and rock climbing holds. Currently, Tayloright LLC serves the international band marketplace shipping to countries worldwide. Their innovative products and accessories offer a fashion category that allows both men and women to enjoy eye-catching, stunning designs in alternative as well as precious metals. The Company carries products that are backed by their lifetime defect and sizing warranty. Average band prices from their combined websites range between $300.00-400.00 although they also carry precious metal rings that sell into the thousands of dollars. Its premier website is www.mensweddingbands.com. To see their vast collection of precious and exotic titanium inlay rings made in wood, antler, meteorite and dinosaur bone please see the following link … http://www.mensweddingbands.com/exotic-inlays/?sort=priceasc.
Recent Posts
Men's Wedding Bands – Origin, Significance, Cost, and Tips to Choose Every culture h …

Everything You Wanted to Know About Wedding RingsWeddings bands are now in-trend. Grooms never had …

Tungsten Versus Gold Mens Wedding Bands - we decided more needed to be written about this subj …