The 2016-17 Definitive Buyer's Guide: Men's Rings.
Introduction.
You have accessed our premier site www.mensweddingbands.com. Online since 2003. As part of our commitment to the industry, we try and publish (or at least update) our Buyer's Guides on a yearly basis in that not only do styles and prices change but so do customer's tastes and desires to find the perfect mens wedding band. Over the years we have been in business we have added almost a thousand unique and different stylish mens bands - a selection that is sure to encompass even the most discerning tastes. If you do not see a style you like from this broad selection we invite you to contact us to see if we might be able to customize a band to your taste - this is a relatively new service we have added and its impact has been gratifying. Many people - men and women alike - have something in mind that they would like to incorporate into their "forever" band and we can now accommodate those requests. Please see the following tab for more details about this exciting service.
For the years 2016 and 2017 we have tried to look ahead, to see what the future of style in this exciting category might offer in the next decade. We hope you like our thoughts, our studies, our analysis, and our insights into one of the most exciting men's categories in the fashion industry - mens wedding bands.
Pricing (Retail versus Online).
See comprehensive review under FAQ below.
Quality (Buy it Once for Life).
This has always been our philosophy. Why buy a ring or a wedding band or anything for that matter multiple times over a lifetime if you don't have to. It may cost somewhat more upfront to buy the better option and to buy quality but over time it might still be the best long-term value option regarding price and longevity. Particularly we feel this is true when buying something as symbolic of love and duration as a wedding band - for a man or a woman.
There are a host of options for buying in China or elsewhere where the quality is questionable but the prices are low - in some cases downright cheap. and it is tempting to offer lower price points to attract the price-conscious buyer but we have determined that we would prefer to lose some customers due to price than more customers over time due to inferior products that do not wear or last as long as a finer built piece of jewelry.
Realizing that some people simply do not have a few hundred or a few thousand dollars to spend on a men's wedding band, we suggest shopping at a more price-centric store such as Overstock.com, eBay or Amazon. A person will be able to find hundreds of rings all priced under $50.00 at these sites and some are very nice looking.
On the other hand, if a shopper is looking for something more unique, stunning, one-of-a-kind, exotic, them you will end up paying for these types of quality fashion designs. For a short but somewhat comprehensive overview of the top 10 products carried in this category please see the listing under "selection" below.
Selection (Approaching 1,000 different styles).
Shall we start with the most popular band in our store of almost 1,000 stunning styles? Let's do and here it is - the H119M - a beautifully designed Titanium piece enhanced with a Meteorite inlay that has a higher market value than gold! This lovely meteorite masterpiece can be crafted in a variety of widths and if you don't want Titanium, we can make the entire ring out of hie gold, yellow gold, or even Platinum. With our custom ring manufacturing ability we can offer thousands of designs that meet your discerning needs from different types of wood inlays to dinosaur bone and from antler to mineral deposits in a variety of colors.
In any event, we have listed the Top 10 styles from our store. Following the H119M above, you will see the top 9 listed below - enjoy!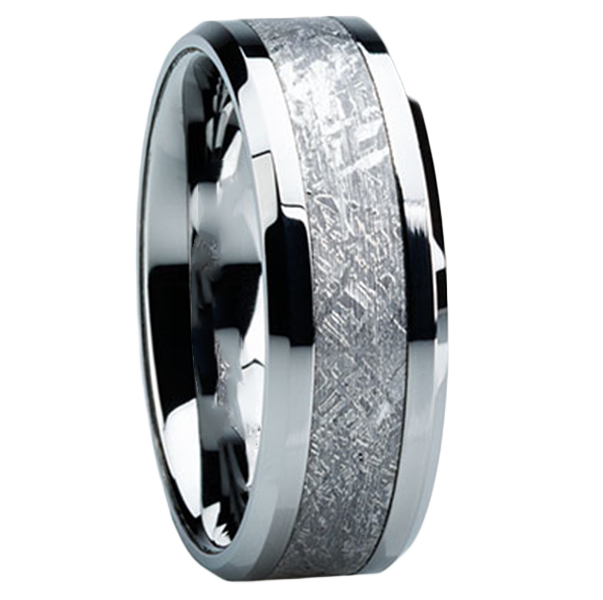 H119M (pictured above)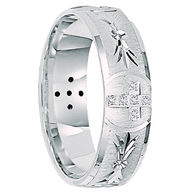 The Chiron (pictured above)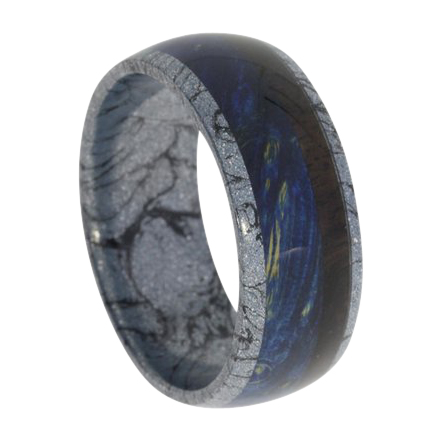 Z443M (pictured above)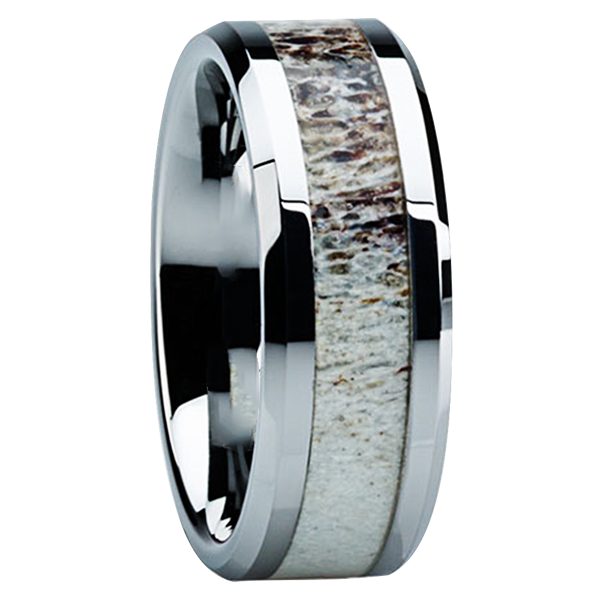 C121M (pictured above)
B115M (pictured above)
K109M (pictured above)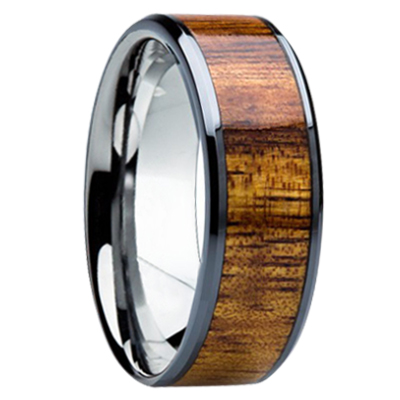 K121M (pictured above)
W165M (pictured above)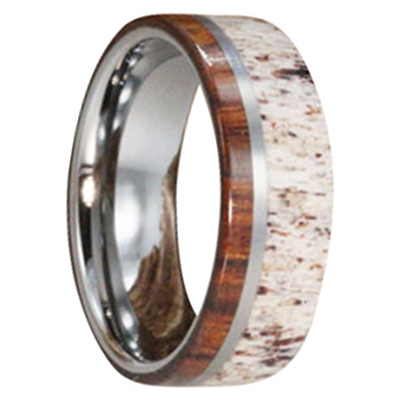 I664M (pictured above)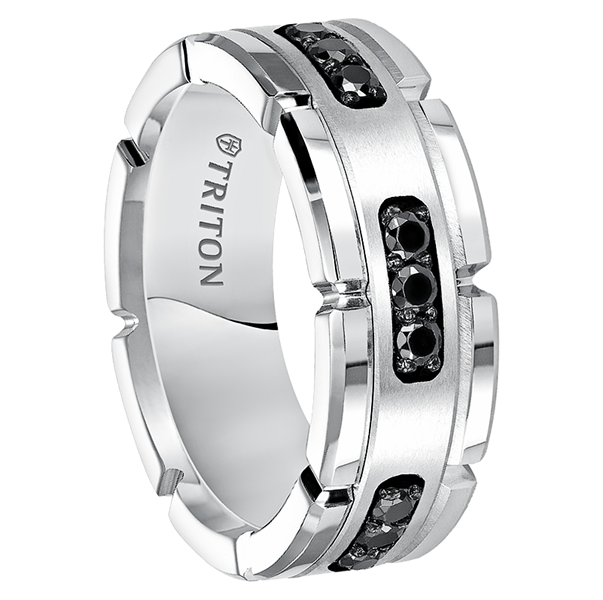 M252HC (Pictured above)
Warranties (One-Year versus Lifetime Warranties).
Please see a more complete overview under FAQ's below.
FAQ's (What are our most Frequently Asked Questions).
So what do customers and potential customers care about the most when searching for a men's wedding band? In that we have been fielding questions for about a decade, we have a pretty good idea as to what questions are on the minds of people who are looking for a band to symbolize marriage. We'll start with one centered on sizing and then progress in relative order of importance to these customers:
How do I select the right size? The most foolproof way is to literally walk into a retail store (2 stores is better to make the final confirmation of size) and try on a variety of rings. Make sure they are "comfort fit" because modern-day rings are virtually always comfort fit meaning the inside and outside of the ring that touches your finger is beveled so that it slips over the knuckle easier - they call this comfort fit because it is so much more comfortable to wear a ring that has its inside and outside edges beveled. Once you try on a number of rings ask them if you can try on 1/4 sizes as well in that most of the exotic inlay rings - very popular as of this writing - can be created in 1/4, 1/2 and full sizes. Going to two or more stores helps to verify this sizing process and is a surefire way to get the exact size you need.
Once you KNOW your size you are then free to start selecting the style you want to purchase - whether that is your favorite retailer or any number of online stores that catch your eye. In some cases - typically not with custom rings - you can return your purchase to get a different size and in some cases this "sizing warranty" is for the life of the ring. If you think you will be needing to trade in your ring for a different size from time to time you might consider going with a more traditional or stock ring so that you can get it sized over time. This is true for gold, platinum, cobalt, tungsten, titanium and almost all other contemporary metals.
How will my ring be shipped? Standard USPS shipping is free. We typically order wedding bands to size and inspect them before we package and ship them to you. This process from order date to date received is somewhere between 7-10 days. In that we are approaching 1,000 different models and each model has 25 options for sizing, we have available 25,000 iterations of rings on our site. That is why we need to order to size - there is no physical way to stock all of these models - space alone would prevent it much less the astronomical cost of purchasing these styles.
We also offer custom rings with different inlays that are made of wood, diamonds, dinosaur bone, antler and meteorite. Shipping is free on these rings as well but it takes between 5-6 weeks to hand make these stunning custom rings. Engraving can also be selected for virtually all of our styles - the only exception is a ring with a wood or other material sleeve - these cannot be engraved.
Currently we ship to the United States, Canada, Australia and the United Kingdom. Others countries may be shipped to but this requires a secure PayPal address and in some cases wire transfer of the funds prior to shipment. Shipment to Canada is free unless a customer selects a more rapid form of shipment such as Priority Mail or Registered Mail.
Which materials tend to be the most popular and why and which ones hold up the best and last the longest? You have heard all about Tungsten and Titanium. They have risen to the top of the contemporary metal market. They just happen to also be the ones that hold up the longest with Titanium starting to overcome Tungsten as the most "in demand" of all metals in the alternative or contemporary metal market. One reason for this is that Titanium will not break when dropped against a hard surface but Tungsten is known for being brittle when it comes to breaking. Tungsten is the hardest and heaviest of these two metals but it is so hard it can act brittle - breaking in some ways when no other metal would. Tungsten is far heavier than Titanium with Titanium being so light you can barely feel you have a ring on your finger - some men love this - others hate it!
So what would we recommend? We think Titanium - the metal of choice of some of the world's best gold clubs - has become the go-to metal of choice in the men's fashion category. Price is right, strength is there, and it is workable to the point that some of the most stunning of all creations are now made in Titanium.
Will I save money by buying online versus buying from my favorite retail store? It depends. Some retail outlets offer heavily discounted prices and have far less overhead than some of the more swanky and blingy retail stores. Some operate on lower margins and pay their employees less in order to offer products at more reasonable price points. But that is not the norm. By and large, the retails - small and large - have high rent prices, high advertising budgets, high signage and electric bills and pay a huge employee base with salaries, insurance and other incentives such as paid leave and 401K's. Where does this high overhead money come from - from the customer in the way of HUGE markups! It is not uncommon for jewelry stores to have markups to 1000%. Not 100% - one thousand percent!
When you contrast this with the average online store - well the differences are stark. Very few employees are needed to run an online store in that most sales are completed online - through the backend system. And what is the cost of rent for an online store? Virtually nothing. How about marketing, signage, utilities and parking spaces? Well, you get the point and that is why so many online environments charge far less than the typical retailer. Low to no overhead means the cost of goods is actually the main cost of the product being sold. If a ring costs $200.00 - it can sell for $300.00 online and the online store can make $100.00 which is virtually all profit!
Now take the same scenario for the retailer. Cost of the ring is the same - $200.00. But they must sell it for $500.00 because 10% goes to employee costs, 10% to utilities, 15% to rent expenses and another 10% goes to misc costs associated with mall fees, shrinkage (employee theft), trash removal fees, signage, marketing materials, etc. The profits might be the same but the retailer must spend huge sums of money to pay for their brick and mortar location.
That is why online sellers have gained an enormous market share over the past decade. Price value. Actually quite simple.
What is your return policy and what do I do if my ring is defective? Customers are rightfully concerned that the product they order is not just well made but carries a legitimate warranty from the factory that is backed up by the seller. Most of our stock rings (from Tayloright and Triton) have lifetime warranties against breaking and other manufacturing defects. This includes precious stones (see question below). Handcrafted rings with exotic inlays carry a one year warranty in most cases and do not carry a 30-day refund policy in that each handcrafted, exotic inlay ring is made to the exact sizing and specifications of the customer. That being said our policy has always been to take care of our customers and we have sometimes sold rings under our cost in the event a customer is out of warranty and they need help with a new ring in the event theirs was lost, stolen or became unusable for some reason.
In some cases such as with the J095C pictured below - the lifetime warranty covers even scratches and all a customer pays for a new ring is a reasonable shipping fee.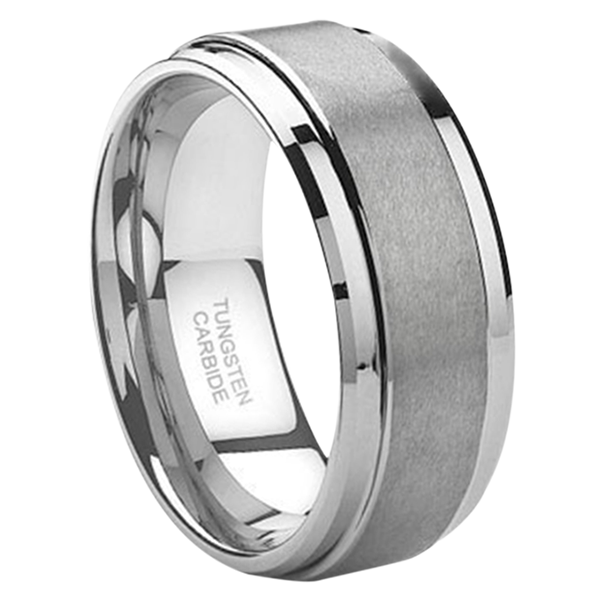 How long will it take to receive my ring and do the custom rings really take 3-6 weeks to produce? We tried to answer this question under "shipping" above but in general once we receive the ring it takes a day to inspect and ship and 3 days to reach our customers in the United States. All total we try and hit 7-10 days with stock order rings such as Triton and Tayloright brands. We also carry custom or handmade rings that take 3 to 6 weeks to produce depending upon the factory. We can rush order these handmade rings in some cases but it is rare to receive a custom or exotic ring in under 3 weeks.
One of the reasons it takes weeks to receive a handmade or custom inlay ring is that the proprietary methods used to create these rings are performed by artisans not machines. They are literally made by hand and they take painstaking detail and attention to the most minor of all materials and seams and fittings. There are very few artisans still capable of these types of skifully made extic inlays and we feel very fortunate to know which ones produce the most dynamic and beautiful finished pieces. Years ago we had so many issues with wood inlay rings that we literally stopped carrying them - we too every single one of them off our websites in that they cracked, splintered, warped and chipped and had no protective covering over the wood so that when it got wet (and they all get wet at one time or another) they started having major problems. Years later we found the amazing artisans - skilled in making the same type of ring but the wood HAS NO SEAMS anywhere. It is a remarkable feat and once they apply their patented wood sealer, the ring should last a lifetime!
What happens if a diamond falls out of my setting - is it still under warranty and do I have to buy insurance to cover my precious stones? Precious stones are covered by the factory that produced the ring. For life. That means that if you lost a stone you can send it back to us and for a nominal fee you will receive a new stone to complement your stunning ring. It is also recommended that you take out an insurance policy on your handmade rings with diamonds just to make sure you are totally and fully protected.
How can I be certain that you are a legitimate online seller and not some scam artist who will rip me off and I will never see my ring once I have purchased it? What a great question and as a family we ask the same hard questions when we shop online. For the most part - unlike 15 years ago - most sites these days are legitimate and have been vetted by Google and other online security companies to ensure they are real and have a history of protecting customers. Here is what we recommend you look for in an online company:
- Authorized by the BBB (Better Business Bureau). This takes much of the worry out of your shopping experience because the BBB has done the research for you and found that the company is reputable. And to be perfectly sure - the ones rated A+ are virtually foolproof!
- Payments made through PayPal. In addition to the standard means of payment such as Visa, Mastercard and American Express, PayPal is a very secure way of paying and if you do not receive your merchandise you can file a dispute and PayPal will fight for you. Make sure this option is available and use it as often as you can.
- Secured websites with HTTPS. A site without the "s" is suspect and has not been tested for full security. Best to stay away from a site whose URL only has HTTP.
- Testimonials. Can you see where customers have left positive feedback about the site and products? If not, might pay to dig a little deeper.
- Call. A good idea is to call the company before making a purchase. Did they answer the phone and were they knowledgeable and forthright about their products and services? Could you understand them - did they speak your language?
About Tayloright LLC.
Based in Washington, Utah, Tayloright LLC, began operations in March of 2009 selling wedding rings, men's jewelry and rock climbing holds. Currently, Tayloright LLC serves the international wedding band marketplace, shipping to virtually every country in the world and in addition offers SEO (Search Engine Optimization) to a number of companies in the United States. Their innovative men's products are enhanced by the addition of a entirely new line of custom wedding bands offering inlays in gold, silver, exotic woods, meteorite, antler, dinosaur bone and a variety of metal and mineral deposits. This addition offers the fashion category - men and women - those who are seeking eye-catching, diamond-enhanced, durable, scratch-proof and quality wedding bands.
Tayloright LLC is a family owned business and committed to offering one of the widest selections on the internet at value-added prices and standing behind each and every product to ensure our customers are satisfied - even delighted with their purchase. Many customers are referred to us by customers who have had a positive experience with us and show their appreciation by sending friends and families to one of our websites.
One of our more popular wedding bands for men and women is the M252HC pictured below in white tungsten enhanced with 9 luxurious black diamonds. This stunning ring is offered in sizes ranging from 6-14 including half sizes. One of the many Triton brand wedding rings carried by the Tayloright LLC Company.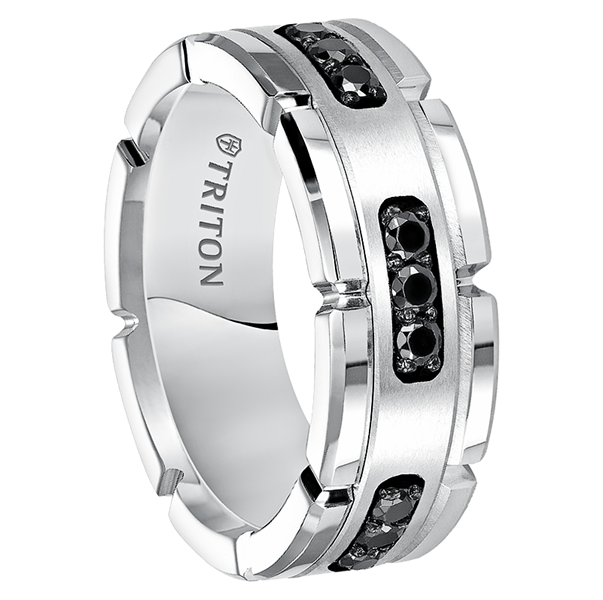 Should you need assistance with your existing purchase or if you are a new customer, you may contact us at 801-755-1661 or sales@mensweddingbands.com. We will be delighted to help. We are grateful to our customers and pride ourselves in an A+ rating with the Better Business Bureau.
Recent Posts
Men's Wedding Bands – Origin, Significance, Cost, and Tips to Choose Every culture h …

Everything You Wanted to Know About Wedding RingsWeddings bands are now in-trend. Grooms never had …

Tungsten Versus Gold Mens Wedding Bands - we decided more needed to be written about this subj …