Today's Mens Wedding Bands
More and more men and women are buying matching mens bands and the trend is ever increasing in the higher-end fashion mens bands. It appears price is less of a concern than style and durability; in fact we see exotic inlays and diamonds at the very top of the high demand collections. For a more specific breakdown please refer to the top 4 categories listed below.
Although our research is based upon our 4 company-owned websites, we nevertheless have over 6 years of data to pool from. All of our sites have a wide variety or rings fashioned in gold, silver, platinum, palladium, cobalt, tungsten, titanium, stainless steel and a fresh new collection of inlays from exotic woods, to meteorite, from dinosaur bone to minerals. That being said, the exotic inlay collection is by far the fastest growing segment for men.
The following are some of the top choices in partner bands (in order of relevance):
Exotic Inlay Wedding Bands - Titanium.
This rather new, exotic inlay fashion ring category for mens bands is absolutely red hot! Designs ranging from Meteorite, Dinosaur Bone, Antler (you can even provide your own antler if desired) and of course wood inlays from KOA Hawaiian wood, Spruce, Blackwood, Bloodwood, Ebony, Elder, Black Ash, Burl, and Bamboo!
We have also recently introduced a brand new mineral inlay to this collection - such as Red Coral, Yellow Amber, Opal and Carbon Fiber. Most bands are available in sizes from 6-16 including ¼ sizes for the most exact fit and all are designed with Comfort Fit.
Pricing ranges from the mid $200's to the thousands of dollars depending upon the type of inlay and the manufacturer of the ring.
Tungsten Wedding Bands with Diamonds.
Tungsten is the relative newcomer to the contemporary metal market although you will also see Cobalt Chrome and Stainless Steel bands on most sites these days. Why the trend in contemporary metals such as Tungsten and Titanium? In a word … durability. They carry wonderful warranties – most for life – and most also have a lifetime sizing warranty as well. If you need a new size no problem simply return the old and receive the new – in whatever size you need!
Although it is difficult to determine the absolute leader in the tungsten category for gay couples, a few lead the way including the Triton brand of multiple inlay diamonds such as the A388C. This ring is pictured below and has a full ½ cwt of genuine, white diamonds. Another hot seller is the Z218C – its twin sister with ¼ cwt of diamonds.
How could anyone not love Platinum?
One of the rarest materials on the planet, an intricately carved timeless handcrafted band in Platinum will cost thousands but then, you only buy once!
One of our most popular Platinum mens bands is the Tevorne in either 6.5 or 8.5 widths. This exquisite piece is fashioned with one-half cwt of diamonds positioned around the circumference of the ring – talk about stunning!
Also popular are the less expensive bands in Platinum in 3 to 5 mm widths with very little design work . Simple but elegant and the price points are about the same as the exotic inlay bands.
"Black" Diamonds are forever!
They really do last forever and all of our black diamond masterpieces carry a lifetime warranty even against lost stones! Other diamond colors include blue, yellow or white and if you prefer your piece fitted with your birthstone – no problem.
Currently our most popular piece for men couples is the M252HC – in part because it is on sale for under $400 and has .31 cwt of black diamonds and is fashioned in the ever-popular white tungsten. Sizing ranges from 6-15 including full and half sizes with Comfort Fit. And for those who love Silver – there is a Sterling Silver inlay crafted in between the black diamonds. Please see this ring pictured below.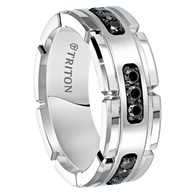 ______________
As noted, our research shows that it is the new exotic inlay fashions that lead the way. In fact the most popular ring for men on www.mensweddingbands.com is the H119M priced just under $600.00. This stunning band has a 4 mm Gibeon Meteorite inlay in Titanium complete with Comfort Fit design in sizes ranging from 6-16 including ¼ sizes (6, 6.25, 6.5, 6.75, 7, etc.). Plan ahead though in that the fashion exotic inlay category consists of handmade creations that take up to 6 weeks to produce! Please see pictured below ….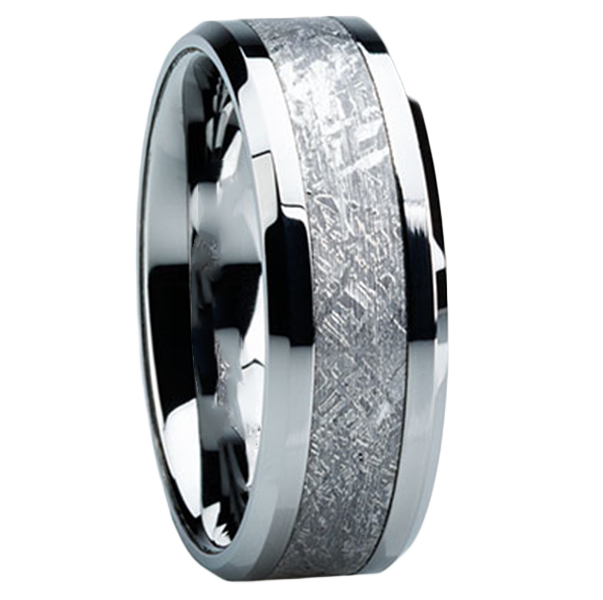 Recent Posts
Men's Wedding Bands – Origin, Significance, Cost, and Tips to Choose Every culture h …

Everything You Wanted to Know About Wedding RingsWeddings bands are now in-trend. Grooms never had …

Tungsten Versus Gold Mens Wedding Bands - we decided more needed to be written about this subj …