Top Ring Trends in Men's Wedding Bands
Whether it is about outfits or jewelry, people always choose the trendiest of all. The new trends always wipe out the old ones, same is happening with men's fashion rings. The new and different trends of men's fashion rings are attracting every man, even those who never worn any jewelry.
The recent men's ring trends have covered all the traditional and classic styles. Numerous metals and other materials are being used to design men fashion rings nowadays.
Here, the best trends in men fashion rings are explained.
The black things always look more masculine, no man can deny the appeal of black. Keeping the men's choice in mind, the new range of men's rings is being designed black in color. The black rings include tungsten carbide, black stainless steel, black gold, black ceramic, and black cobalt rings. The features of black fashion rings for men vary with the type of metal they are made from. Black rings are often pocket- friendly and versatile. They can be worn as a wedding ring or a style piece.
Cobalt chrome rings:
The cobalt chrome rings have hit the market. They are being shaped into numerous new styles and designs. The cobalt chrome rings are flashing white in color. They are brighter then the tungsten and titanium, almost as bright as platinum rings. The pretty white cobalt chrome rings are often engraved with traditional or religious symbols. There is a trendy range of smooth, matt, plated and engraved cobalt chrome rings available in the market.
Two-tone rings:
A different trend of two tone rings is the latest appeal to the men. These rings are doubled toned with the combination of yellow and white or black and white metals. To make a trendier two tone ring, a colorful carbon fiber is toned with black, white or yellow metal. The sculpted two tone rings are also huge in demand. The two tone rings for men can bring an attractive change to plain white and yellow rings.
Wood- inlay rings:
The wood- inlay rings are another hot trend. The addition of a wooden strip in the metallic band is totally a unique idea. The wooden-inlay ring is designed with natural wood and is perfect for those who admire the nature. The wood-inlay rings look sophisticated yet stylish. These trendy wooden inlayed rings are loved by all businessmen, college students or military men.
The diamonds are forever and for everyone, they are not for women only. Men's wedding rings are getting popular day by day. More and more eyes are catching the diamond's attraction now. For more masculine look, designers are stoning the men rings with black diamonds. The black diamonds are indeed climbing the peak of popularity but that is not affecting the worth of white diamond anyway. Stoning diamonds on low-cost metals like steel, cobalt, silver, tungsten and titanium can save you a big amount, but choosing a diamond cannot ever be a waste of money.
Other than these red hot trends, colorful enamel and ceramic rings are also catching the attentions.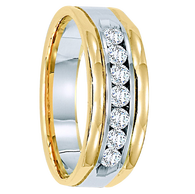 Recent Posts
Men's Wedding Bands – Origin, Significance, Cost, and Tips to Choose Every culture h …

Everything You Wanted to Know About Wedding RingsWeddings bands are now in-trend. Grooms never had …

Tungsten Versus Gold Mens Wedding Bands - we decided more needed to be written about this subj …