It is essential to pay attention to the material of bands because it carries a social and cultural message as well as a message from the heart. Since wedding signifies the beginning of a journey that entails close and lifetime bonding of two souls, the first thing that you must ensure is that the band lasts more than your lives. The wedding ring becomes your constant companion that witnesses and withstands the highs and lows of your life's journey. That is why it must be durable enough to remain untarnished. Having fulfilled this requirement, you would naturally consider other things like price, design, and style that match with your budget and ideas. So, which would be the most befitting metal that meets all the requirements talked about till now?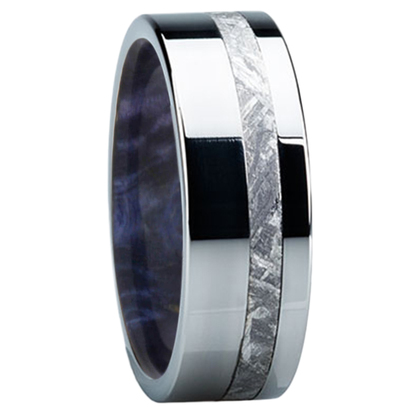 Undoubtedly, Tungsten is the metal of choice that is capable of living up to your expectations.
The first and foremost reason for the choice is that Tungsten has superior durability as it neither corrodes nor tarnishes. It is four times harder than titanium, five times harder and silver and eighteen times harder than gold. Even without any maintenance, Tungsten wedding bands would preserve the good looks of the first day throughout its life.
Secondly, it is possible to create excellent designs of wedding bands with Tungsten that matches with various styles. Therefore, if you are keen for designer looks, Tungsten bands will never let you down.
Thirdly, the price of Tungsten is somewhere in between that of prime metals gold, silver, platinum, and titanium. Therefore, affordability is never a problem.
You can now understand why Tungsten bands rule the market today. If you prefer band styles that create a unique appeal at an affordable price, then Tungsten is the metal of choice. Read on to know about the style options and some top line mens wedding bands designs from the leading online jewelry store that exclusively cater to the masculine nuptial needs since 2003.
Faceted bands
The simple looks of Tungsten wedding bands with plain surface finish can undergo a complete makeover by creating geometrical shapes on the surface that adds more facets and enhances the appeal. The rings look entirely different under the influence of facets. For those who prefer the shine of polished Tungsten bands accompanied by intricate patterns on the surface, then faceted bands or rings is the most appropriate choice. Deep cut facets give a very modern look while options of grooves and bevel are also available.
Black Tungsten wedding rings
If you are one of those, who want to walk against the tide and uphold their individuality by choosing styles that are their very own, black tungsten wedding bands is the best bet. The black bands make you look gorgeous and project your personality in an entirely different light that is sure to make people take proper notice. To add shine to the dark looks of Tungsten give it a touch of ceramic inlays that contrast it perfectly and illuminate the jewelry.
8 mm-Black Tungsten Wedding Rings for Men
The stunning looks of the gorgeous 8 mm black Tungsten wedding band will make you hold your breath for a while. The sophisticated finish of the high polish silver Tungsten beveled edges that hem the distinct black Tungsten band has a classy appeal. The rings are entirely scratch resistant, and the shape and shine remain unaffected over an extended period. Such is the stability of the metal and its finish that the seller does not hesitate of offer a comprehensive lifetime warranty against all defects like cracking, chipping splintering, breaking and discoloring.
Tungsten Bands with diamond setting
If Tungsten seems quite an offbeat choice then adding diamonds to add sparkle to it could add the oomph factor to it. The dazzling looks that only diamonds can give have an electrifying effect that lights up the dark and sober appeal of Tungsten. Whether you want to have a single solitaire like a dazzling star or want to create a symphony with many stones, it always accentuates your class. The elegant appeal of Tungsten diamond rings is just unmatched.
¼ CWT Diamond studded Tungsten bands for men
This 8 mm Tungsten band comes with a sterling silver inlay, and it is studded with ¼ cwt diamonds that give it a glowing look. The lustrous diamonds and the superior quality of Tungsten (patented as Triton TC 850) creates the most elegant bands that outscore others with its durability, eye-catching appeal, and luster that lasts throughout its life.
.09 CWT Tungsten ring with diamond
On browsing the website https://www.mensweddingbands.com/ a premier destination for bands for men only, you must never miss viewing the .09 CWT Tungsten ring with diamond . This splendidly designed elegant yet straightforward band meets the expectations of those who want to define their style in a controlled yet compelling manner.
Bands with metallic inlays
To increase the attraction of Tungsten, you can think about pairing with some other precious metal like 18k gold, platinum or sterling silver and use it as inlays for wedding rings. The metallic inlays give the effect of fusing two different rings into a composite one. As an alternative to metals, you can also substitute it with carbon fiber inlays. The beautiful KOA wood inlay gives a natural touch to the metallic bands.
Brush finished rings
Brushing metal is the technique of changing its surface to give it an entirely new texture that appears bespoke. It is a well-accepted practice to brush metals to enhance its appeal and enable a different kind of styling. For obtaining a rough look choose the matte brushing while stain brushing technique results in the softer finish. Select a style that matches with the texture of the surface.
Despite limited style options as compared to the traditional jewelry metals, men who believe in wedding ring styles that support the practicalities of life would find Tungsten wedding most suitable. The lifetime warranty gives you peace of mind that ensures retention of the looks and value of the bands.
Recent Posts
Men's Wedding Bands – Origin, Significance, Cost, and Tips to Choose Every culture h …

Everything You Wanted to Know About Wedding RingsWeddings bands are now in-trend. Grooms never had …

Tungsten Versus Gold Mens Wedding Bands - we decided more needed to be written about this subj …