Unique Mens Wedding Bands with a Full Carat of Diamonds
Diamonds are forever – and your ring should be as well!
What is it about a diamond ring that is so compelling? Why are diamonds so eye-catching and elegant? Why are diamonds in such high demand? Well, if you are looking for answers to these questions we will apologize right up front – we do not intend to answer these questions, rather, we want to highlight some very dynamic and stunning rings in 1 CWT and above!
Our first beauty is called the A308C and is a masculine mixture of genuine tungsten carbide and a full carat of genuine diamonds. This ring is made by Triton and is crafted in one of the most sought after fashionable materials to hit the jewelry market – Tungsten Carbide. Triton's hallmark is clearly visible on the inside of this ring and their lifetime sizing and defect warranty policy is world renowned. Priced at under $1200.00, this eye-catching, elegant yet solid band is guaranteed to please the most discerning man. Known for quality and patented designs, Triton is one of America's most adored and trusted brands with placement throughout the United States.
Mens Wedding Bands is pleased and honored to be a licensed dealer for the Triton brand.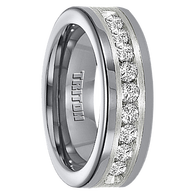 Like the full carat but want something other than heavy tungsten? How about the R927SC in sterling silver with over a full carat of diamonds! Another in the fine brand of Triton, this sterling silver masterpiece is etched with a milgrian design and a row of diamonds spanning its circumference. Elegant and stylish, available in sizes 4-15.5 including half sizes. This ring is sure to please the man in your life who wants style and a touch of elegant class!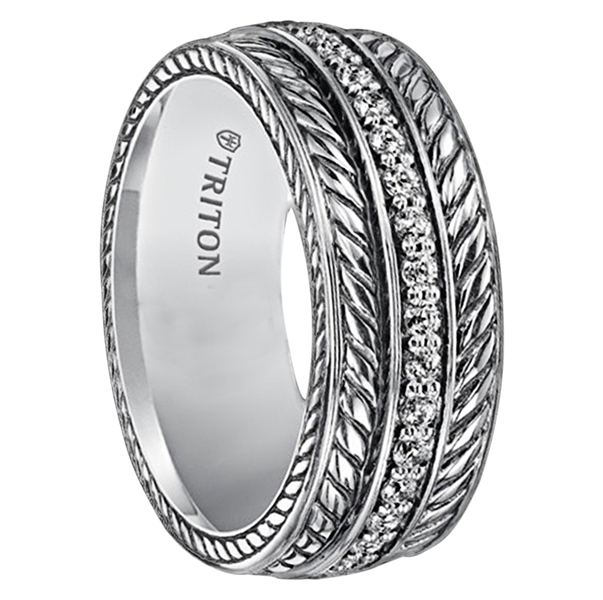 About Tayloright LLC
Based in St. George, Utah, Tayloright LLC, began operations in March of 2009 selling wedding rings, men's jewelry and rock climbing holds. Currently, Tayloright LLC serves the international wedding band marketplace, shipping to virtually every country in the world. Their innovative men's products and services offer a fashion category to men and women seeking eye-catching, diamond-enhanced, durable, scratch-proof and quality wedding rings.
Other sites owned by Tayloright include www.tungstenrings.com, www.mensringstore.com, and www.tungstenringsforhim.com (co-owned with Harrison Concepts).
Recent Posts
Men's Wedding Bands – Origin, Significance, Cost, and Tips to Choose Every culture h …

Everything You Wanted to Know About Wedding RingsWeddings bands are now in-trend. Grooms never had …

Tungsten Versus Gold Mens Wedding Bands - we decided more needed to be written about this subj …