Pricing, sizing and styling with mens wedding bands
Purchasing a mens band or a ring for men has many facets in the decision making process. Research indicates that the price of the band is of #1 concern. Purchasing form an online seller (ecommerce) also has an additional challenge - how am I to get the size right and what is a "comfort fit" band? And then of course there is the age-old dilemma of what type or style of ring so I choose - gold? Meteorite? Antler Inlay? Platinum? Or possibly just s simple contemporary metal band?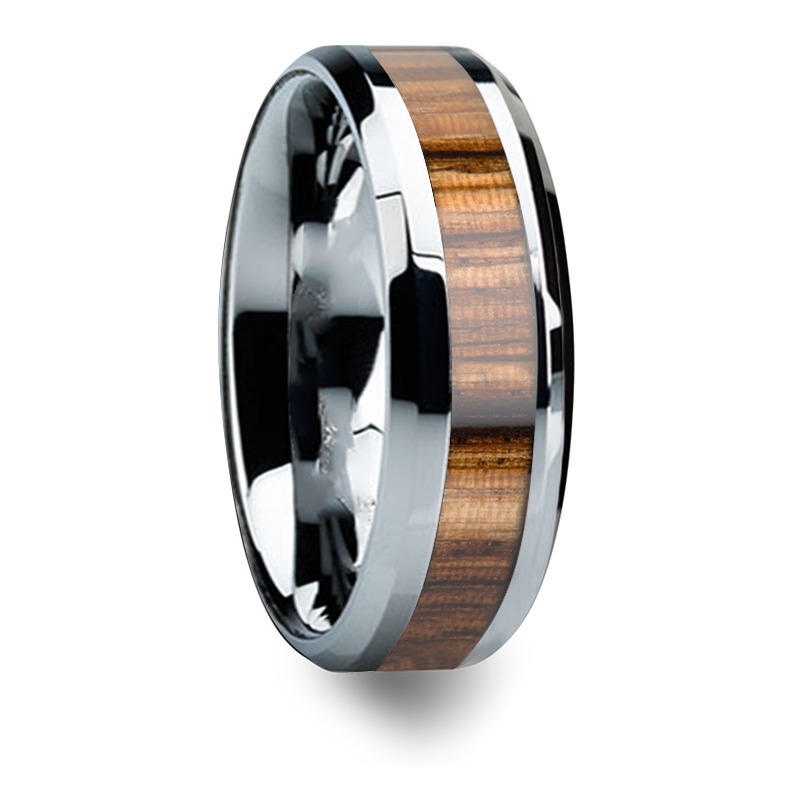 PRICING
Let's first look at price. When someone talks about price these days - whether it is a pair of shoes, an electronic device or a mens wedding ring - one has to consider Amazon! If a person is really focused on price - this is a legitimate concern for many - they simply cannot spend a few hundred dollars for a top-notch ring with a lifetime warranty and all the bells and whistles. If this is of major concern for you we can give you some advice that might at least point you in the right direction in your search for the best value in a mens ring. My suggestion would be so go to three site: Overstock, Amazon, and eBay. Realistically you can find some great values for around $20.00. And I have seen some of these rings - they are nicely made (although most are from overseas) and even though they may not have a comprehensive lifetime warranty, they nevertheless are made to last and the newer contemporary metals in cobalt, titanium and tungsten are known for their scratch-resistant properties.
If one thinks in terms of the "bell curve" you will probably guess that the majority of buyers shop in the $200-400.00 price range for wedding band. Again, you can find a wide range of styles and designs given this price point and even wood inlays fall into this category. A note on wood inlays - a decade ago wood inlays were mostly made in China and were known to crack and warp and looked horrible after a year of wear - particularly if they got wet. Those days are mostly gone - rings today with wood inlays have a protective coating that prevents the types of splits and cracks and warping that were common years ago.
Back to the bell-curve of buying a mid-range band for men. Even at the top of the $400.00 range it will be difficult to purchase a genuine (authentic) meteorite inlay band although there are some e-sellers that try to pass off meteorite bands as the "real thing" when in actuality they are little more than metal that was found in the desert or a mountain somewhere. Best to ask for a certificate of authenticity when purchasing a ring that claims to be made with meteorite inlay. Diamonds are popular - not as much as with women's rings with diamonds - but they still have their place and can easily be found in the mid-tier range spoken of if one is OK with a smaller diamond setting. There are stunning diamond mens rings that range over $1,500.00 as well - so might be best to set a budget before one spends more than planned!
SIZING
Much has been written regarding how to size a mens band and if there are accurate tools online such as paper cut out sizing charts, Bottom line after over a decade of experience on this subject - there are really only two sure ways to find out what size ring you need. One - go get sized at a jewelry store. However, if you do so, make sure you are talking with an experienced jeweler that knows the difference between a comfort fit band and a non-comfort fit band as sizing methods vary and there is a small but real difference in the way a ring fits on a man's finger based upon whether or not it is comfort fit. The second sure way to get sized - have the online jeweler send you a sizing ring before you receive the finished product. At out stores, we regularly send out a sizing ring before sending out the finished product and it saves a lot of heartache on the buyer's end in so doing. If you have not yet been educated on the differences between a comfort fit ring and a non-comfort fit ring - you might want to take a moment and click on the link in the first paragraph above.
STYLING
Where to start with this subject - beauty lies in the eye of the beholder is as true with mens wedding bands as it is with finding one's companion for life. I may like a tungsten diamond band in full carat weight while others may think this is gaudy and heavy and bulky and the last thing they would ever choose to wear.
Choices include classic-cut bands in tungsten or titanium or possibly a more elegant gold or platinum style with or without gemstones. We have seen literally thousands of styles come and go - but there are always those time-tested designs (some of which are award winning) that many buyers tend to gravitate to.
My neighbor may like a simple contemporary metal under $40.00 - and for him that is wonderful. Others may choose from one of the most exciting and new categories right now - exotic inlay wedding bands. This category is never ending and most are handmade to order in styles and materials ranging from wood to antler and from minerals to meteorite.
Remember that price comes into play with this category - although there are wood inlays under $300.00, there are also exotic inlays with dinosaur bone and meteorite for thousands each! Maybe the best advice is to set a budget and then trust your instincts - and don't be afraid to be brave!
If you are too brave - might be best to purchase from a store with a trusted return policy just in case the product does not meet your discerning eye.
Good luck in shopping and enjoy the journey.
Recent Posts
Men's Wedding Bands – Origin, Significance, Cost, and Tips to Choose Every culture h …

Everything You Wanted to Know About Wedding RingsWeddings bands are now in-trend. Grooms never had …

Tungsten Versus Gold Mens Wedding Bands - we decided more needed to be written about this subj …